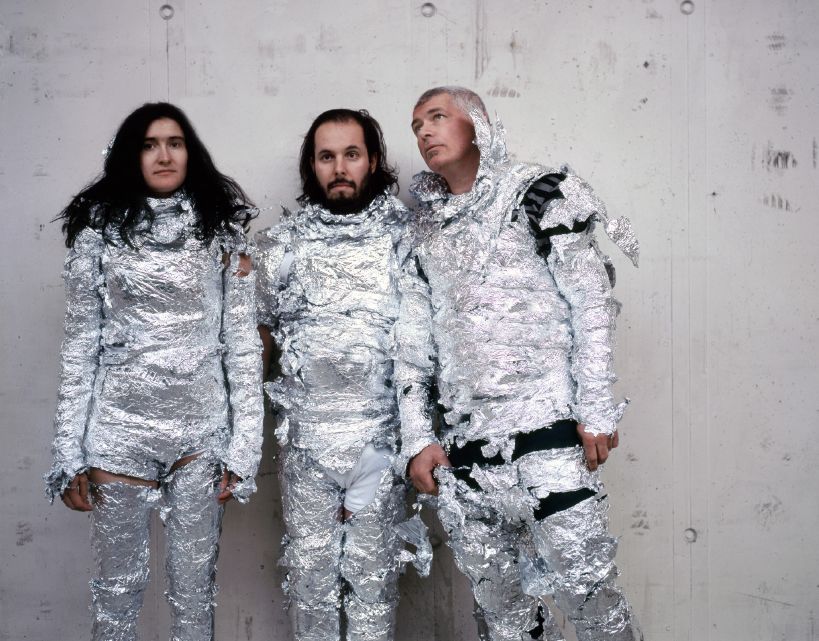 "This is the soundtrack to 1000 stories you will never be told," says Kammerflimmer Kollektief's sole founder, Thomas Weber. "Keep your secrets. They are all we have left."
Don't worry–we weren't sure what he was trying to say at first, either. Some hints are dropped throughout the following  "Do Right Woman" mix, though, as Weber weaves a midwinter night's dream from strands of frost-bitten folk and songstresses like Nico, Yoko Ono, Lizzy Mercier Descloux, and Espers singer Meg Baird. The whole thing is as haunting as Kammerflimmer Kollektief's own shape-shifting music, which is rounded out by Heike Aumüller (harmonium, vocals, synthesizer, percussion) and Johannes Frisch (double bass, percussion) these days.
The trio's new album, Wildling, hit shops this week through Staubgold and can be found here. While it certainly pays respect to the group's Lynch-ian roots ("Cry Tuff," the rather epic "In Transition"), the record truly resembles one of Weber's track-by-track comments below: "Her heart was supposedly a lonely hunter."
Julie Tippetts – Mind Of A Child (0.00)
Julie Tippetts played with everyone from Brian Auger to the Spontaneous Music Ensemble (on the incredible album Birds of a Feather). This is from Robert Wyatt's Theatre Royal Drury Lane concert in 1974. Music to fly by…
Meg Baird – Willie O'Winsbury (5.22)
It goes, wherever she goes; sings of wherever she's been, and that means it dares all boundaries. Killing capitalism with kindness!
Slapp Happy – Blue Eyed William (11.27)
The wonderful Dagmar Krause with Peter Blegvad & Anthony Moore, recorded in 1973 in–of all places–the mythical Wümme with Faust. "Those who do not move, do not notice their chains."
Danielle Dax – The Spoil Factor (14.56)
Outstanding minimalist country-disco-folk from 1984. Where is Danielle Dax now?
Carla Bley – Caucasian Bird Riflles (18.37)
Julie Tippetts again, singing lyrics by Paul Haines and playing with Carla Bley, Michael Mantler and Dave Holland. "Bywords of mouth/ Knowledge is what/ Shakes its fears/ In Lacking/ All experience/ Of them."
Lizzy Mercier Descloux – Corpo Molli Pau Duro (23.32)
Delire goes marchin' in, desire forever. Pt. I: The No Wave queen from Paris, sister in crime with Patti Smith.
Lima Heuerkeule – The Body Electric (26.08)
Who knows? Fewer care! Mongrel music from South Germany.
Espers – Black Is The Color (32.04)
A strange folk song from the Appalachian Mountains. Nina Simone and Patty Waters sang it also, but this version is that mesmerizing voice from Meg Baird again.
Nico – Secret Side (37.29)
She is "running around the world like an open razor blade and one might get cut!"
Ba-Benzele Pygmies – Woman Gathering Mushrooms (41.05)
A spooky call & response chant sung by a mushroom-searching woman in Central Africa. Sounds like magic…Amanita muscaria?
Jolie Holland – Alley Flowers (45.07)
I know nothing about Jolie Holland, but I like the following lines a lot: "Some people say I got a psychedelic presence/ Shinin' in the park with a bio-luminescense."
Working Week – Venceremos (We Will Win) (49.56)
Dedicated to the late, great Victor Jara–the famous Chilean communist/singer-songwriter, killed during0 Pinochet's coup in 1973. Tracey Thorn from Everything But The Girl sings lead, Robert Wyatt sings backing vocals. "Injustice should be spared from persecution: Soon it will freeze to death, for it is cold. Think of the blizzards and the black confusion which in this vale of tears we must behold."
The Dixie Cups – Iko Iko (57.29)
Dr. John speaking: "The song was originally called 'Jockamo,' and it has a lot of Creole patois in it. Jockamo means 'jester' in the old myth. It is Mardi Gras music, and the Shaweez was one of many Mardi Gras groups who dressed up in far out Indian costumes and came on as Indian tribes. The tribes used to hang out on Claiborne Avenue and used to get juiced up there getting ready to perform and 'second line' in their own special style during Mardi Gras. That's dead and gone because there's a freeway where those grounds used to be. The tribes were like social clubs who lived all year for Mardi Gras, getting their costumes together. Many of them were musicians, gamblers, hustlers and pimps."
Rip, Rig & Panic – Storm The Reality Asylum (59.17)
Appealing free jazz/pop, featuring Neneh Cherry: "You know whenever you can, get a wall with a spray can"
Judee Sill – The Kiss (65.12)
Close to silence, burned inside. Her heart was supposedly a lonely hunter.
Cocteau Twins – Cherry-Coloured Funk (69.14)
From light to blue, Liz Fraser sings like she is a rainbow, too.
Rickie Lee Jones – So Long (72.24)
Under the stars, it's always free. Soft enough for you!
Akira Rabelais – 05 1559 W. Cuningham Cosmogr… (74.21)
A traditional Icelandic lament song.
Peggy Lee – Johnny Guitar (75.00)
This is the lead song of a great film noir western with the same name about love & death, the beauty & the beast.
Lizzy Mercier Descloux – Long Voodoo Ago (77.52)
Delire goes marchin' in, desire forever. Pt. II: Now she's doin voodoo-exorcism just like Dr. John.
Elizabeth Archer – Feel Like Makin' Love (82.23)
One of the greatest reggae tunes ever, this is a version of the Roberta Flack classic.
Yoko Ono – Listen The Snow Is Falling (85.54)
"Think that snow is falling. Think that snow is falling everywhere all the time. When you talk with a person, think that snow is falling between you and on the person. Stop conversing when you think the person is covered by snow."
Pam Hall – I Will Always Love You (87.12)
Pure Lovers Rock!
Flaming Tunes – Generous Moon (91.04)
Intense collaboration between Mary Currie and ex-This Heat member Gareth Williams. The words are adapted from Thin People by Sylvia Plath. The world is full of songs, isn't it?
–