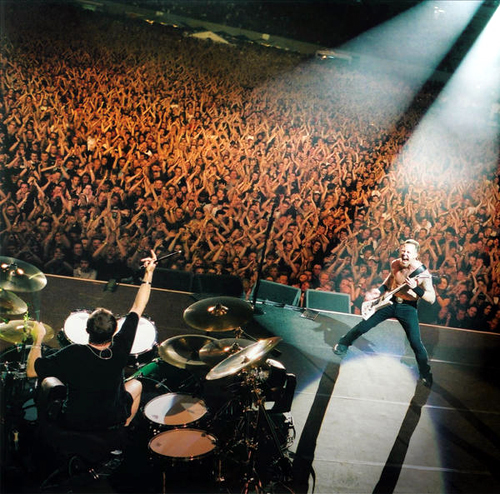 By Arye Dworken
Lars Ulrich is okay with it, in case you were wondering. After having resisted his torrent-savvy fans for all these years, the Metallica drummer has finally made peace with the Internet. "Listen, we're 10 days from release. I mean, from here, we're golden," he told San Francisco's Live 105 in response to Death Magnetic's preemie birth. "If this thing leaks all over the world today or tomorrow, happy days. It's 2008 and it's part of how it is these days, so it's fine. We're happy."
Maybe Ulrich's calmness is due in part to the success of his financial investments, or maybe, it's possible, that the short-haired art collector is actually proud of his band's ninth release and wants everyone to hear it. Even if it means that it may affect his bank account.
The truth is, Ulrich should be proud of Metallica's latest collaboration. Aside from the good news that Death Magnetic (out this Friday, September 12, through Warner Bros.) does not include a third version of "Unforgiven," it's a genuine kick in the ass and a true return-to-form. It may be hard to imagine that the heavy-metal veterans can still be heavy–or metal, for that matter– especially when considering those haircuts, that fruity documentary about group therapy (Some Kind of Monster), and, well, three really crappy albums. But here's the thing: After all these years, frontman James Hatfield still sounds like a truly tormented dude (and, strangely enough, like Dave Mustaine in opening track "All Nightmare Long"), and guitarist Kirk Hammett shreds like his guitar had just woken up from a 17-year nap and wants to be fed meaty, chunky riffs. The songs, averaging at seven minutes long, also give Hammett ample opportunity to encircle the bass and drums like a hovering vulture. Frankly, it's apocalyptic guitar heroism.
Death Magnetic could fit into Metallica's late '80s catalogue seamlessly. In fact, it's refreshingly old-school–more than a marketing ploy to reclaim the band's old lightning logo. We can probably attribute the artillery reload to bearded production guru Rick Rubin, whose past collaborations with Slayer (including the thrash-metal classic, Reign In Blood) informs the angsty rhythm guitar throughout Magnetic. Rubin has always had the talent of separating his two preferences: his pop tunes should be inherently tuneful but his metal tunes should border on the violent. Unlike his predecessor Bob Rock, Rubin knows not to mix the two. Which is also to say that Death Magnetic isn't accessible so much as pummeling. It took me multiple listens to find the distinctive nature of each of the 10 compositions. It's totally possible that in time, our joy over Metallica's reunion with themselves will wear off after repeated listens and the songs will crumble into monotony. It'll be worth my time to find that out.
It's a shame that many fans have already moved on from the band finding respite in newcomers like the Sword and Mastodon, but as far as Metallica's past is concerned, I dub them forgiven.