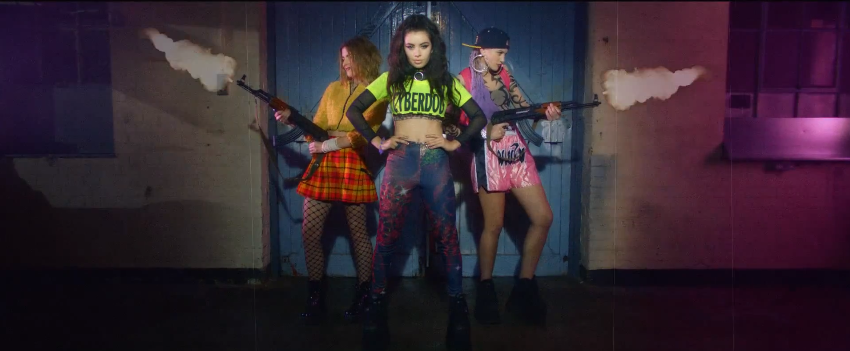 In a move that's a little awkward–at least on the surface–given the ongoing conversation about gun control in this country, Charli XCX has released a Rave Girls With Machine Guns video for her new "You (Ha Ha Ha)" single. Here's what the anti-pop singer had to say about it, via Pitchfork:
We'd been heavily influenced by the world of Tumblr superstars and the quick click, pop-tastic world of the internet in my previous videos, so this time we decided to look elsewhere. We'd been watching a lot of grindhouse movies, mostly with strong female leads like The Pom Pom Girls and Coffy, and there seemed to be a bizarre cross over from that genre of cinema and today's world of pop. Shooting the video in a gun factory seemed like the perfect grindhouse setting for a kick ass, girl power story, with super pretty girls swapping the bullets for lipstick. Cute!
So there you have it: the clip's like a Spice Girls video co-directed by Quentin Tarantino and Ryan Trecartin. Or something… 
Charli XCX's debut album is due out this spring through Atlantic.