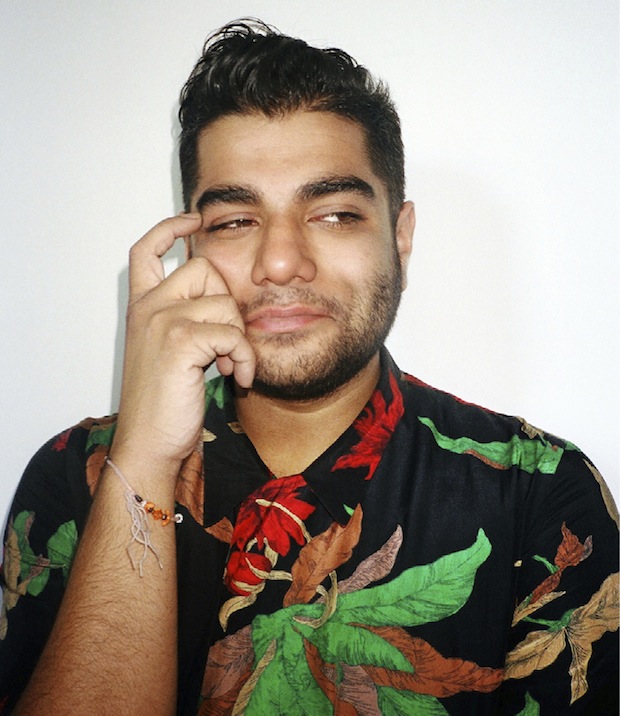 Photos by Ysa Pérez
Words by Simon Vozick-Levinson
Himanshu Suri leans back in his chair and sips single-malt Scotch from a red plastic cup. He's listening to himself rap.
It's well after midnight, and the MC, known in the hip-hop group Das Racist as Heems, has spent the past four hours working on his new mixtape, Wild Water Kingdom, at a little studio called IshLab in Brooklyn's Dumbo neighborhood. The sound of his distinctive rasp fills the cluttered control room, spilling equal parts blustery bravado, Dada anti-humor and disarming honesty across a canvas of shimmering synths, Indian pop samples and a gargling dial-up modem.
The voice bellowing out of the monitors is full of energy and excitement, but the guy sitting next to me–casually fly in a black T-shirt, dark jeans and scarlet socks–looks exhausted. "It's been a long day," he says.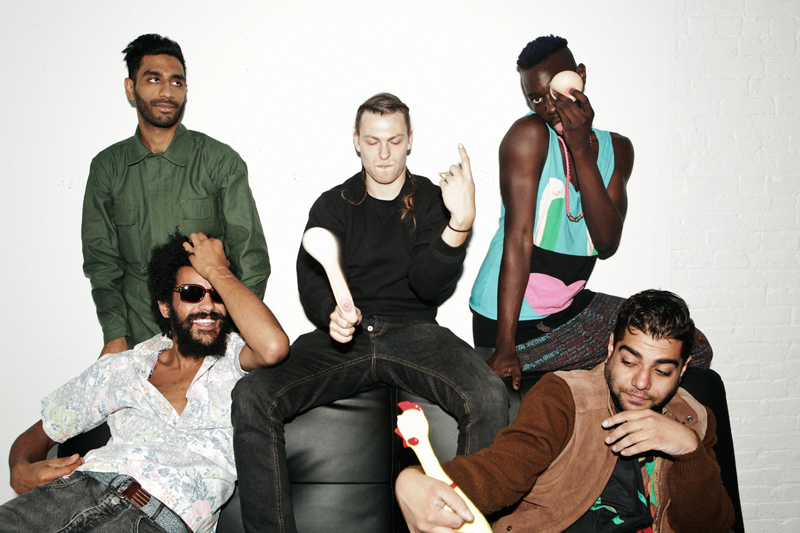 Suri likes to stay busy. When he's not making head-spinningly witty music or catching a flight between shows, he's typically negotiating deals and looking to develop tomorrow's stars as the CEO and (until this summer) sole full-time employee of Greedhead Music, the label and management firm he founded in 2010. "When it comes to Le1f and Lakutis, their careers matter," Suri says, citing two of Greedhead's promising acts. "I can't just brush it off because I'm tired in a hotel room somewhere."
He recently hired a vice president to help run the company, but the bulk of day-to-day responsibilities is still his. Before hitting the studio tonight, he took meetings with Universal Music and magazine publisher Condé Nast, checked in on Le1f's progress at another studio and posed for red-carpet photos at "this weird Indian fashion thing." Only then did he get back to his own project, the follow-up to this past winter's acclaimed Nehru Jackets.
Suri is close to calling it a night when he remembers that he's been invited to contribute to a top-secret Sufjan Stevens remix project. "The deadline is September 7," he says. "Is that tomorrow?"
Engineer Daniel Lynas points out the late hour: "Actually, it's today."
Pulling himself upright, the hard-grinding MC gets back to work.
"A lot of the drive comes out of that push and pull"
On a warm afternoon in Williamsburg, Brooklyn, the following week, Suri apologizes for running a few minutes late. He was held up in a meeting with MTV, where he and his best friend, Das Racist hype man Ashok "Dapwell" Kondabolu, discussed a potential Best Week Ever–style talking-head TV pilot. "The only dreams I have anymore are going over the next day's schedule," he says as we walk toward a coffee shop.
"Idle time is where I tend to be more prone to depression and anxiety, so I try to fill up my schedule as much as I can," he continues after we sit down with our iced green teas on the back patio. "That way, I'm too busy to stop and think about how terrible the world is."
Suri, who is 27, sees his life as a set of interlocking dualities: Indian/American, order/ chaos, business/art. This way of thinking is reflected in Greedhead's logo–a lotus-position stick figure with a dollar sign for a face–though the symbolism is subtler than it may appear. The money-hungry head, he says, represents the realities of his working-class upbringing, while the meditating body stands in for the creative urges he learned to indulge as an undergrad at Connecticut's Wesleyan University. "A lot of the drive comes out of that push and pull," Suri says, "trying to make sense of that."
Suri's mother and father grew up in northern India, where their families had fled from their homes in what is now Pakistan amid the vicious aftermath of British colonial rule. After his parents' arranged marriage in India, they and a cluster of relatives settled in Queens, where Suri and his older sister were born. "My dad loves film and music and poetry, but being an immigrant, he had to suppress that and just work," he says. "My parents wanted me to be a doctor, which is what most South Asian kids will tell you."
In ninth grade, Suri landed a coveted spot at Manhattan's math-and science-focused Stuyvesant High School and commuted two hours each way every day. Several friends from the prestigious public school remain among his inner circle, including Kondabolu, Nehru Jackets producer Mike Finito and engineer Lynas. Like teens across the five boroughs in the Rudy Giuliani era, they consumed vast quantities of underground and commercial rap, along with art-rock heavies like Radiohead and My Bloody Valentine. "Me, Mike, and Hima were those music dorks that always had a boombox, playing weird shit that nobody liked," Kondabolu says.
Less than a week into their junior year, the Twin Towers fell–three blocks from their school. "You could see people jumping out of windows," Kondabolu says. "Hima got pretty bugged out after that." Suri gets quiet when the subject comes up. "I still don't know what effect it had on me," he says distantly.
Suri enrolled at Wesleyan on a financial-aid scholarship in the fall of 2003. "That level of wealth and whiteness was a whole other world to me," he
says. "Being called 'Gandhi' by a white kid in the fourth grade wasn't as eye-opening to me as just being looked at certain ways by rich white people from New England or the South."
He picked economics as his major, with a secondary focus on South Asian art and literature. "Economics felt vocational," he says. "I thought the least frivolous way to go to a school like Wesleyan was to study a trade."
Das Racist's Victor "Kool A.D." Vazquez was Suri's resident advisor that first year, but they didn't really bond until a few years later, growing closer after they'd both graduated and moved to New York. Suri was working in finance by then, helping place executives at Wall Street powerhouses like Goldman Sachs. Putting on a sharp suit every morning and giving job advice to older white bankers satisfied something in him. "I was really good at it," he says. "I was making good money." But he kept thinking about his college friends Andrew VanWyngarden and Ben Goldwasser, whose electro-psychedelia band MGMT was blowing up throughout 2008. "I would sit at work and Google what MGMT was doing," Suri says. "I was like, 'Maybe this is something I can do.'"
After work, he'd meet up with Vazquez and Kondabolu to hang out or see their friends' bands play. They started making rap music to amuse themselves, calling themselves Das Racist after an old inside joke, and before long their sublime goof "Combination Pizza Hut and Taco Bell" surprised them by becoming an Internet smash. By the summer of 2009, they were booking several club dates a week and giving surreal, hilarious interviews to the Village Voice and the New York Times. "Hima was an animal at that time," Kondabolu says. "We would rock out till 5, 6 in the morning, and then he would wake up at 8 and go to work."
In October 2009, Suri was laid off, and that night at the CMJ Music Marathon, Das Racist played its best show yet. "I never liked when he had that job," Kondabolu says. "Once he got fired, I was kind of like, 'Good.' " Suri was sorry to lose the finance gig, but it gave him the push he needed to make a career out of music, which he pursued throughout the next two years without pause, as Das Racist released three critically fêted full-length projects and toured around the world. At the same time, Suri was building Greedhead. "I knew if I wasn't going to be doing Wall Street, then I should do something else to fill up that business side of me," he says. "And I didn't want to give somebody–especially somebody white– money to be the secret person behind us. I like the idea of three brown people making art and selling it themselves."
This year, despite a scaled-back touring schedule, the members of Das Racist have reaped substantial financial rewards. Thanks to a six-figure deal Suri arranged this summer, the trio's next LP is due in the spring as a joint release by Greedhead and Megaforce that will be distributed by Sony. He also licensed Das Racist's fizzy summer jam "Girl" to a TV ad for Kmart, which drew a sweet paycheck and some predictable criticism that he shrugs off. "It was a no-brainer," Suri says. "What is wrong with people? I like eating in nice restaurants. I like wearing nice clothes. I like buying contemporary South Asian art. I also like sending money back to India, helping my parents with their mortgage and paying back my college loans." (Suri estimates that he sends $300 to extended family members in India in an average month: "Sometimes an aunt's daughter needs to go to private school. Sometimes somebody needs to get married and doesn't have enough money to rent the hall. Stuff like that. [The money goes to] mostly relatives I don't know, cousins I've never met.")
Yet Das Racist's success has come at a cost. "We were better friends when we started," Suri says. "We lived together, worked together and toured together. You need space after that, with anyone. I wish it didn't take a toll on that side of things." Those tensions within the band could help explain why Suri has shifted his focus toward tending to Greedhead's other artists. He sees how his easy rapport with journalists and industry players has boosted his own career, and he's eager to share the wealth. "Le1f, Lakutis, and Big Baby Gandhi might not get a chance to rap [otherwise]," he says. "If my friends can benefit from me leveraging Das Racist contacts, I should do that. For whatever reason, Das Racist tricked people. So I want to trick more people."
He has more personal reasons, too, for taking such care with his proteges: "In a lot of ways, growing up Indian, my life has always been about pleasing my parents. I've always looked to find my happiness in pleasing other people. Doing that with other artists is just an extension." Suri has called himself an "accidental rapper," and he's still not entirely convinced he's on the right path. He is considering applying to Berkeley or Columbia to study South Asian art history in the fall of 2014. "I just don't know how long people will like me or Das Racist," he says. "I'm constantly surprised by the fact that people care."
For now, though, Suri is speeding forward, filling his calendar with commitments to stave off the idleness he dreads most of all. "Even when I want to stop and relax, I can't do it. I just feel guilty," he says before heading out to his next meeting. "When I stop having to manage myself in a work sense and have to manage myself as a human being, I don't know where to start. But I'm getting better at understanding it."
–