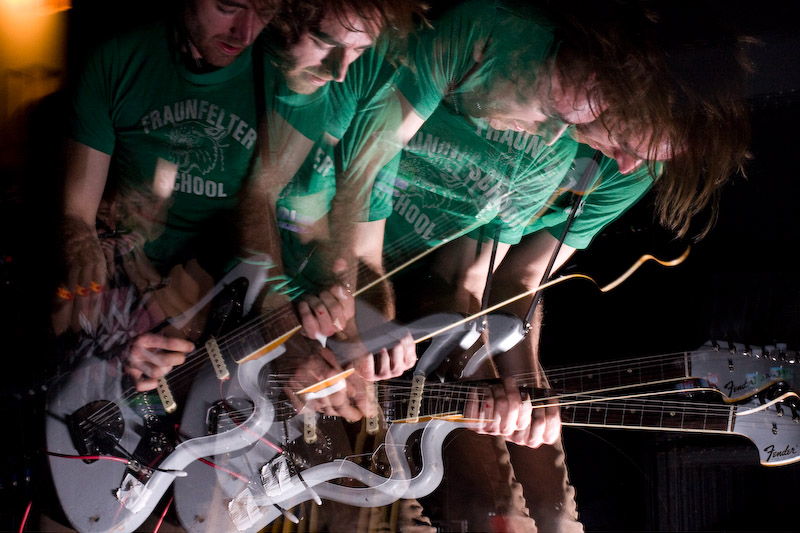 Words and Photos by Aaron Richter
When the three members of A Place to Bury Strangers go to work, it's like watching a surgery: The appearance of gruesome brutality is a deft guise for choreography and precision. Bright wires snaked the stage this past Thursday at Bowery Ballroom–a major show for APTBS promoting their latest release, Exploding Head (Mute)–primed to thrust life through the band's stringed appendages, the red wires connecting everything, the distortion-pumping veins to this amplified circulatory system.
Even before the show began, their active instruments lay on the stage floor, littered in rows of pedals. Breathing in the music from Bowery's PA system, bassist Jono MOFO's guitar, untouched, hummed a steady thump to the beat, as if its ready-to-burst fury might mangle anyone who'd dare wield it. In the hands of A Place to Bury Strangers, these tools are at once deadly and stimulating, and the three operate in necessary methods.
Guitarist and vocalist Oliver Ackermann led the tear through much of Exploding Head, a sonic sibling this year to the Horrors' Primary Colours, though whereas the UK troupe nails its washed-over shoegazer edge with just the right pose and scowl, APTBS lets it flow forth freely. These guys know this music well, and they've created it from the ground up, their hands having touched, controlled and dominated each and every element. At Bowery, the band performed an exercise in building dynamics, opening with the surf twang of "Dead Beat" and fielding unironic hollers from the audience to "turn it up." Indeed, it wasn't loud enough. But song by song the din became more and more oppressive as Ackermann flailed across the stage, often spiraling his guitar out of his hands and tangling with its wires as if it were some sort of cacophonous, droning marionette (Jeff Dunham, this was not), all the while Jono and drummer Jay Space thumping out the pummeling definition of rhythmic weight. As anyone who's seen the ABTBS before knows, shows end with a blinding explosion of retina-shattering strobes, and, well, you can see the insanity for yourself in the photos below.