Los Campesinos!' head howler/glockenspiel tamer, Gareth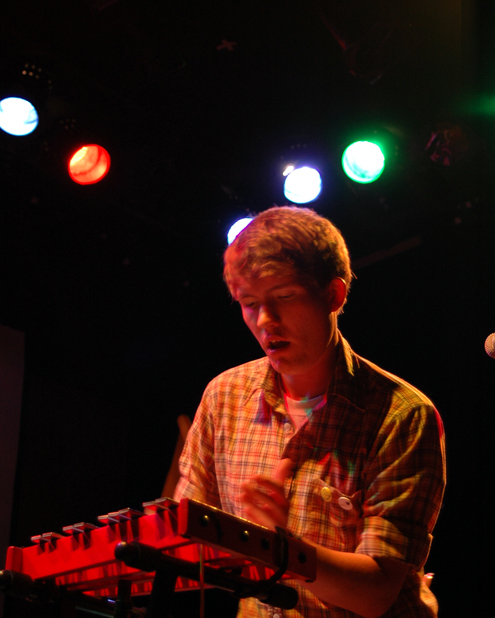 Photos by Teresa Olson
Precious is one way of putting it. Hey, it's either that or goddamn adorable, and we're not about to use such a warm & fuzzy phrase in the presence of self-titled readers.
That's right: Los Campesinos! are exactly what you'd expect after hearing the highly-caffeinated indie pop tunes of Hold On Now, Youngster… Which is to say they twist and shout like a gang of post-pubescent teenagers, especially the group's de facto frontman Gareth. Confirming the thoughts of many critics, the singer/keyboardist/glockenspiel player comes across like a smaller, younger version of Eddie Argos, Art Brut's resident comedian/mic slayer. The only problem being just how overpowering he can be in comparison to Aleksandra–the sweet to Gareth's sour in the Campesinos! camp, right down to her candied synth melodies.
At least we could hear the swooping violin arrangements of Harriet, a rarity in a room as big as the Bowery. Almost as rare as feeling the need to actually look alive out there, which these Cardiff kids demanded throughout an hour-long set.
More photos after the jump …