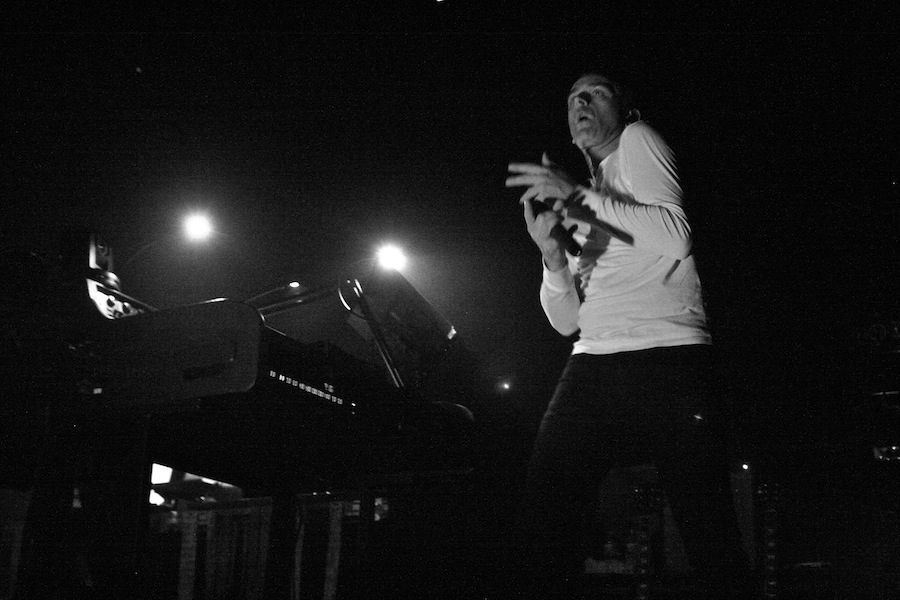 Words and Photos by Andrew Parks
"I want to feel your love!" shouted Karl Hyde, as he eased into the middle section of Underworld's nearly two-hour set at Roseland Ballroom on Wednesday night. The request was rife with nostalgia for anyone who lived through the peak era of rave culture in the '90s. Or if you're like us, anyone who learned about songs like "Pearl's Girl" and "Born Slippy Nuxx" through the Trainspotting soundtrack and MTV's shortly-lived/dearly-missed Amp show.
Setting that nostalgia aside, the highlights of Underworld's performance were mostly from their new Barking album, including the bleak midnight drive beats of "Grace" and "Between Stars," the euphoric head rush hooks of "Scribble" and "Always Loved a Film," and the abstract, steady build of "Bird 1." As Hyde told us in an exclusive interview yesterday, these songs have established the foundation of a "new Underworld." Considering they've survived several decades already, as many young electronic artists come and go on a monthly basis, this has to be a good thing.
And now, some more photos…