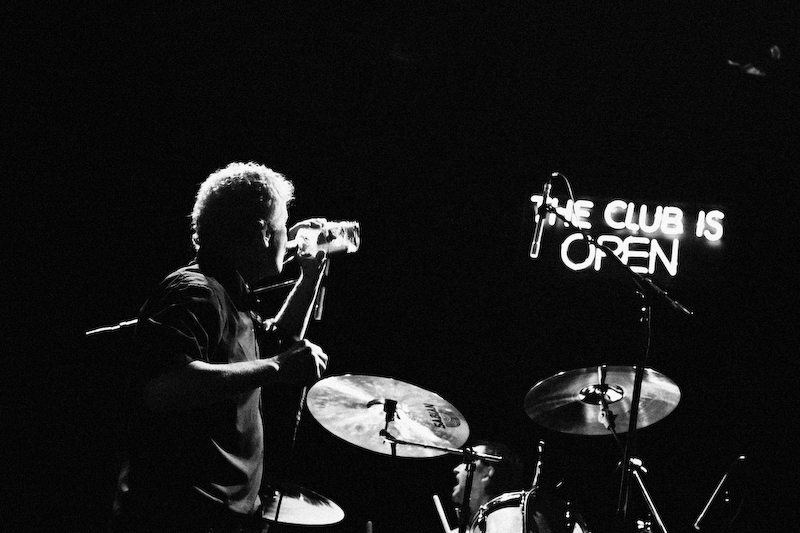 Words and Photos by Aaron Richter
Guided by Voices, 2003; Columbia, Missouri. One of the greatest concerts I've ever seen. It was an entirely ridiculous show akin to seeing Cheeseburger in a sloppy Brooklyn basement; nothing in the venue was left undoused in beer. Touring Earthquake Glue, Pollard arrived in town on a Monday night to play for a sparse turnout of around maybe 50–75 people, most of whom ended up onstage toward the set's end. The group played for three hours; Pollard drank a full bottle of tequila, at least seven beers and–before the night's final song, at that point pretty much reduced to a mumbling mess–announced that he was hitting the bars and that anyone was welcome to join him. We left drenched in sweat and beer (and blood, in the case of my friend, who'd gashed his hand open on a broken bottle).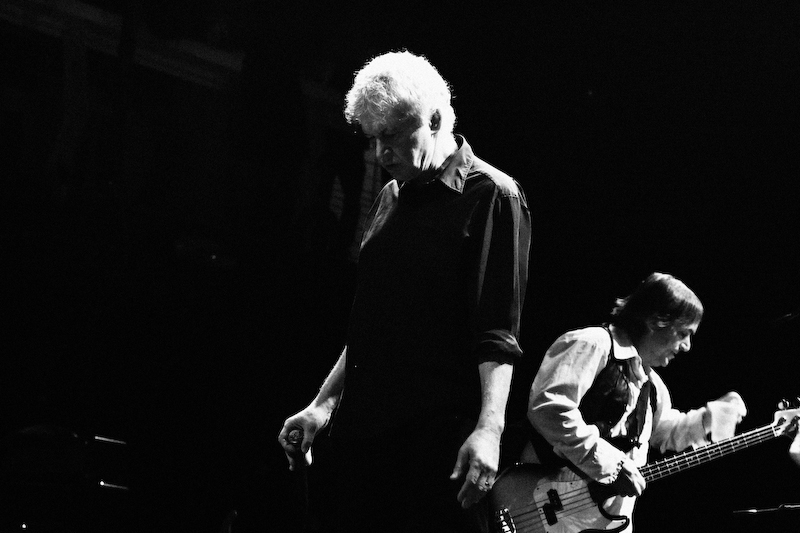 Sunday's NYC performance at Terminal 5 was not that show. Far from it. The extensive setlist (greatest hits plus EP cuts for geeks) was phenomenal, and Bob–all Daltreyisms and high-kicks–was in fine form, alongside his classic lineup, including Tobin Sprout (who sang a grip of songs himself) and Mitch Mitchell (who pretty much acted the part of the drunk asshole for everyone else). But the spark of chemistry between Pollard and his bandmates was lacking. Sure, the classic lineup wrote most of Guided by Voices' best songs, but performing them–as a band, together–the group is somewhat unremarkable. Sloppiness is one thing (that's expected and welcome at a GBV show), but too often, the musicians just didn't click as a unit. (Imagine if they still had something to prove?)
But then again… Fuck it: I got to sing along to "Echoes Myron," "Watch Me Jumpstart" and "Exit Flagger" with 3,000 other people. What's the point in bitching?
Guided by Voices @ Terminal 5, 11.7.10
Tractor Rape Chain
Game of Pricks
I Am A Scientist
Shocker in Gloomtown
The Goldheart Mountaintop Queen Directory
Gold Star for Robot Boy
My Valuable Hunting Knife
Motor Away
A Good Flying Bird
Cut-Out Witch
Matter Eater Lad
Watch Me Jumpstart
Striped White Jets
My Impression Now
Awful Bliss
14 Cheerleader Coldfront
Lethargy
Break Even
Buzzards and Dreadful Crows
Exit Flagger
Hot Freaks
Closer You Are
Gleemer (The Deeds of Fertile Jim)
Quality of Armor
Queen of Cans and Jars
Echos Myron
Unleashed! The Large-Hearted Boy
A Salty Salute
Smothered in Hugs
Encore:
Postal Blowfish
Hey Aardvark
Pimple Zoo
Bright Paper Werewolves
Some Drilling Implied
Encore 2:
Dodging Invisible Rays
My Son Cool
Don't Stop Now
Encore 3:
Johnny Appleseed
Weed King