Live photos by Andrew Parks
See that guy over there, the one in the middle with the big smile on his face? He's having the time of his life at a Death Grips show, one of the few the self-immolating superstars didn't skip this year. The set took place towards the end of South By Southwest, and it was so gleefully lawless it left our editor's glasses looking like this.
The following year-end list presents 75 records, artists and performances that made us feel way way—like 2013 was a reason to celebrate music without worrying about rating systems, social media spats or why Kanye West went on a rant this time. Speaking of…
1. Kanye West recruited a battalion of beat makers (Daft Punk, Evian Christ, Gesaffelstein, Arca) to create a bat-shit masterpiece that had us believing the hype, he-must-be-joking music videos and all.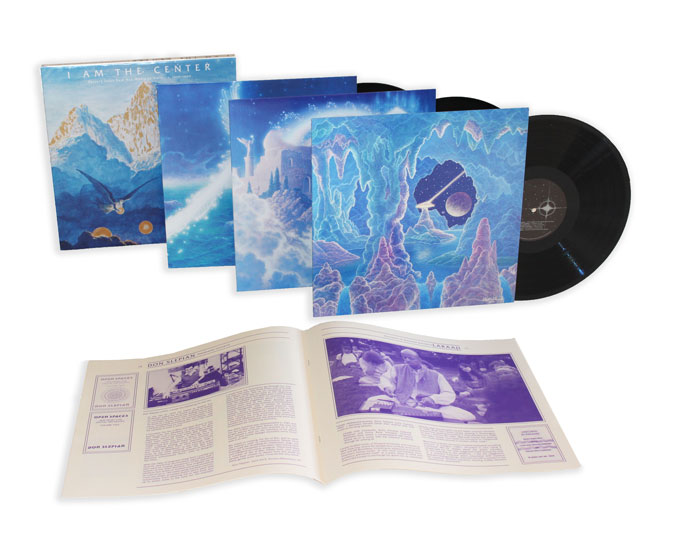 2. Light In the Attic's expertly curated I Am the Center box set reminded us you don't have to believe in crystals and chakras to appreciate New Age music.
3. Dominick Fernow continued to confound us with his many aliases (Vatican Shadow, Christian Cosmos, Prurient, Rainforest Spiritual Enslavement) and experimental/electronic additions (Silent Servant, Ron Morelli, Shifted) to Hospital Productions and the noise icon's new Bed of Nails imprint.
4. Red Bull Music Academy's New York residency peaked with the most ambitious avant-everything show we've ever witnessed. And the place—a cavernous, multi-room art space on the outskirts of Brooklyn—was packed. "Selling out" never sounded so good. Or loud.
5. Kelela put more thought into her "mixtape" than most artists do with their actual albums.
6. Rockstar Games reset the high water mark for music supervision on million dollar video games by asking a wide array of weirdos (Flying Lotus, Keith Morris, Lee "Scratch" Perry) to host imaginary radio stations for the fifth installment of its record-breaking Grand Theft Auto series. And in one of the most inspired, completely unforeseen pairings of the year, the company asked two midstream hip-hop producers (Oh No and The Alchemist) to collaborate with Tangerine Dream on the title's widescreen score. (Did we mention DJ Shadow mixed their sprawling music into a logical album? Well he did, as part of a three-volume soundtrack series that's as crucial as the game's coding.)
7. Tropic of Cancer made a make out album (Restless Idylls) for recovering Goth kids and anyone who appreciates the darker things in life.
8. RP Boo flung lots of unidentified flying loops—including Busta Rhymes' long-forgotten Bernard Herrmann hook ("There U'Go Boi"), a painfully short Aaliyah nod ("The Opponent") and what sounds like the skeletal intro to Death Grips' "Get Got" single ("Speakers R-4 [Sounds]")—at footwork's growing cult following on his long overdue debut LP.
9. Tim Hecker transcended the limitations of his laptop-tethered live set by warming up arenas for Sigur Rós, then he unveiled the psychedelic rinse cycles of Virgins, yet another step forward in a career that's already full of fantastic albums.
10. Nine Inch Nails and David Lynch reunited, pencil 'stache-free and full of epileptic storyboards for the "Came Back Haunted" video. Not a bad way to set off NIN's most cohesive artistic statement in years.
11. Blackest Ever Black and Tri Angle continued to make a case for bloggers (former FACT editor Kiran Sande and Robin Carolan of 20jazzfunkgreats in this case) as the consummate musical curators of our Long Tail age.
12. The Field paired his bleakest looking record cover with yet another blissful trip through trance-inducing techno. If it ain't broke…
13. Disclosure tapped into eras they're too young to have experienced first hand—the heydays of Chicago house and UK garage—and emerged with a ace tribute album on par with its floor-filling ancestors.
14. The Flaming Lips made us believe in magic yet again despite releasing the darkest album of their career.
15. Dean Blunt dropped the court jester inclinations of his dearly missed duo Hype Williams for a string-laced solo record that's strange but sincere: The Redeemer, a breakup album that's on the brink of a nervous breakdown.
16. James Holden may have confused the hell out of anyone who caught him opening for Thom Yorke's other band this fall, but that's kinda the point of the producer's first album in seven years. As foretold in its lead single "Gone Feral," The Inheritors is modular synthesis music gone haywire, the point where all those wires, knobs and chain-linked controllers start screaming for themselves.
[youlist pid="PLV5Dj2xlNnONJWlHRLnxoEDHp89rKoNpO" width="601″ height="338″]
17. My Bloody Valentine finally got around to releasing their first record since the year Nevermind came out. (Kevin Shields' soundtrack work for Sofia Coppola doesn't count.) While fans certainly freaked out when m b v first dropped, they seemed to forgot about it several weeks later, a reflection of The Internet's wandering eyes even when it comes to Major Events like this.
18. Grouper revisited her most vital era by reissuing the oft-out-of-print Dragging a Dead Deer Up a Hill LP alongside previously unreleased material from the same time period. Crucial stuff for the winter chill ahead.
19. Kurt Vile earned his very own holiday back home in Philly by writing another immaculate collection of long-haired laments.
20. Baths raged against bouts of depression, sexual frustration, and an absentee god on a beautifully damaged counterpoint to all the emoticons and comedic relief that floods his Twitter feed on the regular.
21. Unicorn Hard-On made us look past her hormonal teenager tag and find one of 2013's most sorely overlooked not-quite-noise-techno albums in the margins.
22. Danny Brown split his psyche in two, setting his sensitive side against the oversexed caricature that's so widespread Kitty Pryde wrote a Vice essay about touring with him and the aftermath of a certain 'incident'.
23. Majical Cloudz painted stark, painfully sincere pictures of love and loss that aren't the least bit sappy. From the murder balladry of "Childhood's End" to the spectral trails of "Mister," it's devastating really. Or as singer Devon Welsh says in "Bugs Don't Buzz," "The cheesiest songs all end with a smile/ This won't end with a smile, my love."
24. Ras G invited us to a pot-scented plane that exists somewhere between Sun Ra's space race and the spiritual jazz-schooled beatscaping of his label boss Flying Lotus.
25. Fuck Buttons followed their fitting musical cameo in the opening ceremony of London's Summer Olympics with what can only be described as a synapse-smashing triumph of the human spirit.