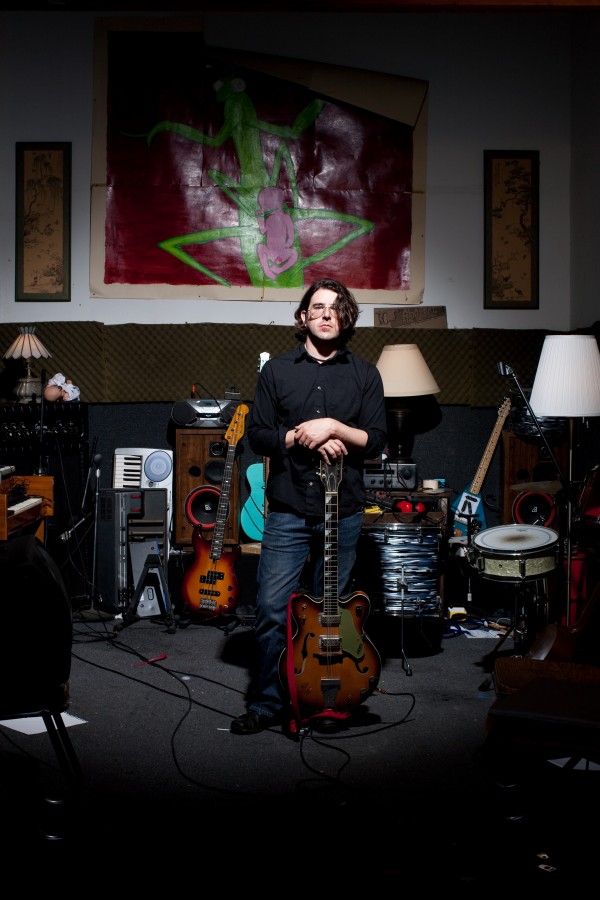 [Photos by Eric Fermin Perez]
By Arye Dworken
Lou Barlow's latest solo LP, Goodnight Unknown, was released this week. It's a grown-up blend of tempered frustration and ghostly introspection; or as Barlow maintains in the following interview, an opportunity to channel his sensitive side on a global scale. It's a politically fraught time and the indie vet (see also: Sebadoh, Dinosaur Jr., The Folk Implosion) is preoccupied not by his personal relationships–many of which inspired songs in the past–but about what the hell is going on with health care.
self-titled: Hey Lou. How are you?
Good, man.
Let's talk about the new album. In the making-of video on your site ("Lootube" has seven clips related to the new record), you mention how this album was about getting rid of ghosts.
I guess 'ghosts' to me:um:I think:not sure how to elaborate on this. Like apparitions, like melodies are to me:they are fleeting ghosts that just pop up. Are they real? Is it an original melody? Is it a ghost of another melody? I guess, I'm also always trying to reconcile the task.
You seem to be in a very nostalgic moment in your life with recent Dinosaur Jr. and Sebadoh reunions, and some of the new material sounding like vintage Barlow.
I don't get nostalgic for times and moments; I like the feeling of being driven. While I wouldn't want to be transplanted back to 1990, I loved the energy I had back then.
Are you sentimental at all?
I don't feel particularly sentimental. The '90s were great–I had lots of fun, but they went through their cycle. And those incredible times mutated into those not-so-incredible times.
Labels alone, you've been on Domino, Sire, Interscope, Merge:what was the highlight of all of this?
When Folk Implosion had a Top 40 hit. A total fluke but a total thrill.
Would you like that to happen again?
It's nothing I can actively strive towards. That song ("The Natural One") was the product of an incredible moment when I felt at the peak of my creative abilities.
What happened to your Folk Implosion partner Jonathan Davis?
He just disappeared. I doubt he would want me talking about it:having a hit really freaked him out. He got really paranoid and felt like people would be stalking him. Which kind of does happen. Having any sort of success does infringe on your private life, but Jonathan felt that fear even more. But no one stalks me; no one infringes on my private life.
The times that I have met actors, that's when it gets nuts. But the level of guys like me, it's manageable. That's giving it too much credit. I'm not famous. Being famous doesn't happen to that many people.
"On Fire" from Harmacy was the first song that hooked me to Sebadoh. It's incredibly poignant. What is that song about?
It's not about anyone specifically. It was about a feeling. A recurring feeling. That song came so quickly. It all came out in one chunk. It's about those ways we violate people's trust.
You're a very sentimental songwriter. You have an exceptionally gentle side–which was strange for indie rock in the '90s–but you also have your brash punk side.
I listened to Emoh quite a bit after I finished it and when it took on a life of its own, I realized what I didn't like about it. I listened to it–I adore the record–but, I thought, well, its good, but the overall impression:it felt a little resigned. It was an album about disillusionment. I wrote some of those songs about Jonathan–someone who I was very close to, just going away. Disappearing. Most people think I'm writing about girls. I'm writing about friendships with guys. You know, the Sebadoh failure, splitting up, the post-release of One Part Lullaby, which was a very emotional record. Emoh was my record where I was trying to understand all these things that happened to me.
"All the goddamn tax money goes to shit they don't understand and now when their money is going to help someone else, they're up in arms. Fuck you!"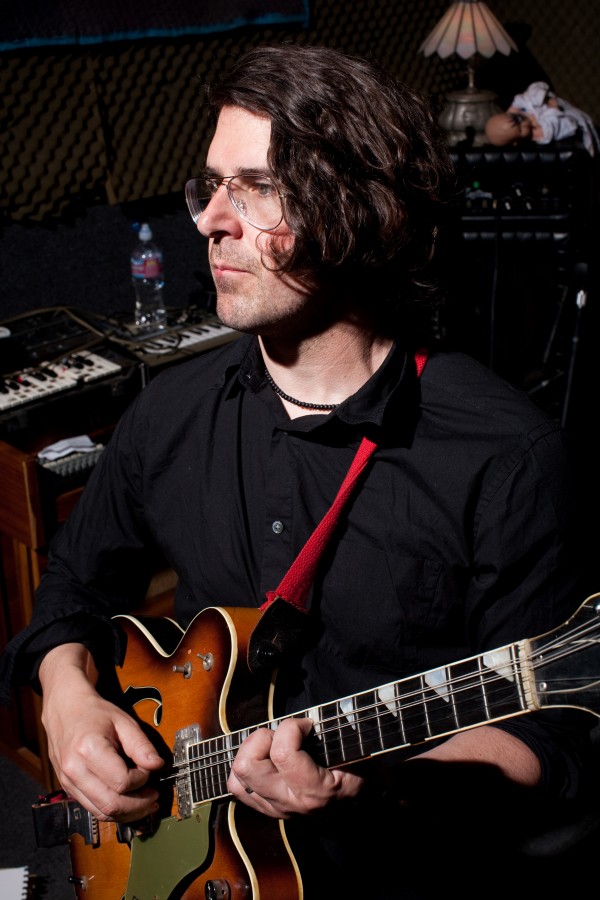 Do you ever think that these things are you fault?
Of course. All the time. Even in those days when I was writing nasty songs about J. Mascis:if you listen to those lyrics:the simple way of looking at it is that I wrote all these songs about hating J. Mascis. But if you really looked at those songs–the bile wasn't being thrown towards someone else. It was directed at myself.
When people disappear from your life, you never know what they're motivations were. So the only constructive thing to do is not think about how they did you wrong, but how much responsibility did I have in pushing them away. If you blame someone else the whole while, it becomes a pebble, a rock in your soul that you're never able to bury. It becomes malignant. I want to have compassion for the other person. I want to understand how it has nothing to do with me, if that is in fact the case. The songs that I write are meditations on all these things. Everything that I do:when I'm writing a song–that not only am I recording that song, I am going to play it hundreds of times and I've got to believe every word that I'm singing. Implicitly.
What drove you to record this record? What were some of the themes?
It's kind of a political record in a way. Like the title is inspired by this crazy Donald Rumsfeld speech after 9/11 when he said something like, you can know the knows, but you can't know the unknowns. One of the lyrics from the first songs I wrote for the record was "the eagle burned and fried." I was really angry before this record. There's also a lot of sexual stuff on the new record, where I was trying to puzzle out people's motivations and how sticky and complex a sexual relationship can be. I think this was an angry record and less about specific relationships; more about general themes.
Two decades into your musical career, it seemed that you didn't hit politics that often in your lyrics.
I don't know. In my early stuff, when I recorded as Sentridoh, and as Weed Forest, which become Sebadoh:Sebadoh III is very political and a little bitchy. Recently, I've felt pulled to general themes. I didn't want to write political rants but I wanted to express my ambivalence,
Are you happy how things are progressing in the political landscape?
I'm really confused by the white anger in this country. And I have picked at this stuff–I had a song called "Colorblind" when I was in Sebadoh. These problems aren't necessarily new, I'm just not confident in being the outspoken political troubadour.
What I can't understand is why people have such a problem taking care of their own. The health care debate really aggravates me. What the fuck are these people talking about? All the goddamn tax money goes to shit they don't understand and now when their money is going to help someone else, they're up in arms. Fuck you!
Do you have health insurance?
I didn't when we had our first baby. We nearly went broke. I had to apply for Medicare and plea poverty, which fortunately/unfortunately I nearly was at the time. Our country's lack of compassion though really blows my mind.
Back in the '90s, did you guys talk about insurance?
No one had insurance. No one went to the doctor. Nobody had insurance. We ignored things and hoped they went away. That was the way it was.
What were you like as a boy in high school?
Extremely repressed and quiet. I listened to records in the attic to myself. I hated sports and I still hate sports.
When did you start writing music?
In high school. I hung out with a kid who knew what Black Flag was and we'd sit and discuss the Ramones, and Black Flag every day. I had no friends aside from this one kid.
Have you ran into old classmates at your own shows?
Of course. It was cool. It's not like, "Hey I made it, fuck you." But it was like, "Yeah, I play music for a living."