[Semi-satirical text and photos by Andrew Parks]
Dear Goldenvoice, Radiohead and anyone else involved with the inauguration of All Points West:
We had a good time this weekend; we really did. That said, the staff of self-titled couldn't help but emerge from the first two days with some Dos and Don'ts for next year … if there is a next year.
That's one thing we noticed right away, actually: Liberty State Park was awfully lonely on Friday–maybe 1/4 full right up until an hour before Radiohead–despite hosting one of dance music's finest live acts (a show-'em-how-it's-done set from Underworld) and glaring proof that rock's enduring icons are bound to be Brits in most cases. (See also: The Beatles, Led Zeppelin, the Stones, even goddamn Oasis.)
Maybe booking Thom Yorke and company two nights in a row wasn't a good idea, after all, eh? And we'll tell you why: because descending into the desert via a rented PT Cruiser for Coachella–all while living out our greatest Gonzo fantasies–is an event. Even for L.A. residents, who find escaping into Mad Max territory the best two-hour drive of the year, followed by unforgettable moments like swimming naked in the pool of someone else's mansion. (People rent their cavernous Indio abodes to concertgoers every year.) Waiting in line for a ferry on a Friday afternoon, no matter how fast said line moves, why, that's just a waste of time, a blister-in-the-sun burden. In other words, most people won't take off from work to go to a rock show in the middle of the day. A cross-country fest like Coachella can double as a brief vacation; a cross-river ride that costs $20-30 dollars a day despite already paying nearly $100 for the actual show, that's a bigger buzz kill than the state park bracelets that kept everyone's $9 beer intake to five neon green tabs.
Now, if Animal Collective, Cat Power, Radiohead, Underworld, CSS, Grizzly Bear, the Black Angels, Chromeo, the Roots, Robyn, and, err, Girl Talk were all playing on one bill, that'd be more than worth a $75 ticket and quick trip to Jersey City.
Enough nitpicking and negativity (for now), though. Here are some things we loved about All Points West 1.0:
> The ever-evolving sound, lineup, and setlist of Animal Collective. We've seen these guys a good 10 or so times by now and they still continue to surprise and amaze with their willingness to remix their back catalog and albums-to-come on the fly. Sometimes this brash approach misses the mark completely (the muddled, way-too-ambient mix of their free South Street Seaport show last year) and sometimes it's utterly sublime. All Points West produced the latter in the take-no-prisoners trio of Panda Bear, Avey Tare and a knob-twiddling, head-bobbing Geologist.
Some highlights: a fearsome extended version of "Fireworks" and a surprise rendition of Panda Bear's "Comfy In Nautica" that grazed our ears at the same time as the comforting gaze of the midday sun. As always, we can't wait for the next album, guys.
> The tuba player in the Roots. Because nothing says "put your hands in the air like you just don't care" like ?uestlove and a total Revenge of the Nerds moment.
> This guy, a harmless brah type who kept us from becoming too been-there-done-that cynical by having the time of his life during Radiohead's second headlining set. While we go to gratis gigs all the time without stopping to think how cool this job is, everydudes like the above roof-raiser probably looked forward to screaming "Radiohead! Wooh!" all week.
Props for living the dream, man. Just don't get too close to us, please.
> The Black Angels in broad daylight. The last time we saw these VU-worshiping shamans, their frontman couldn't quite pull himself out of a drug-induced stupor, a K-hole that kept them from sounding truly transcendent. Not today, friends. Hearing chest-thumping shades of the psychedelic '60s like "The First Vietnamese War" and "Empire" while the sun was still out made us wish the clouds would coalesce into a gray mass, with nothing but feedback and hail stones raining down.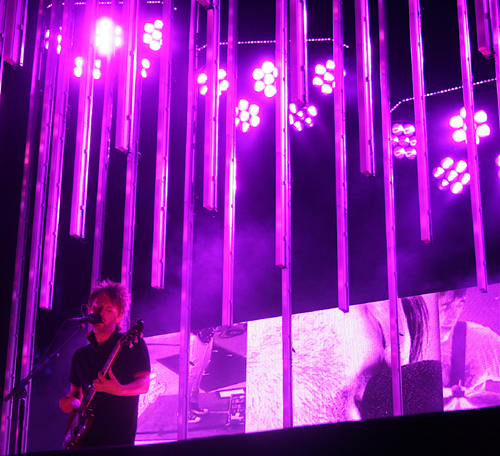 > Aforementioned sets from Radiohead and Underworld, which are discussed in detail here and here. Invite artists of this caliber next year while distilling the genre-jumping prowess of Coachella down to one day and we'll be in line with everyone else.