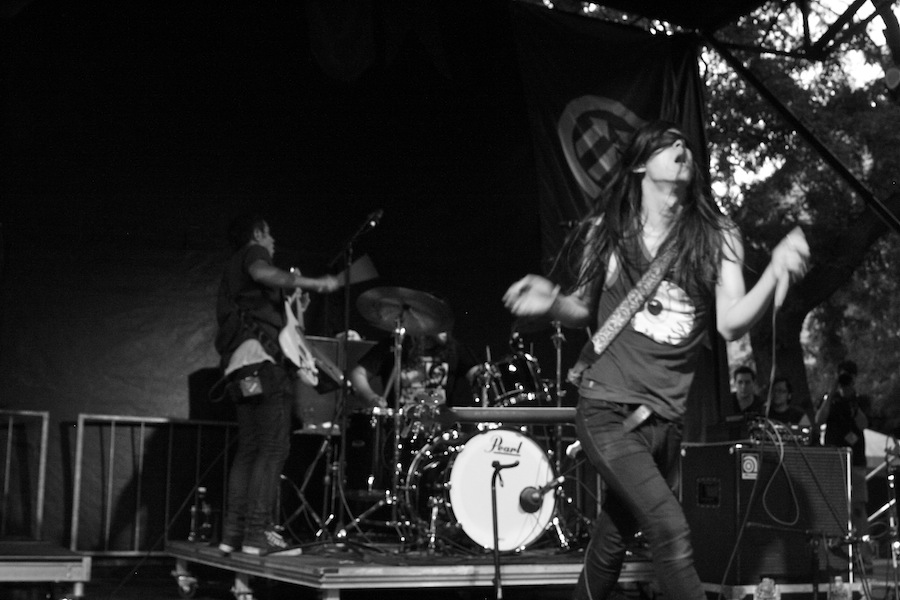 Words and Photos by Andrew Parks
"Where's the mayhem?"
A fair question, really; one that was posed by Dimitri Coats when we ran into the OFF! guitarist on the second day of the Pitchfork Music Festival. At the time, we'd both walked out wondering why the site decided to end the night with the pleasant but predictable folk music of Fleet Foxes. That answer is quite simple, of course: because the band's in the same bearded breakout family as Bon Iver and My Morning Jacket. And many people like pleasant but predictable folk music.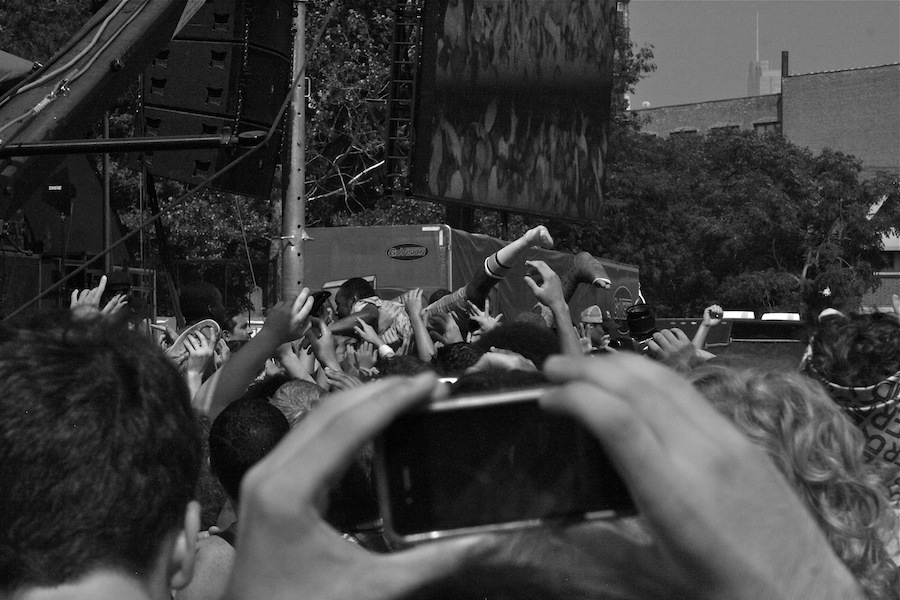 That doesn't mean it leads to an exciting live performance, though. For that, we turn to artists who make us feel like they'd just administered a sequence of shots to our arms, eyes and ears. To many people at Pitchfork, that artist was Odd Future, a hip-hop collective that's got the angry misunderstood teen market cornered. (Well, that and those of us who want to feel excited about new records again, regardless of whether they have anything new to add beyond spare, woofer-wrecking beats and lyrics that lose their shock value when you realize most skater kids have the fuck-it-all mentality of Puck from The Real World.) And that's okay. Odd Future's continued success makes perfect sense given the times we live in–an angry, uncertain world that's numbing to a point where blind fury is not only welcome but encouraged. The fact that Odd Future's a token revenge of the nerds tale only serves to strengthen their cause.
Why did we leave their "controversial" Pitchfork set about 15 minutes in then? Because the methods behind the group's madness revealed themselves months ago: Whether you're struggling to see them at a massive outdoor festival or Tyler, the Creator's practically in your lap , you can expect a steady stream of stage diving and nervous energy that distracts from just how Punk Provocateur 101 the group's venom-tipped verses can be. Even hardcore Odd Future fans tend to praise their show well before they mention word-of-mouth favorites like "Yonkers" and "French." And when you make it past those standouts, you're often left with a set that lags somewhere in the middle, right alongside lyrics that scream "look at how edgy I am!"
HEALTH, on the other hand, tempers their temper tantrums with actual songs, whether that means wordless sine waves that sound like the end of the world ("Death+," "Nice Girls") or an angular anthem ("Die Slow") that's downright danceable…if you stop, drop and roll under its dagger-like effects first. More importantly, HEALTH is driven by a sense of spontaneity. Since most of their vocals are vague at best, the L.A. band is forced to speak with their epileptic body language, steamrolled rhythms, and pedal-powered riffs.
As you'll see below, the first four songs of HEALTH's Pitchfork set was the most visceral/vicious we'd seen all weekend. Pure mayhem, after all.