Lovefoxxx, on CSS' ex-manager: "We want the cancer to reach him as soon as possible"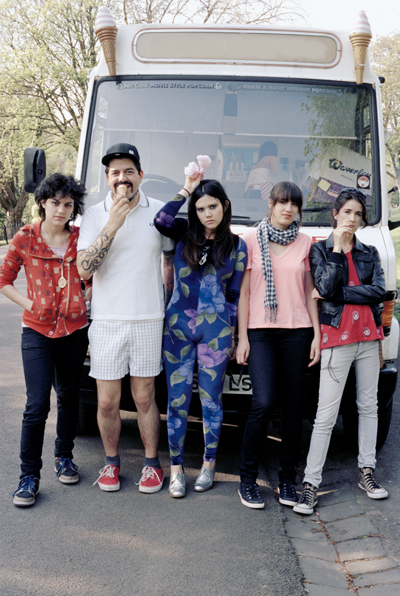 [Photo by Roberta Ridolfi]
By Aaron Richter
It's hard to imagine CSS–the Brazilian-borne band responsible for such playful singles as "Let's Make Love and Listen to Death From Above"–ever getting mad. Perturbed maybe; but never to the point of sounding downright pissed, especially given the group's bubblier-than-thou stage presence and such recent news developments as Lovefoxxx's engagement to Simon Taylor-Davis of Klaxons.
Yet here we are, battling a bad phone connection as the singer reveals the mounting, misplaced debt that led to the firing of CSS' manager, the former boyfriend of ex-bassist Iracema Trevisan. With their second Sub Pop album (Donkey) on the way at the end of July, Lovefoxxx spoke about not having enough money for healthcare or food, the new band dynamic after bassist Trevisan's departure, and that whole wedding thing.
self-titled: Are you living in London now?
Yeah. All of us. Everybody's living here now. I used to live here before everybody because of my boyfriend.
What do you like about London? Aside from your boyfriend.
I like my house. I never leave my house. And recently I bought a bike. It's very cool. I got a Pashley. It's like a female bike, very not adventurous. It has a basket. It's an old lady's bike.
What do you carry in your basket?
I've been going to the supermarket every night because I love cooking. And I just like trying recipes and cooking at my house. That's what I do in my time off.
Let's talk about your new record, Donkey. What was the mood of the band going in to working on the album?
We never had concepts when we start making something. We just start making something, and then we can imagine there was a concept. It was quite stressful because we had all the deadlines, but we didn't have everything ready. So we were just doing whatever we could to finish on the deadline.
Is that different from how you worked with the first record?
Yeah, yeah. When we did the first album, we were just playing around. And then we were just doing whatever. That was the concept of the first one. Then this time we just had to rush a bit more. I really like this one more because when we did the first one, we were working, and I used to record vocals every day after working. One vocal a day. So it was very slow. This record is very personal. If anyone around us would listen to the songs, they would know what we're talking about. This is the main difference. We're also more confident in what we're doing because we've toured for so long.
Other than touring, what influenced this record?
I don't write any songs. I just write some of the lyrics. I was very stuck at the beginning. I couldn't write anything. I thought that I was only going to write about touring because that's all we were doing, but I really didn't want to do that. It was very weird, and I was so stressed. But then at the end of the year we all had an amazing 15 days off, and after that, I was able to do something again.
We were so stressed last year. Our former manager, Eduardo, ripped us off and left us with so many debts. And we were very fucked at the end of the year. There's lots of anger on this record. I was scared of just talking about this because that's all we could think of.
When did you discover that you'd gotten ripped off?
We found out in August of last year. It was horrible.
What was the situation?
He used to be the international manager of our Brazilian label. Then when we went on tour he just went with us as a tour manager, but then he just stuck with us and never left us. We really thought he was our friend. And he was dating our bass player [Iracema Trevisan]. That made everything much more fucked up. We thought we were friends, but he was very messed up, and we thought that was just because he was a nasty person. But then at one point, I didn't have money to go to the doctor, I didn't have money to eat. We were playing all of the main festivals in the world. So something was definitely wrong. Then we saw statements and this kind of thing. It was going to straight to his account in Brazil. It was horrible. We had to tour for like four months to pay our debt.
How have you recovered?
We know that this guy, Eduardo, he has ulcers and kidney stones, so we're very happy because hopefully he will get cancer very soon. We want the cancer to reach him as soon as possible.
You mentioned that he was dating your bass player. She recently left the group. Did that situation affect her decision to leave?
No, that was very horrible for her. But the thing is that when we released our first album, she already told us she would leave the band soon because it wasn't a priority for her. When we were recording the record, [band member] Adriano [Cintra] would start writing songs, and he would always have to make it more simple for her. She just couldn't play the bass lines. And then she tried to record, and it was just not happening. She just came to us and was like, "I know I'm a horrible bass player. So I'll just leave." It's cool that she left because she was a horrible bass player. She was ashamed.
How's the group doing without her? Last I read, you were playing with Jon Harper from Cooper Temple Clause.
We were rehearsing in Brazil, but I was sick, so I didn't go for the first week. Then when I went there, they were playing all the songs. I'm a very emotional person, and I just started crying. I was a bit sick, but they were playing, and it sounded like it never sounded before. It sounded like a real band–the bass and the drums as well.
Is Jon Harper a permanent replacement?
Are you asking if he's a member?
Basically.
No, he's playing with us but as a session musician.
On tour.
Yeah. He didn't record on the album. Adriano recorded the bass and the drums.
"Music Is My Hot, Hot Sex"
[youtube=http://www.youtube.com/watch?v=G8lcnzWCKpQ]
You seemed obsessed with pop-culture icons with your last album, whether it was Paris Hilton or Beyoncé saying she's tired of being sexy. What pop-culture obsessions do you have now?
Do you know about the flying priest?
What's that?
The flying priest. He's a priest in Brazil, and he wanted to fly from the south coast to the middle of the country. He filled up a thousand helium balloons and tied it to a chair, and he just went flying. Nobody said, "I think this is a bad idea." He just was flying on the balloons. Then he took a cell phone and a GPS, and then called the … I don't know what. He said, "Hey, can you teach me how to use this GPS because I don't know how to use it? But can you teach me fast because my cell phone battery is almost ending?" And then no one heard about the priest again.
We love talking about the priest. He's our biggest idol now. The priest is the new Paris.
I read you might be working on a solo album.
No, that's not true. Absolutely not true.
Is it something you'd be interested in?
At the moment, no. I really enjoy having time off whenever I have it and riding my bike and cooking. When there's more things for you to do, I think that's why there's so many breakdowns in music–people breaking down and canceling tours. I don't want to have to ever cancel a tour because someone's breaking down because of stress.
And you should be planning your wedding.
Yeah, we have the whole year to plan. It won't be a huge wedding, like that J.Lo movie The Wedding Planner. We're very simple. I don't know when it will be. We're very busy at the moment. I don't know.
[audio:http://www.subpop.com/assets/audio/4288.mp3]
RIPPED FOR YOUR PLEASURE: "Rat Is Dead (Rage)"
[audio:http://www.subpop.com/assets/audio/2899.mp3]
R.F.Y.P.: "Alala"