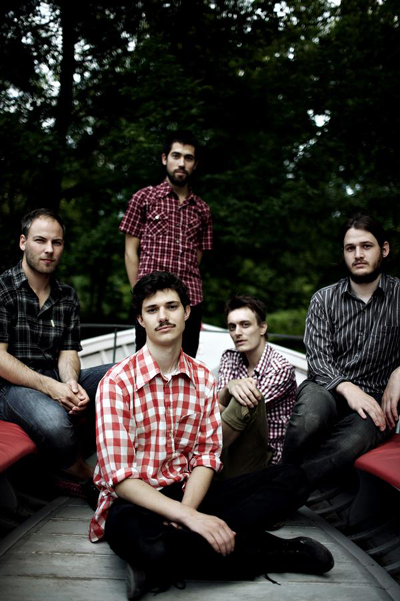 [Band portrait by Benjamin Kürstein]
Text by Casper Clausen
Photos courtesy of Efterklang
Hello dear reader!
From May 6th to June 3rd, Efterklang toured the US for the very first time in our eight-year history. A few of us had visited before, but for the majority of our nine people posse, this was a first timer in many ways! We played 25 shows across your country and we noticed a few things. You guys don't like to walk! We don't blame you–your cities are too big and widespread. In fact, they are HUGE! Also, we forecast that the USA will experience a bread revolution soon–you need it! Very soon bread will be über hot and you will all be very happy about it! If you don't believe us then come to Denmark and try a speltbolle!
A fun thing about coming to America for the first time: It feels like entering a movie because you have seen so many details in films already. Like how the traffic signs look, the cars, the pay phones, the toilets; everything down to doorknobs, really. We have seen it before, but only in films! That is pretty weird.
Also we noticed that Americans are friendly and that you make us happy! You are very good at making other people smile and feel good! That is a pretty cool thing to have going for a country!
The diary you are about to go through is from the last days of our tour. You can see more pictures at our Flickr site.
xoxox
– Efterklang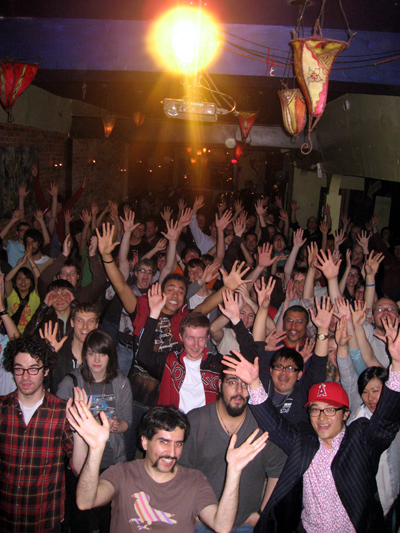 This is at El Mocambo in Toronto! These lovely people made it a grand evening; thank you so much.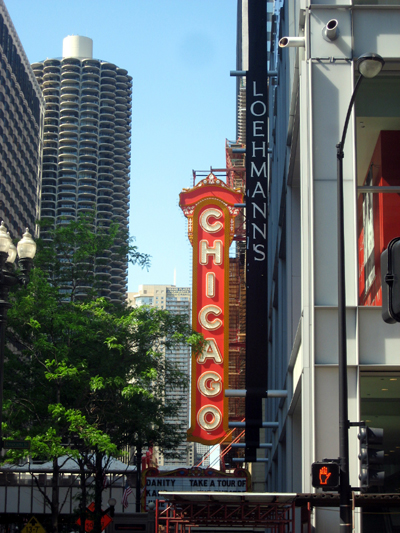 This morning we woke up in Chicago. The buildings are impressively tall, pointing towards the blue sky, and we have a day off … fantastic!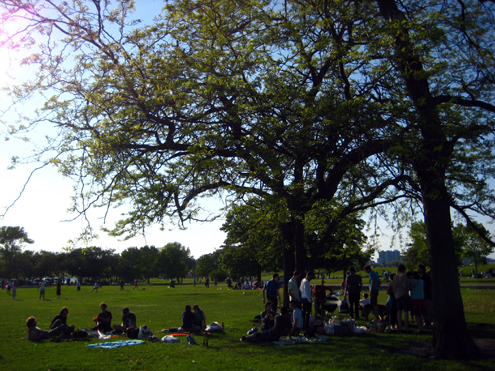 A sweet journalist and musician, Matt, interviewed us for Paste magazine. Then he invited us to a BBQ with his friends in a park just next to the beach in the north part of the city. Veggie burgers, cold beers and pure sunshine–what more can you ask for …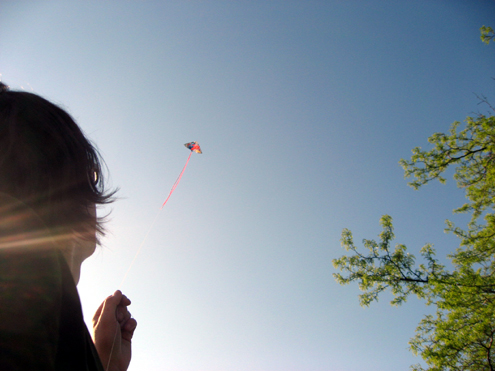 Mads … feeling the wind in his hand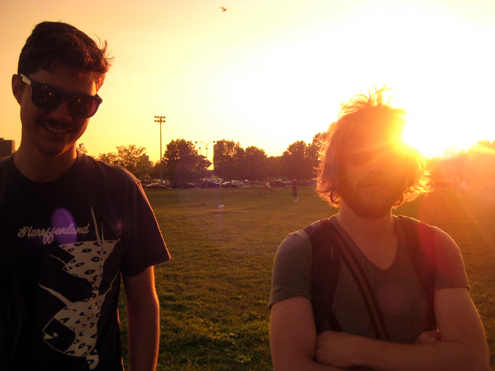 Rasmus, Frederik and the day disappearing in the background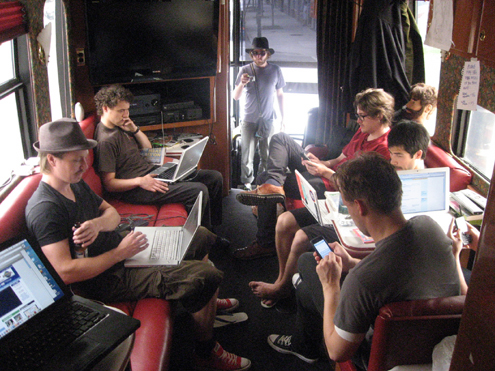 Today, we're playing at the Empty Bottle. It's a Monday show, which means it's free. We're all excited to see what that'll lead to … But before getting all too excited, we kill a little bit of time with a nice 'net party.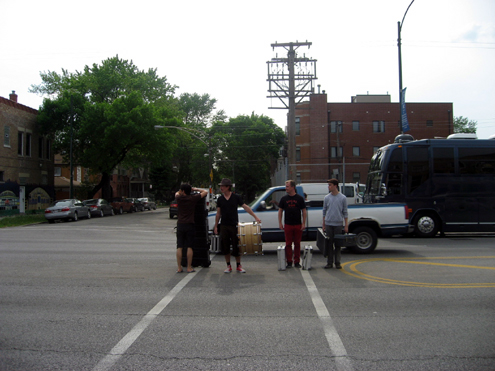 (From L to R) Thomas, Mike (Slaraffenland), Christian (Slaraffenland), and Peter are loading gear, crossing a stream of heavy traffic …

This is Zach together with a complete score of our song "Polygyne" (from the album Parades), which he did for a school project. We were all blown away by the work he'd put into it! He must have listened to that song more times than we've done throughout the whole recording process …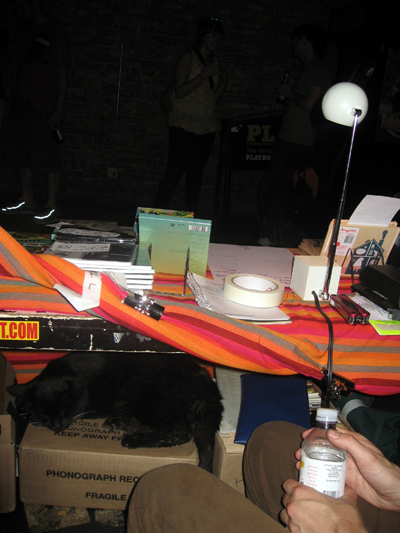 First time ever that we had a sleeping cat under the merch table, taking care of the records …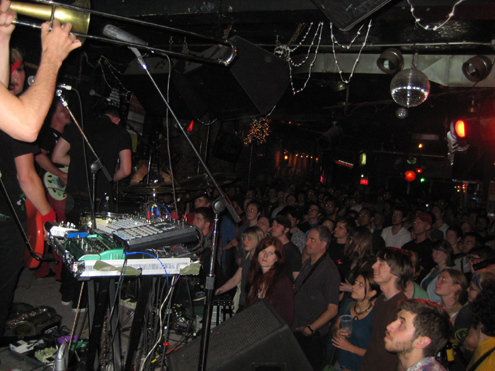 We been touring the US with our good friends and an amazing band–Slaraffenland. Here they're playing in front of the sweet sweet crowd in Chicago. They are also Danish and we share a member with them. Check it out … www.myspace.com/slaraffenland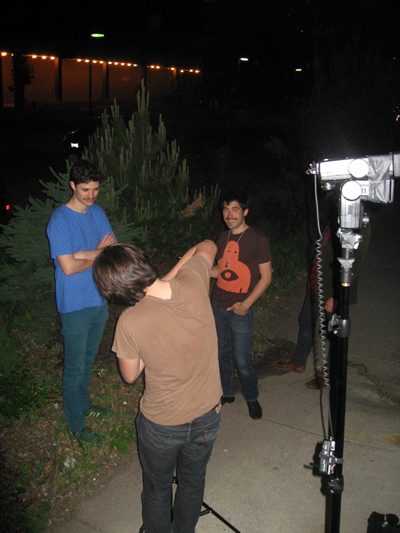 A very nice guy (David Sampson) asked us if he could do some press photos of us after the show. So we did, with lots of flash lights in the darkness of Chicago. You can see the result soon on our Web page.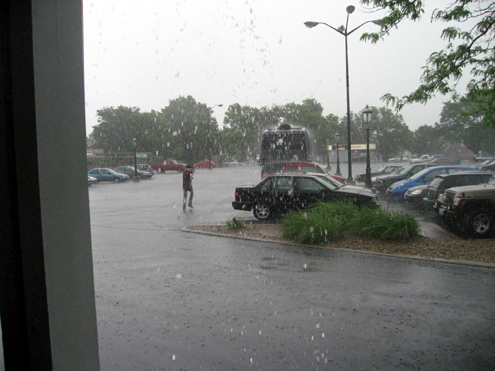 Kansas City is the last stop on this US tour. It was sunny and hot when we arrived, and one big waterfall an hour later …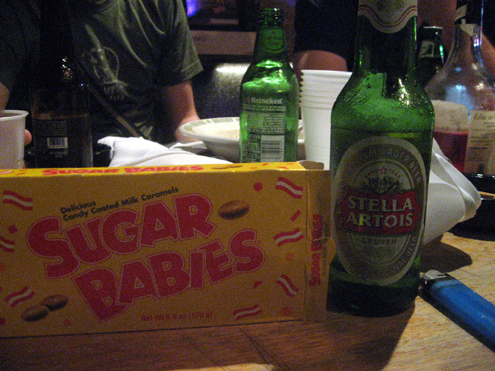 Sugar Babies and Stella is the shit!!! (According to me and not the others in Efterklang, I promised to add.)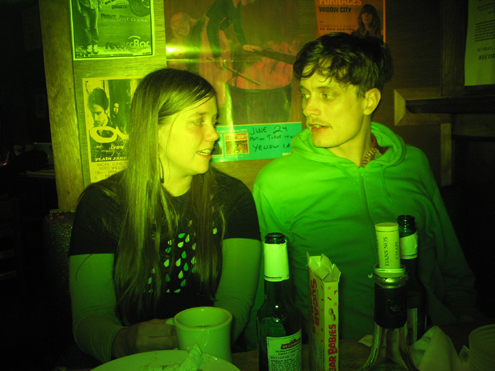 Everyone was pretty sentimental on this last evening of the tour. This is sweet Sara from Slaraffenland's US label, Hometapes. Sara was with us all the way through North America. We'll miss you Sara!!! (That's me on the right by the way.)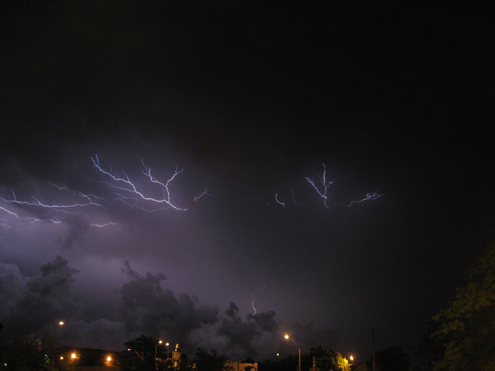 The night sky over Kansas City, 9:32 p.m., June 3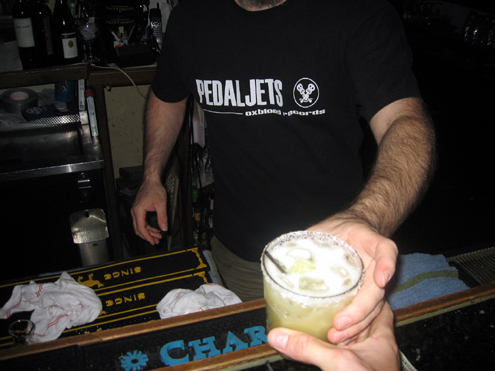 Last Margarita in the states 🙁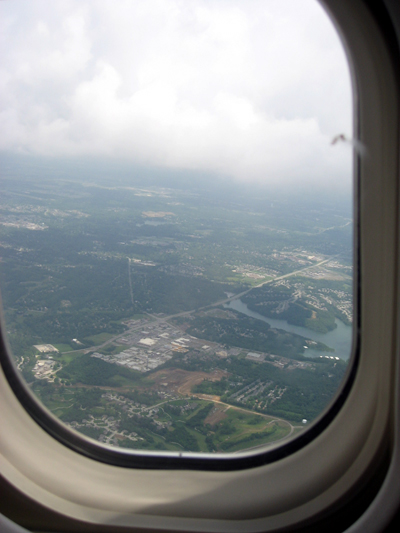 JUNE 4: Goodbye America … We will miss you. It made us very happy to see that so many of you came to the shows and that friendly and cool people can be found throughout your vast country! We hope to be back soon!