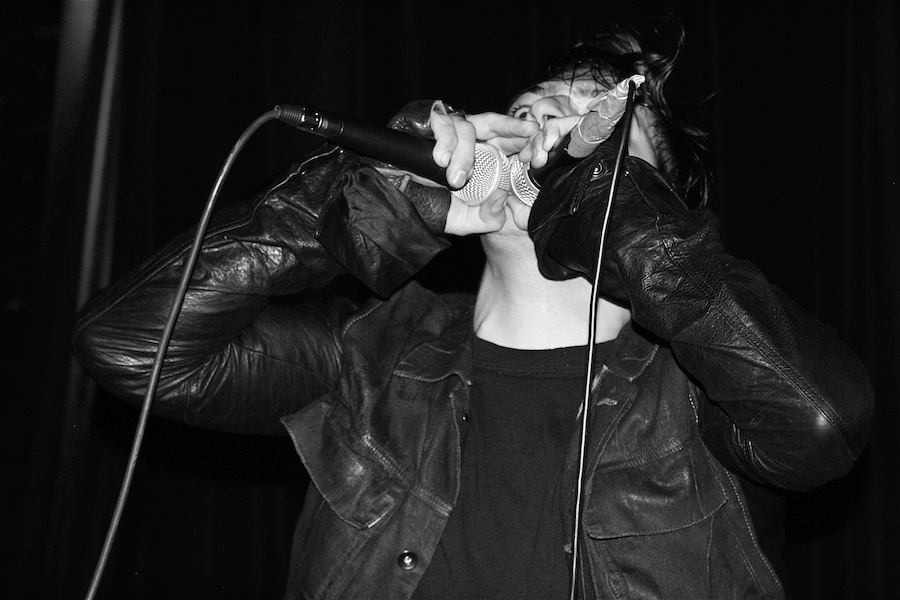 Words and Photos by Andrew Parks
What is punk rock, really? If you ask anyone who's witnessed it firsthand, they'll tell you it's got nothing to do with your record collection, haircut, or that Rotten sneer you practiced in the mirror for the past month. Punk rock just is; it's a state of being you're either born with or develop naturally out of a sheer disdain for life, liberty, and the pursuit of happiness. Not to mention all the small print bullshit that goes along with it.
The other thing about punk music is how malleable it is, from brisk, brutalized strains of hardcore to purist takes on the patch-collecting gutter groups of the late '70s and early '80s. And with so many classic records just a click away, it's no wonder why four Danish high school dropouts are on track to becoming one of the summer's biggest Best New Music bands. Like No Age and other basement dwelling bands of the iPod age, Iceage clearly studied the greats before cutting their filler-free debut (New Brigade, available through a widespread What's Your Rupture? pressing next Tuesday) in whatever hole they crawled out of. This is why many survivors of hardcore's first and second wave gave Iceage a rarified cosign early on–because four kids who were born in the mid-'90s somehow remind crusty I-was-there cynics of punk's golden age, back when Black Flag bludgeoned L.A. on a weekly basis and the Bowery was lined with dirty needles and abandoned buildings.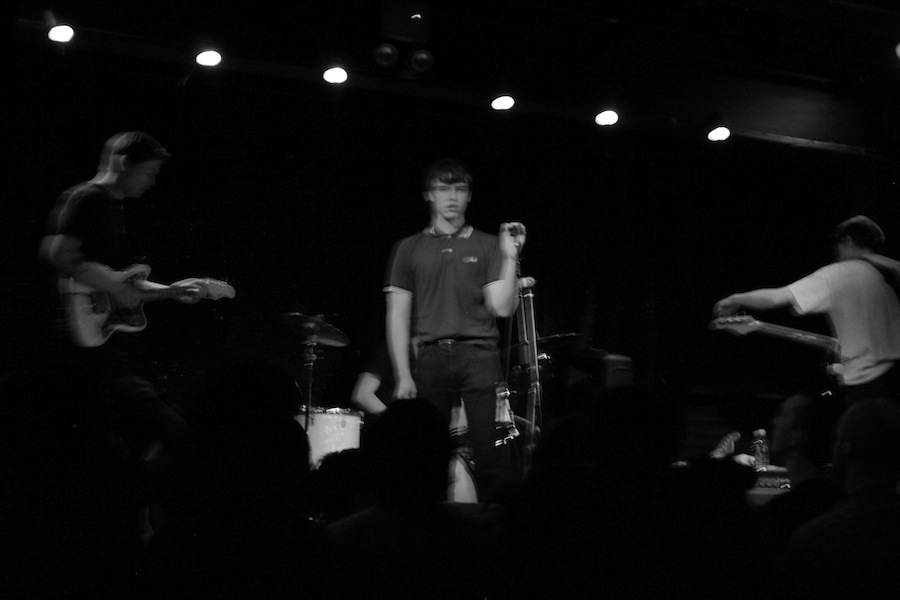 Which leads us to Iceage's first U.S. show, presented at Public Assembly last night as part of Brooklyn's Northside Festival. As you can see in the cocksure shot above, these kids know they're about to be vetted as the proverbial shit by everyone from Pitchfork to–in a couple months, when it's safe enough–Rolling Stone and Spin. In a lot of ways, their bulldozer-like show had the same gleefully sloppy, crowd-riling feel of Odd Future's New York debut last fall. Meaning: as visceral and vicious as it all seemed up front, something still felt a little too self-aware, from the way frontman Elias Bender Rønnenfelt belts out the titles of every track like Jay Reatard and the Ramones before him to the general sense of fuck-all posturing they all have down to a tee already.
In other words, don't expect an encore or anything more than a 20, maybe 25, minute set from these guys when they hit your town later this year. Which is fine; it's what we expect from this kind of music. Anything more would be civilized. That said, if tonight was a survey of where punk's at in 2011, Dominick Fernow's Prurient project blew Iceage away during his first performance in nearly two years. Unlike the unfiltered white noise of Prurient's last live incarnation (see the video above), Fernow's new set integrates the power electronics of his Cold Cave bandmate, ex-hardcore kid Wesley Eisold. This gives the Hospital Productions founder the freedom to prowl the stage like some sort of leathered-up panther.
Beyond that, Fernow takes the darkwave underbelly of his Pleasure Ground LP to another level on his Hydra Head debut (Bermuda Drain, now available as a limited cassette and out in CD/LP/digital form on July 19th), as if Whitehouse decided to work on a record with Depeche Mode or any of the artists on Veronica Vasicka's Minimal Wave imprint. None of which appears premeditated or unpure. If anything, Prurient sounds, and looks, as frightening as ever onstage, silencing anyone who still doesn't understand why he's been making deviant pop music with Cold Cave the past few years. And Eisold has evolved into his perfect sparring partner, giving the right amount of heft to Fernow's hyper-speed hooks and providing an alternate, logical progression from the battery acid-doused experiments of Cold Cave's own Cremations collection.
THE VERDICT: Iceage arrives as advertised, like many other pissed-off children before them; very you-get-what-you-pay-for at the end of the day. Prurient, on the other hand, has transcended the tired tropes of the noise scene he's nurtured for decades. From the frayed synth lines that nip at his heels to the circuits that bend their way around his fractured beats, he now embodies a post-Exorcist ideal of what-it-means-to-be-punk. More than just pissed-off, the guy looks possessed, unable to rest until his id is indulged.
Scary shit, really.