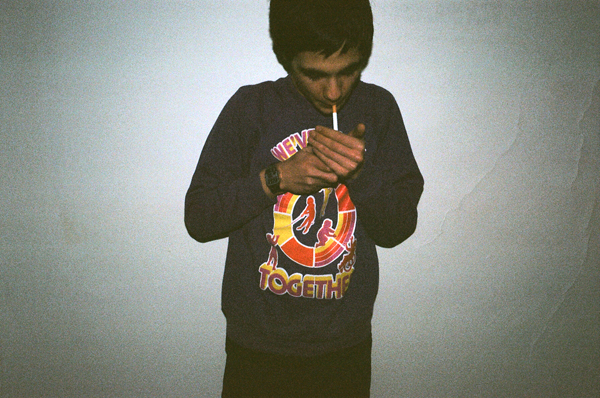 Institubes, the Parisian imprint known for launching the careers of Para One, Surkin and other electro-leaning producers, has decided to shutter its doors after eight years of being unfairly maligned as the French label that isn't Ed Banger.
Here's the official statement, via the label's Tumblr: 
So, the next Institubes record is not coming soon. And I can't tell you how much it pains me to write these words. We've released many records in our (almost) eight years of existence and managed to introduce a number of excellent artists to the world. Good times were had and accolades garnered. I'm not so conceited nor high on my own supply that I'd try and talk up our "legacy" but I don't think that in five, ten or twenty years I'll look at our discography and cringe. Now I get to tell you, Institubes fans, friends and allies, that we have to wrap it up. Party's over.

I could write ten pages about the realities and difficulties of the music business but you'll only get about two paragraphs and not much whining. We never lived those halcyon days some industry elders tend to rave about. We always moved through a post-apocalyptic, terminally pauperized landscape, complete with irradiated A&R zombies and mutated eyeless bloggers. It's always been a bit of an uphill battle. But it got worse and worse. At first it was fun to figure out ways to get people to check out our music. But once that's done and you have something resembling an audience, it becomes apparent that this is not really your job. Your job is to reconcile the public with the very idea of buying records. All the power to you if you can bear it.

We're closing shop because the operation is losing too much money, this much is clear. Most of what we could have done to prevent or delay this outcome reside in two words: lifestyle and branding. Investing in t-shirts and co-branding, scoring "collaborations" or sponsorship deals with deep-pocketed companies. I have but a regret: we actually did it sometimes. We should have said no more often. Bands struggling to get together with brands, artists and audience deriving more validity from corporate interest than from anything else, bands happy to learn that in the future they would have to "take charge of their own promotion": this wasn't for us. In other words, on our small scale, we should have been able to carve a non-capitalist niche within the larger corporate world. I thought, being young and naive when we started, that "underground" meant just that.

The fact that ours is a struggling industry, where 90% of your time is spent "staying afloat", obscures an important fact: we are still playing by the rules that got us fucked in the first place. The way we do business is defective: our values are defective, our contracts are defective, our post-Napster economy itself is defective. I just read an article by a label owner who states that "anything we can do to stay afloat should be condoned". I don't think so, no. Staying afloat by any means necessary is a meaningless pursuit. The only honest way for a record label to make money is by selling records. We've always been uneasy about selling anything else.

And our current cultural economy isn't healthy either. Consumer practices are fucked. You don't need me to tell you that music is devalued. Not only because we no longer sell shit (and even when you do, it's hard to shake the feeling that you're selling free shit), but also because tracks are peaking faster than tumblr memes. In our historical moment, music is everywhere but second or third or tenth to many other interests and areas of culture. Fashion, Apple, video games, "devices", social media, etc. And that's cool, I guess. But I don't want to have to be a function of fashion. Nor do I want to urge an artist to publish half-baked tracks every month in order to stay "relevant". Depleted accounts is one thing, but depleted attentions?

I don't really have a conclusion to this weird press release. So let's end with two things I'm very proud of:

1. It's nice to end on such a great year. In 2010 we have released two EPs by Surkin, two by Bobmo, two by Chateau Marmont, two by Rob, singles from Jean Nipon, Crystal, Das Glow, High Powered Boys, plus Bart B More, Para One, and Teki Latex EPs via Sound Pellegrino.

2. The label is gone but the artists are in top form:
Bobmo, Para One and Surkin just announced the birth of their new label called MARBLE, home to their (many) upcoming singles.
After the extremely successful release of the chart-topping "Calcium" single he produced with Strip Steve for Boysnoize Records, Das Glow has a new EP coming on Marble very soon.
Teki Latex and Orgasmic are now operating SOUND PELLEGRINO as an independent entity which has released the new High Powered Boys EP "Udon / Work" and a double compilation called "Les Jeunes Années".
Jean Nipon has released his new EP "International Meek" a few weeks ago.
Cuizinier has recently launched his website and store lapizzachaude.com where he's slowly unveiling pieces of his (great) upcoming debut album.
Para One's album under the name "Slice & Soda" with San Serac is ready and coming.
Tacteel's solo album under his legal name Jerôme Echenoz is in the can. Him and Para One have also recorded many tracks together in the last few months, expect to hear them very soon.
Chateau Marmont are in the studio recording their debut album. What we've heard so far is extremely exciting and totally pushing their craft to a whole new level. The original soundtrack to the beautiful French independent movie "Belle Epine" composed by Rob has been released this winter.
Surkin's album is finally done.
Crystal are recording their debut album and: well, you get the idea: everyone is very busy in the studio.

Looking at all the Institubes artists, I see the most talented, diverse, curious, self-challenging, smart, progressive and forward-thinking group of people we ever had the chance to know. They're the best. Anyone disputing that is either misinformed or a liar.
Please keep supporting them.

Lastly, a closing event (= a massive party) is going to be announced very soon.
Keep checking www.institubes.com for updates.
Also visit www.soundpellegrino.net and www.marble.fm to stay in touch with the gang.

Pretty much every mailbox we ever had is clogged so we've just set up this new e-mail: byebye@institubes.com

Please use this for all correspondence from now on.