Photos by Meredith Jenks
The Night Slugs story is simple: Alex Sushon (aka Bok Bok) and James Connolly (aka L-Vis 1990) couldn't believe a cut—Kingdom's "That Mystic"—that was consistently crushing their club night wasn't properly pressed, so the rising promoters/producers decided to do it themselves.
Three years, several key signings (Jam City, Girl Unit, Egyptrixx) and two essential All Stars compilations later, Night Slugs subscribe to a mission statement that's constantly mutating, pulling in divergent strands of pop and dance music while the rest of the world concerns itself with the wobbles of EDM. Or in the case of Night Slugs' native London, heaps of endorphin-flooding Euro-trash tracks.
"We had several requests for 'house' at our last Night Slugs party in London," says Sushon, "which kinda made me chuckle since, to us, everything is house, and house is everything."
In the following exclusive–an expanded version of a story that's running in our new issue Thursday–the label heads to take us on a tour of their vast record collections…
THE RECORD THAT MADE US WANT TO LAUNCH OUR OWN LABEL
Kingdom, That Mystic (Night Slugs, 2010)
Alex: It was 2009 and James and I had both just quit our full-time jobs in advertising and video production respectively. We were making some music for a video game for some quick cash, while constantly DJing and working on developing our new sound.
We were having lunch one day between sessions at the game developers, and I remember so clearly talking about "That Mystic," both of us wondering why this and other tracks like it, then staples of our set and crowd favourites wherever we went, weren't getting signed and released. We realized there really wasn't a label out there that could comfortably house those early Kingdom tracks as well as early works by Egyptrixx and others. The seeds for our label were sown in the park that lunchtime.
THE FIRST RECORD I JUDGED BY ITS COVER
Les Rhythmes Digitales, Darkdancer (Astralwerks, 1999)
James: I had been obsessed with record covers from a very young age. I guess it all began when i used to go through my dad's old vinyl collection and pick out the records I liked the look of; Roxy Music, Bowie and Devo mainly caught my eye back then. When I first started buying dance music, I used a similar method to find new artists I had never heard of. Every week I would go to my local HMV and pick at least one record based solely on its cover. Sometimes it worked and other times it was disastrous!
Dark Dancer was the first one in this experiment and it really worked for me. I was instantly drawn to the '80s-style airbrush art, his red hair, the VW golf and the DX7! (This was the first synth I ever bought, simply because it was on this sleeve.) The record really did not disappoint either; I felt like I had found a hidden gem. It became the record of that summer for me and my friends who all went out and bought as soon as I played it to them. I still love it after all this time; I was even in talks with the Dark Dancer airbrush artist to the sleeve for [my solo album] Neon Dreams!
THE RECORD PEOPLE WOULD BE SURPRISED I OWN (AND LOVE)
CAN, Tago Mago (United Artists, 1971)
James: This is probably in my Top 10 records of all time. I first heard about it from a rambling, drunk old guy in a pub Brighton around 10 years ago. We were talking about bands that were before their time and he brought up Can and their album Tago Mago. He started to freak out about this record, trying to sing backwards and recreate the drums on the bar! It was a hilarious but very special moment for me. I went out and bought the album the next day and was blown away; I definitely had never heard anything like it before. The hypnotic groove of the drums, and the lack of real structure really struck a chord with me. I'm forever in debt to that old drunk for sending me down the worm whole that is avant-garde, Krautrock and EBM.
Various artists, Bruton Music compilations
Alex: I'm actually not at all a library music nerd and I don't really know that much about this genre on the whole, but I started picking up Bruton Music 12″s on sight after a chance buy led me to discover my first one. I already kinda heard about the series via my friend Mo Problems, so I instantly gravitated towards the art, which like Night Slugs is based on a house-sleeve template that stays the same for every release. If you haven't heard a Bruton compilation before, it's a lot of funk toolkits and jazz fusion type stuff, perfect for vintage TV idents and the like, and also perfect for me to sample. My favourite Bruton volumes have a ton of short jingles and licks mixed up with longer tracks. If you hear some of this stuff and you know music music, it's actually not that surprising that I'm into it.
THE FIRST RECORD I REMEMBER BUYING, AND STILL PLAY TODAY
Paul Woolford presents Bobby Peru, "Erotic Discourse" (20:20 Vision, 2006)
James: I remember exactly where I was when I bought this record. It was such a significant purchase in my life. I used to spend all my free periods at college record shopping in Brighton. There were so many good shops back then, but one shop in particular really helped me become the DJ I am today: Covert Records. Each time I would go in and ask for vinyl off the wall, and the dude that worked there would chuck in a couple of wild cards from another section I wouldn't normally look at. "Erotic Discourse" happened to be one of these and I went bananas! To this day that record is one of the most futurist, yet timeless club smashers in my eyes. It's from another planet and it never leaves my crate. Seven years later–after a few weeks of pestering–I was lucky enough to get the stems off Paul to remix it, a serious dream come true!
"If Michael can sound this crazy, then Night Slugs can definitely do pop music"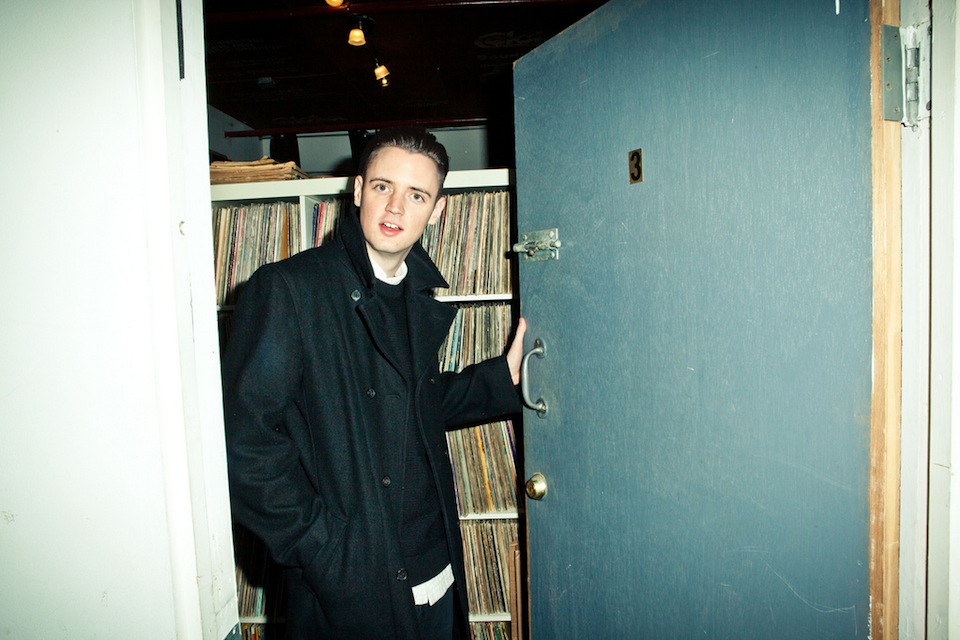 THE RECORD I WISH WE'D RELEASED ON NIGHT SLUGS
Lil Silva, "Funky Flex" (self-released, 2008)
James: When I first heard about UK funky in the spring of 2008, I was so sceptical about it. The first examples that came through seemed just like handbag house but with syncopated drums. I was like, 'WTF? This is shit! This is not a London sound.' Within a few days Alex sent me this rip of a Marcus Nasty set with MC Rankin from the pirate radio station DeJa Vu. This is where everything changed for me. The whole mix was so inspiring but there was one track in particular that really stood out to us: "Funky Flex," the first track to truly capture the essence of grime and combine it with house in such a distinct and destructive way. So minimal but so much power.
"Flex" became part of the blueprint of early Night Slugs thinking and still is today. The track was only released on a limited white label at the time, with "Seasons" on the flip. In 2010, we we released Silva's official debut EP Night Skanker with tracks specifically made for Slugs, and a few classics that we thought deserved wider recognition, but for some reason we decided against adding "Funk Flex." Looking back we really regret this; it's sad for a record that was so important to us.
THE RECORD THAT NEVER, EVER LEAVES MY CRATE
GIRL UNIT, "IRL" (Night Slugs, 2010)
Alex: As early Night Slugs releases go, this one has stood the test of time like none other. "IRL" was among the first tracks we signed to the label. I remember clearly when I first heard it, in the background of a video chat while on my first tour of the US in late 2009. Me and Girl Unit had been sharing a house for a while and I knew he was producing a bit, making edits and such. But when I heard "IRL" I was blown away; it was everything I wanted from club music at the time, summed up so neatly in one track. I couldn't believe it. I signed it instantly! GU managed to capture the unsteady rhythmic essence of footwork at a UK-friendly 135BPM, with lead synths that nodded to the brutalist sound design of my favourite era of grime while also possessing this uniquely disorientating bigroom dynamic that would come to define Girl Unit's sound. I still play it all the time.
THE RECORD I WISH I'D WRITTEN
Michael Jackson Ft. Janet Jackson, "Scream" (Epic, 1995)
Alex: I'm generally a huge fan of Jimmy Jam and Terry Lewis. These guys are totally untouchable as pop producers go; their sense of melody married with their impeccable musicianship and engineering is almost too much to aspire to for a modern DIY producer such as myself. I love their more obvious R&B funk stuff from the '80s—for artists like Cherelle and S.O.S. Bandâ—but I feel like what they did on "Scream" is everything I aspire to one day do with pop music myself. I love how raw and sort of wrong the production sounds; I mean, those glass break noises?! They really took it there. And this is for mass consumption, working for one of the biggest artists of all time. If Michael can sound this crazy, then Night Slugs can definitely do pop music.
THE RECORD I'D LEAVE IN A TIME CAPSULE MARKED "UK BASS MUSIC"
FIS-T, "Night Hunter" (502, 2010)
James: If UK bass music was actually a genre and not just a lazy term journalists use to describe all underground dance music from the UK, then "Night Hunter" would be the perfect candidate. It has elements from all of the key UK underground movements of the last two decades. It's also dark, minimal, direct and unpretentious–the full embodiment of bass music from the UK.
THE RECORD THAT REMINDS ME OF NIGHT SLUGS' EARLY PARTIES
L-Vis 1990, "Change the Game (Starkey Remix)"
James: Those early Night Slugs parties were so special; it felt like I had a true home and family in music. For the very first party, I actually played a live set of all my own material. I think my debut EP was about to drop around that time; the lead track was this weird bassline-infused Baltimore club track "Change the Game." Everyone knew this track already as it had been around for a minute, but at that first party I dropped the remix that Starkey had just sent over the night before and the crowd went absolutely nuts. Was such a great feeling to get such a reaction at our opening party. That was actually the last live set I did until my Neon Dreams tour in 2011. Everyone was having too much fun on the turntables rewinding every other song so I had to join in!
E.J., "U.F.O." (A.R.M.Y., 2006)
Alex: This is a truly big dutty bassline wobbler of a tune and I have to say I miss tracks like this. In the early days of the Night Slugs parties, while grime disappeared from the clubs and the once dynamic dubstep scene settled deeply into its newly found haft-time lurch, we were playing a lot of bassline and 4×4 garage stuff. We were missing the energy that London-centric soundsystem music used to give us and so older 4×4 stuff and new bassline sound of the North and the Midlands became our staple.
I was sourcing a lot of new dubs directly from producers outside of London involved in the new bassline movement–people like TRC, Screama and Piddy Py. But also digging for older bassline garage stuff and even breakstep, from artists like Second II None and the Northernline Records crew. (From whom Night Slugs borrowed our naming convention; shout out to Paleface.) "UFO" by EJ was one of those older tracks that fit perfect with the sound we were pushing at the early NS parties; with its deeply unsettling LFO flying saucer bass, the track really lived up to its name. This one also makes me think fondly back to our affinity with NYC's Trouble & Bass crew who really inspired us in our gestation. I know Drop The Lime used to love this tune as well.
"I want to hear the grit between the drum hits and more importantly feel the soul"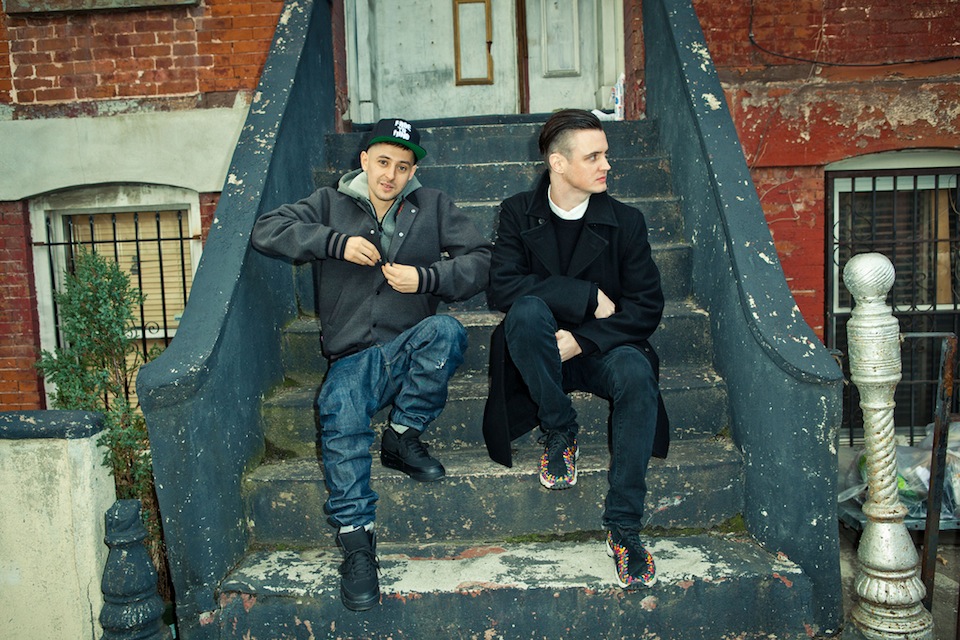 THE RECORD THAT MADE ME WANT TO BE A PRODUCER
Hindzy D, "Target" (Lix Corruptions/Sting Recordings, 2003)
Alex: I was actually just on BBC Radio 1 discussing this track with Jackmaster as part of their "History of Bass" series. As the years since the OG grime movement roll on, I keep coming back to this tune again and again. "Target" and others like it define a time when I was overwhelmed, listening to so much pirate radio and barely being able to keep up with the stream of new tracks emerging. These beats—"Target" and all the other anti-anthems—were not really songs at all, but these special arrangements of sounds laid out in just the right way to somehow just draw all this energy out of your body. In these simple 8-bar structures was the potential for infinite modularity; a DJ could snap these tracks together like Legos, while producers and bootleggers could easily jumble up their parts, creating an instant remix culture that was and still is incredibly appealing to me. "Target" stands out from that era as being one of the most original pieces of sound design, with its horrifying off-key sublow bells and hi-hat switching between 8ths and 16ths. It sounds totally alien, cold, cavernous, something like the feeling of resonance in a huge concrete space.
THE ONE RECORD EVERYONE IN NIGHT SLUGS CAN AGREE ON
Steve Poindexter, "Computer Madness" (Square Roots, 2004)
James: Ghetto house has been the one thing that has bonded us all together since day one. It's a staple in our sets and has a massive influence on nearly all of our productions in some way or another. To choose one record from that world is really hard for me but I think "Computer Madness" has to be the one. Pure driving energy, and a the most perfect bassline in my opinion. It feels like a ghetto track from another planet; I guess that's why it resonates with us all so much.
THE RECORD I'LL ALWAYS CONSIDER A SECRET WEAPON
KW Griff, "Bring in the Katz" (Night Slugs, 2012)
James: I guess it's not a secret anymore, but this was my secret weapon for almost two years before we released it. Every time I would drop it, the clubs would explode. And after each set, everyone would come up to the booth asking 'what the fuck is that katz song?' I kept it seriously under wraps for so long. Now we have let the cat out of the bag (pardon the pun) everyone under the sun is using it as their secret weapon! It's so weird to see the likes of Skrillex, Crookers, 12th Planet and Bauuer drop this ghetto Baltimore club anthem. They even rewind it three times every set after Boiler Room! So for the moment I'm keeping my current secret weapon very close to my chest.
THE RECORD THAT REPRESENTS WHERE BRITISH DANCE MUSIC IS AT RIGHT NOW
Infinity Ink, "Infinity" (Crosstown Rebels, 2012)
Alex: I have nothing against this record per se, but I also don't have many nice things to say about it either I'm afraid. It is what it is. Unfortunately I feel it's wholly representative of where we're currently at as the UK underground inverts itself. The new Europeanized deep/tech-house sound is huge in London right now, amongst much the same demographic that raved to funky and grime before it and garage before that.
I'm not sure where we went wrong, but to me house music is a lifelong obsession, not a new trend. And it has to be raw—I want to hear the grit between the drum hits and more importantly, feel the soul between the synthetic elements. In our rave history, the UK underground has always had a knack for borrowing more polished sounds and twisting them, making them ruder and rawer. I hope that happens soon with the tech-house trend, cos it's at the moment it's sounding dry.
THE RECORD THAT REMINDS ME OF GOING TO RAVES AS A KID
Shy FX + UK Apachi, "Original Nuttah" (Sour, 1994)
James: When I first started raving around 2000, I used to go a jungle and drum & bass night every Friday called Lunacy at this dark and dingy club in Brighton, The Volks. It was a total sweat pit but me and my friends lived for it. We would turn up when it opened and dance solidly until the bitter end; there was no other club in Brighton that had this raw energy. Only one DJ ever played the main room: Chris Natural. He was just a local but he was like god to us. He knew exactly how to drive us fucking crazy. At the end of the night he would always stop the music, the lights would come on and everyone in the club would chant, "One more tune! One more tune!" Sometimes for up to 10 minutes! Eventually he would cave in and drop the biggest anthem; for the first six months of my time there, "Original Nuttah" was that track. I have never seen or experienced a rave go off crazier since.
THE RECORD THAT MADE ME RETHINK 'DANCE MUSIC'
Roll Deep, "Roll Deep Regular (Devil Mix)" (Roll Deep, 2003)
Alex: During his quintessential Eskibeat era of production (2003-2005), Wiley (alongside Roll Deep cohorts Danny Weed & Target) made a series of coldly synthetic but highly colourful grime beats with hovering squarewave basslines that referenced dub reggae while also feeling utterly new. These productions were predominantly designed to be mixed by DJs and ridden by MCs at raves and on pirate radio sets. So when Wiley started doing alternative mixes of some of these with all the drums taken out—dubbed "Devil Mixes" until superstition led him to abandon the name—the bottom sort of fell out of the current rave dynamic at the time. So much of the momentum in grime sets came from MCs and quick energetic mixing from the DJ, but suddenly you had these "Devil" mixes that were capable of creating this moment of weightlessness in the club. It reminds me of Arthur Russell talking about drumless music as this futuristic thing with the ability to float free—"in outer space you can't take your drums."
THE RECORD EVERYONE SHOULD OWN
Dizzee Rascal, Boy In Da Corner (XL, 2003)
Alex: It boggles my mind to think it's been 10 years since this album came out. It definitely changed things for me. Two-step garage was ubiquitous where I went to school, but it wasn't until I heard Rascal spit over DJ Slimzee on the decks that I was truly hooked. Dropped into this environment as a strikingly original debut, an undeniable voice direct from the streets. The narratives and scenarios in his lyrics gave vivid insight into the life of disenfranchised, impoverished London youth, already full of swagger and hungry for money and power.
Rascal would go on to shine as a pop star and national treasure in his own right. But it's the combination of his agile, hungry vocals and early production work that really made this record special. His sound palette was dryly synthetic, industrial and highly unsettling, with chillingly oblique attempts at melody reminiscent of Detroit producers, but always delivered with a uniquely London attitude, hollowed out but imbued with the footloose agility of 2-step garage. Simply put, anyone interested in UK music or the Night Slugs label needs to get into this record.
http://youtu.be/TUC2b-OSZ00
THE RECORD THAT'S AS PERFECT AS A DANCE ANTHEM GETS
Stardust, "Music Sounds Better With You" (Virgin, 1998)
James: This is another record that all of us Slugs can agree on. Pure dancefloor bliss. That loop is just perfect; its amazing how [Thomas] Bangalter and [Alan] Braxe turned a piece of music that is less than three seconds long into such a timeless anthem! I remember the first time I saw DJ Assault play back in 2001; he totally blew my mind. Because he was playing booty bass that I had never heard before and Stardust at 150 BPM! I freaked out. It sounded so good at that tempo–so much joyous energy. My life was not the same after that; I still adopt his technique in my sets.