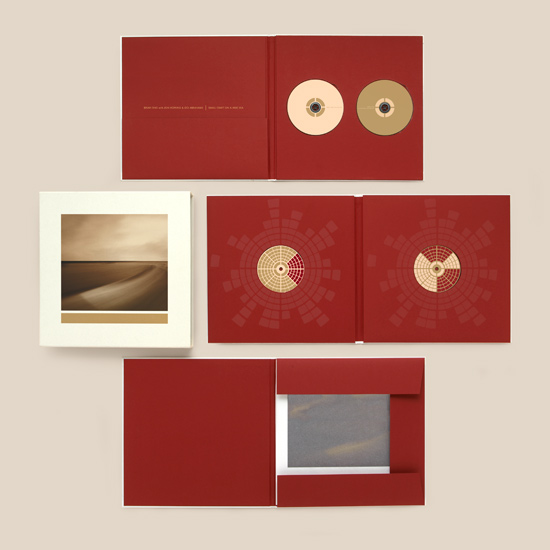 Check out the cover art and more graphic design porn after the jump. The pre-order for Small Craft On a Milk Sea's soon-to-be-coveted collector's edition box set happens at 10 a.m. EST on Wednesday at Bleep. Here's why it's worth a look:
This strictly limited edition of 250 worldwide includes everything in the Vinyl Edition with the following, one-of-a-kind additions:

A one-off, entirely unique and customised 12″ square silkscreen print by Brian Eno. A print application of the generative process that Brian has been developing throughout his career, each print will be be a unique combination of screen printed elements by Brian Eno and Nick Robertson. Printed on 330gsm Somerset Radiant White stock, signed and numbered in pencil by Brian Eno. There are no duplicates. The printing process will be fully documented.
A real copper plate, etched with the title and edition number embedded in the slipcase spine.
Find out more details at brian-eno.net.