The only good thing about the seemingly endless backlog at pressing pants is the second life some LPs have experienced when their fancy vinyl edition finally dropped. Here's one we wholeheartedly endorse as the week begins to wind down: War Garden, the latest synth-laced, steam-pressed LP from the San Francisco band Cold Beat.
A pandemic record "about connection, loss, and hope," it's named after the valiant fruit and vegetable efforts of World War II — something everyday people also embraced during lockdown. Here's what the whole Cold Beat crew (Hannah Lew, Kyle King, Luciano Talpini Aita, and Sean Monaghan) had to say about its heartfelt, halcyon-lit hooks, along with a closer look at the smoky variant that appears to be already sold out….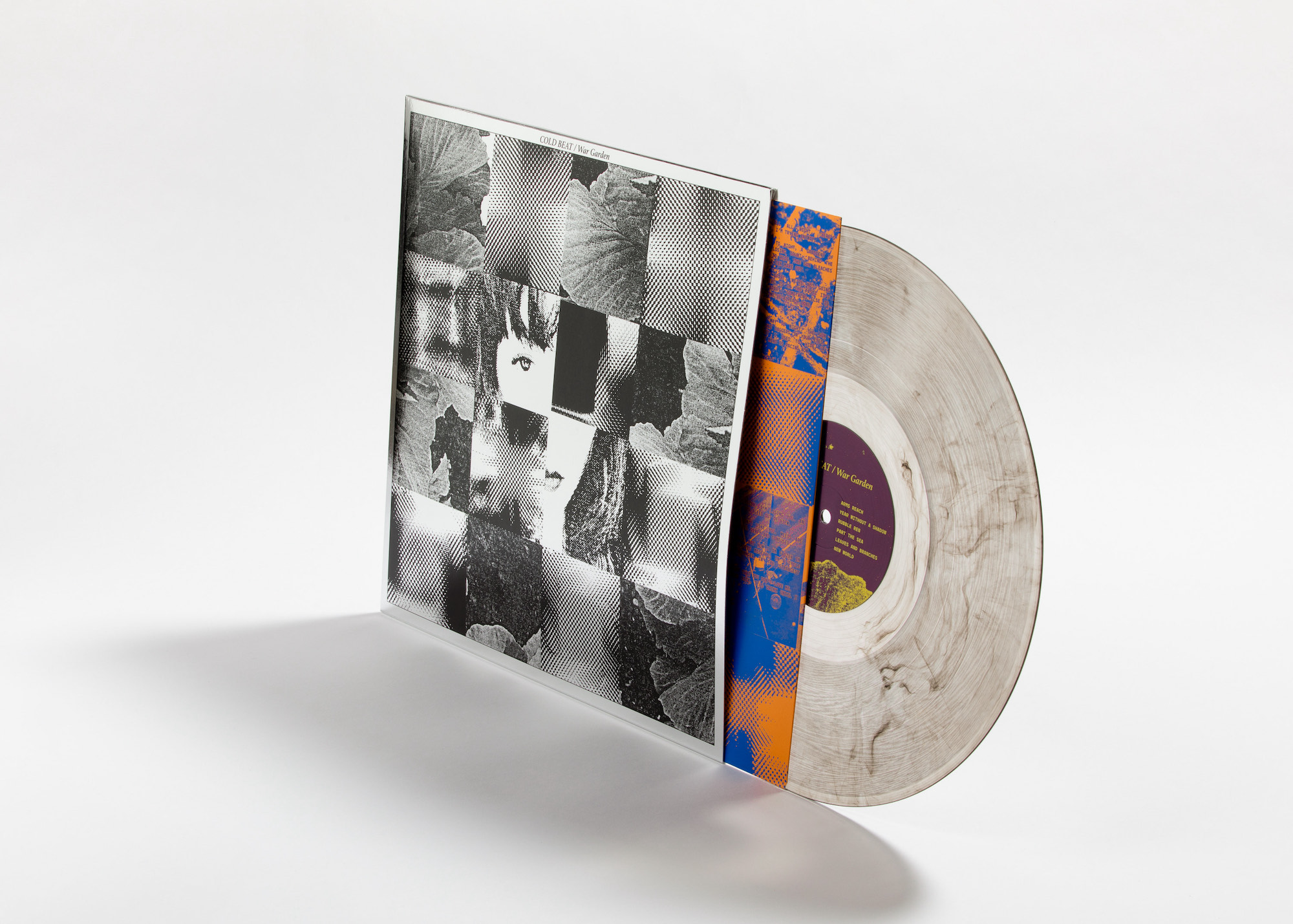 "MANDELBROT FALL"
Hannah Lew: Most of War Garden was conceived remotely, with each one of us sending files back and forth and Zooming once a week to share a screen and work in Logic or Ableton together, tweaking tracks, arranging, etc. After the songs reached a certain level of completion, all four of us got together in person once mid-pandemic in my backyard, where we sent tracks through analog effects and added a bunch of extra layers.
"Mandelbrot Fall" was written during an earlier phase of the pandemic, when there was no end in sight. No vaccines or timeframe at all. My perception of time was like a Mandelbrot Set — infinitely unfurling. I didn't feel like there were many general parameters to hold on to and I felt aware of the infinite possibilities the trajectory of this thing could take. I think I'm still suspended in free fall to a certain extent, but I've learned how to dance in the air a little better.
"SOS"
Hannah: "SOS" was a track Luciano had started. We all added things, and it was one of those songs that had a lot of different incarnations. Each person's layering had the song changing colors a lot.
Some songs spill out of you, while others are more labored over. This one definitely had a long labor. The themes were based on missing friends and the feeling that only certain friends can save you from yourself sometimes. There are certain friends that bring out my best that I have missed dearly during this time.
I was writing my parts from my basement studio, which has concrete walls and feels very bunker-like — very safe, but also pretty isolating
"TUMESCENT DECOY"
Kyle King: This song was written as an exercise in restraint: one synthesizer sequence, captured on the first take, accompanied by a drum machine pattern programmed on the fly. When I was saving the initial arrangement, the word "tumescent" came to mind. It was the antithesis of the restraint I was after, a perfect descriptor of the bloated and facile political landscape of mid-2020, and likely the product of too many Sunday New York Times crossword puzzles.
Hannah: We did some arrangement together and then I layered on my vocals, which were written about Melania Trump's stunt double.
"WEEDS"
Hannah: "Weeds" was one of those songs that spilled out somewhat effortlessly. Sean sent the music and I sent the vocals back 45 minutes later. When he sent the track, I was like, 'I know this song already.'
I had gotten really into gardening and had interacted with my first aphid infestation that day. I think I was taking it pretty hard because gardening was one of the only things keeping me going and I felt like it was all going to ruin. I learned later that introducing ladybugs is a good solution. Also making certain larger leaved plants into aphid hotels, and just chilling the fuck out and accepting nature.
I had been feeling particularly misanthropic during that moment, so the words spilled out — somewhat basic, yet to the point. I remember before Sean sent the track, we were like, 'Let's write a song that sounds like Oppenheimer Analysis,' so this was our version.
Kyle laid over some really lush guitars and Luciano wrote maybe the best keyboard part he's ever contributed to a Cold Beat song on the bridge. To me, it's one of my favorite tracks on the record. Everyone brought very distinct voices to the mix.
Sean Monaghan: I started writing the music with the intention of finding an Oppenheimer Analysis groove, but the song ended up going in a direction like The Wake UK, at least in my own twisted mind.
"SEE YOU AGAIN"
Hannah: "See You Again" is the only song I've ever sang where I cried through the entire vocal take. Sean and I had started working on an incarnation of the track early on in the pandemic when we were just missing each other and not sure when we'd ever see each other again. Then a family friend passed from Covid and I continued to write the lyrics during the week of the shiva, but now the words starting taking on the meaning of meeting again in the world to come, or after life.
The song was very emotional; we actually tabled it for a few months because it felt too raw and sad. After a while, Sean sent a rearrangement and we dove back in without turning back. One element of this song is that we didn't hold back stylistically. I think it was cool to let in the twang for this one, since twang is a big part of Sean's musical puzzle. He actually teaches line-dancing classes and loves country music in general. You would think those things wouldn't work in a Cold Beat song, but as evidenced here, they certainly do.
Sean: After Hannah and I abandoned our first recording of this song, I found this little drum loop groove I made that sounded kinda dubby in a Leslie Winer kind of way, and thought it could be a nice verse to a song. I soon realized that it would fit perfectly with the chorus and bridge we had abandoned previously. With Hannah's vocals and the pedal steel, the song found its structure and emotional core really quickly, but it took a few months of slowly building out the arrangement with the whole band to find the right balance of elements.
"ARMS REACH"
Kyle: This song is absolutely indebted to voracious listening of Yellow Magic Orchestra and YMO-adjacent projects. Though the track started with a driving rhythm pattern and bass line, I worked to bring in the ambient and textural elements that make albums like BGM and Technopolis so timeless. Pedal steel and vocals added, moments of the song stretch towards work by Brian Eno and Daniel Lanois, especially "Deep Blue Day."
Hannah: I wrote the vocals fairly quickly and did some arranging. For this track I was thinking of AC Mariahs; not striving to sing perfectly, but striving to effectively convey the emotion of the lyrics. They are again about distance, but a reminder that I am also close. Sort of a reminder to loved ones that I am here for them.
"YEAR WITHOUT A SHADOW"
Luciano: This song taught us how to write long exposure progressions that happen so naturally yet they give the song an anthemic quality that's so timeless. The hardest part was the rhythm. We couldn't decide what the proper rhythm of the song was going to be because truly this is one of those songs that could have any rhythm and still be a beautiful song.
"RUBBLE REN"
Hannah: This song was a kind of short, anomalous meditation that made its way onto the record.
"PART THE SEA"
Luciano: This song took many shapes and forms before being what it is and what it's about. (At some point, I thought it was about witches gathering in the woods at night, but Hannah told me it was certainly not about witches.)
I think each one of those shapes helped us discover an element that gave the song its identity. The end result is all those elements together — all those traces from its different shapes existing in frenetic harmony. The parts I wrote were all meant to guide the witches through the woods, and I'm glad they are still there in case there are any witches listening.
Hannah: I was thinking about Sybylle Baier for the chorus — sort of a lackadaisical, unencumbered break in the sad chaos of the everyday that was 2020.
"LEAVES AND BRANCHES"
Hannah: Something interesting for me about this record is that I actually play a lot of guitar, which I haven't historically on recordings. This song has a lot of my guitar playing, which is primitive and simple, but gets the point across. The song is largely about reconciliation and humility.
Sean: Something like Rose McDowall and Galaxie 500 sending each other apology notes for missing a tea date.
"NEW WORLD".
Luciano: This was the first track we started working on once we realized we weren't gonna see each other again for a while. It was a very confusing and scary time, but Kyle sent this song and immediately got us focused. This song taught us how to use technology to be able to be present in the process and I think the end result really evokes that feeling of uncertainty and hope.
Kyle: When I picked up gear from our rehearsal space in mid-March 2020, none of us anticipated that we would be apart for two years (and counting), nor that we would make an entire record at a distance. "New World" was recorded the day before the Bay Area's shelter-in-place order went into effect, and, despite the foreboding moment in time, the song almost sounds optimistic. I credit the naïveté of the moment: the joy of experimenting with equipment at home between Zoom graduate school classes; the quietude of the streets; the curiosity about the landscape of the new world.
The first song brought to the band for this album, it was also one of the last to be finished. The melancholy of the moment informed the way we arranged the song together, the disintegration of pre-pandemic life evoked by Hannah's vocals fragmenting and disappearing into space….