The following story is taken from our free iPad magazine. Grab it via iTunes or check out more exclusive stories here…
[youlist pid="PLlxVAExh_bYZP7CW2IfGqk82nRQ2w6f7m" width="960″ height="540″]
Words SIMON VOZICK-LEVINSON
Photography JEREMY LIEBMAN
Mish Way wasn't supposed to do karaoke tonight. She said so herself, a couple of hours before her punk band, White Lung, played Mercury Lounge in New York's East Village. It was just after 6 pm on one of the longest days of the summer, and the band—guitarist Kenneth William, drummer Anne-Marie Vassiliou, touring bassist Hether Fortune and Way, White Lung's singer and driving force—were sipping beer and cider to chase away the past night's headaches in a dive bar near the club. When someone mentioned karaoke, Way shook her head. "I'm hungover, I'm tired, and I'll blow my voice out," she said emphatically. "I am not doing karaoke. No way."
A little after 8, the group lit up Mercury Lounge with waves of distortion, killer howls and heat-lightning hooks—like its new album, Deep Fantasy, only somehow even more intense. "Thanks for coming to our matinee," Way said sarcastically from the stage. It was all over by 9, and how could she call it a night after that? Just before midnight, look who it is, breezing into a dark, sweaty, crowded little room at a Lower East Side joint called Sing Sing Karaoke.
Way takes a seat on a couch under a large pop-art poster of Blonde on Blonde–era Bob Dylan and says hi to some friends. Soon she's up and dancing to Robyn's "Call Your Girlfriend," twirling like a ballerina to Kanye West's "Runaway," and grabbing the mic herself to sing Sheryl Crow's "If It Makes You Happy" and an inspired take on Fleetwood Mac's "Gypsy." For a split-second, you could almost think Stevie Nicks was in the room.
By 1 am, the party has started to thin out, but Way is still going strong. "C'mon, who's singing Oasis with me?" she asks. Anthemic chords fill the room, and she breathes new fire into Noel Gallagher's words as they crawl across the screen: "I live my life for the stars that shine / People say it's just a waste of time…" When she gets to the chorus, Way sings it like she means it.
"Tonight, I'M A ROCK 'N' ROLL STAR! Tonight, I'M A ROCK 'N' ROLL STAR! Tonight, I'M A ROCK 'N' ROLL STAR!"
THE HARD WAY
Two years ago, Way wasn't sure she wanted to be a rock star at all. "I was at a really low point in my life," she says of the period when White Lung recorded its second album, Sorry, in the band's native Vancouver. "I was so frustrated and so broke. Music was sucking me dry, taking everything from me, even though I loved it. One day I said to my friend Sasha, 'I can't wait until this record comes out so I can just stop and work on writing full time.'"
It's a funny thing to hear from someone with so much natural star quality. A few nights before the Mercury Lounge gig, she's having dinner and drinks with William and Vassiliou at a Southern restaurant in Greenpoint, Brooklyn. Sitting across the table from her, you can feel what a powerful presence she is: someone who is charismatic enough to incite a circle pit with a flick of her wrist, and so commanding a performer that you'll hardly even notice when the dude next to you in the crowd slams an elbow into your ribs.
The whole time Way has been leading White Lung, though, she's also been building a second career as a writer. She's penned incisive essays on everything from pop music to her own sex life for publications including Noisey, Rookie, Salon and this magazine—hustling for freelance writing gigs on top of a punishing tour schedule and various day jobs. By the time White Lung finished Sorry in 2012, she had serious doubts about whether the balancing act was worth it. "We had no money," she says. "I was working at this shitty corporate coffee shop where I got tipped in nickels. It was horrible. I was like, 'Why am I doing this to myself?'"
"I think all of us felt that way," William adds. "It really fucks up your life to be in a band."
Deep Fantasy, White Lung's scorching follow-up to Sorry, is the by-product of another season of conflict and uncertainty within the band. The tight trio of close friends at dinner tonight has been tested again and again throughout the past year, weathering challenges including the firing of a founding member, the geographic scattering of the remaining three bandmates and the transition to a new record label.
To understand how they got here, you have to go back to 2002, the year Way turned 16. Her all-consuming passion up until that age had been competitive figure skating (in a 2013 column for self-titled, she wrote about her rigorous training for the sport and the unhealthy ways it affected her body image). "Then I figured out that I wasn't going to be a champion figure skater," says the singer, who is now 28. She quit skating and got into rock 'n' roll. "I was really into grunge, all that shit. Anything loud and fast with guitars. And girls yelling—I like girls yelling."
"When no one gives a crap, and you're playing in Bakersfield, sometimes it's like, 'What kind of life is this?'"
In her early twenties, on a break from working toward a degree in gender studies and communications, Way met Vassiliou. The fiercely energetic drummer was thrilled to come across someone who shared her taste in music. "I had always wanted to be in a band, but I could never find the right people," says Vassiliou. "I used to practice drums at a music store, and the first people I found to jam with wanted to play Dire Straits covers. I had no one else. I was dying to play."
Way and Vassiliou started White Lung in 2006 with two other young women, guitarist Natasha Reich and bassist Grady Mackintosh, both of whom have since left the band. This early lineup of White Lung became a fixture at a short-lived DIY venue called the Emergency Room, housed in a former fish-processing factory. "It was a big concrete box, really grimy and gross," Way says. "It was a great place to go see bands and party. Then the cops got tipped off, and it ended. But it was really fun while it lasted."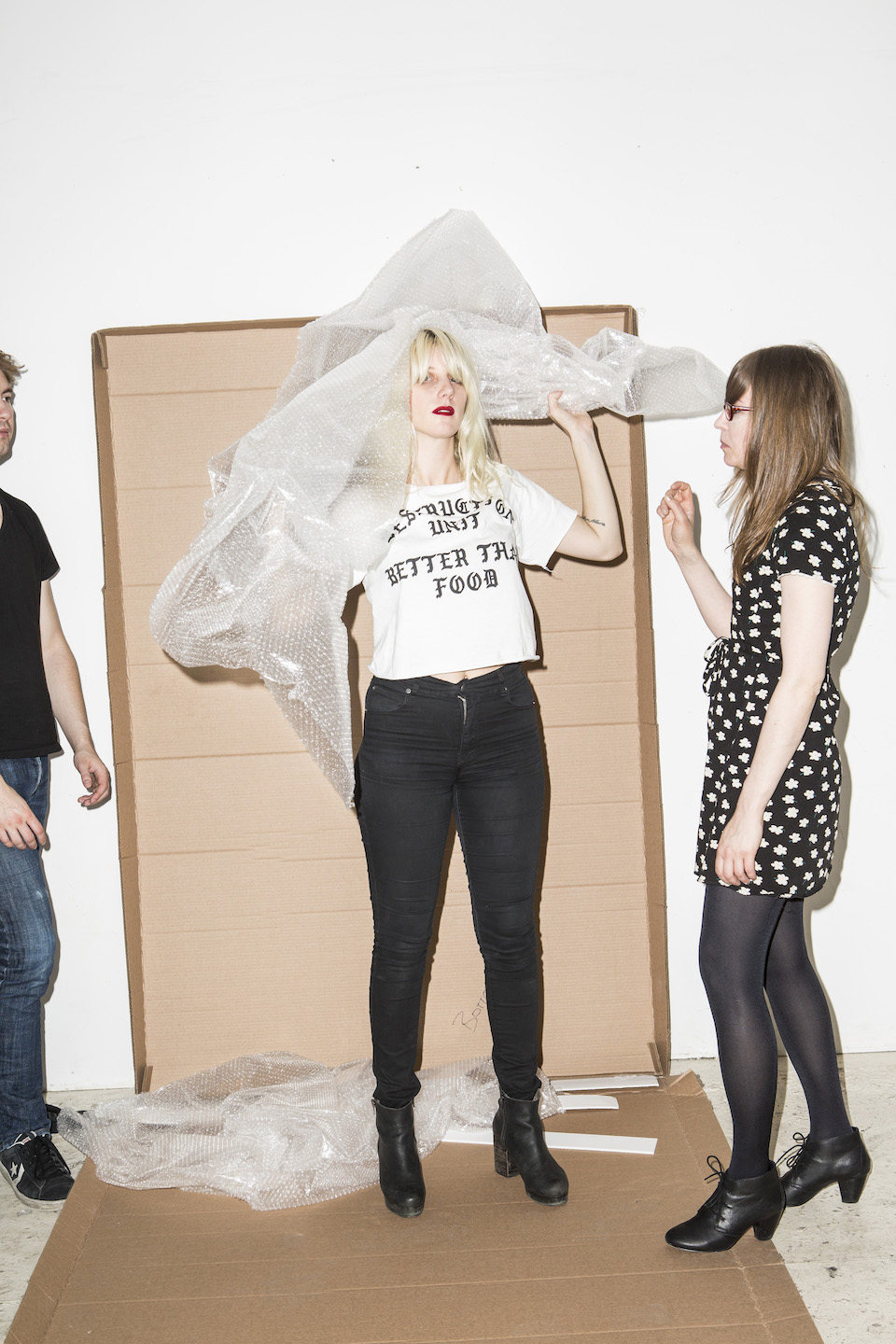 Even so, Way is dismissive of White Lung's first iteration as a quartet. "[Reich and Mackintosh] fought a lot, so we never really did anything. We just made a couple of 7-inches," she says. "I don't really count the band as existing until Kenny joined."
That happened in 2009, after White Lung's original guitarist exited. William had met Way a couple of years earlier, when he was still in high school and his old band played a scuzzy pub where she worked. "My band would play shows so we could get into bars," he says. "We were under the drinking age, but they wouldn't ID us if we were bringing guitars in." To this day, White Lung's other members sometimes talk about him like a little brother, affectionately teasing him for his habit of checking his phone onstage. But William immediately established himself as a crucial part of the band, as much for his detail-oriented work habits—he neatly organizes their merch table at every show—as for his demonic playing.
By 2010, the year White Lung released its debut LP, It's the Evil—a first step that Way now disowns as "mortifying"—the group was itching to expand beyond its hometown. "Vancouver is a city with very small-town vibes," Way says. "It's a really supportive environment to have a band in, but it forces you to get out."
In February 2010, when the Winter Olympics rolled into town, White Lung's four members fled, packing into a minivan with their friends Nü Sensae and touring up and down the West Coast. They booked gigs at pizza shops, art-supply stores—"Anywhere that would take us," Vassiliou says—in the first of many increasingly demanding tours over the next few years.
"We would drive 12 hours, play a show, drive 16 hours overnight," Way says. "We did all this insane fucking shit to ourselves. Touring in a punk band is really fun, but it's also insane."
"Not good for your mental health," William says.
"Nope," Way says. "It's great, and it's wild and blah, blah, blah. But you're not making any money. When no one gives a crap, and you're playing in Bakersfield, sometimes it's like, 'What kind of life is this?'"
Although the band was exhausted by Sorry's release in 2012, the album represented a major creative leap. It's where White Lung found its defining sound, what William describes as "pop songs condensed as short as they could be and then played like hardcore songs."
"It's like a breakup. You have a lot of guilt."
Suddenly the group was getting raves in mainstream publications and working with a booking agent, who helped get gigs that paid a little better. Way changed her mind about quitting music. "We became a band that people kind of gave a little bit of a smidgen of a shit about," she says, "and things changed."
But the tensions that had been building within the band didn't go away. They boiled over this past September, when Way, William and Vassiliou kicked out Mackintosh, White Lung's longtime bassist. "Nothing against her—it was just a personality thing," Way says. "No one had been happy for a long time. I don't think she was either. It just wasn't working."
"It's not like we were getting rich doing this, either," says William. "Why put yourself through that torture?"
The breaking point came after Way joined her friend Louise Burns' band for a short tour. "I had more fun with two strangers and my friend than I'd had in a long time with my own band," she says. "That was the kicker for me. I came back, and we decided to make a change."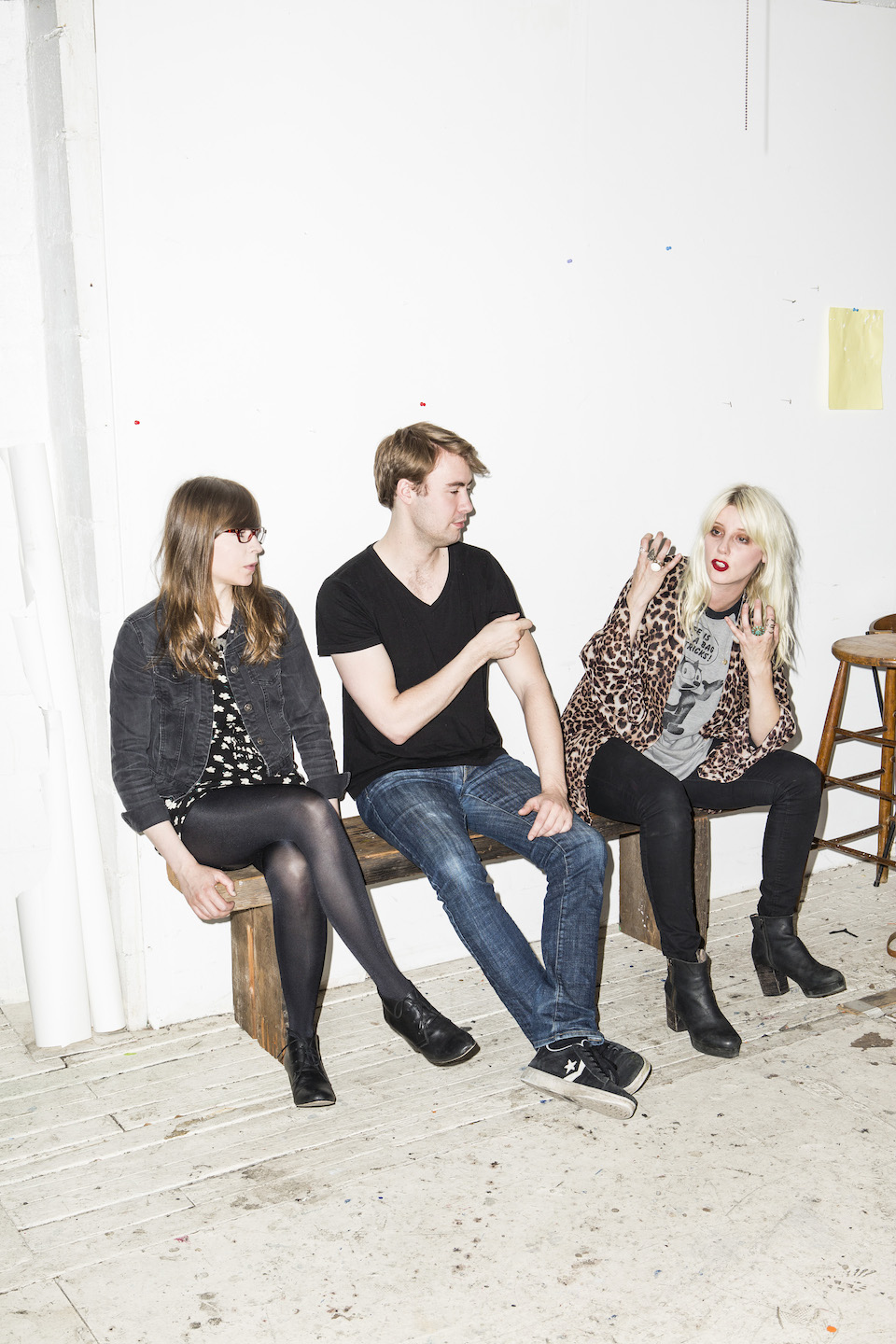 Months later, it's clear that the split is still a sore subject. "It caused a lot of stress in the group," Way adds wearily. "It's like a breakup. You have a lot of guilt."
Way, William and Vassiliou dove headfirst into making Deep Fantasy, writing and recording as a trio for the first time. Way shook White Lung's foundations further by moving to LA in December, which forced the band members to work remotely. "Vancouver's an amazing, beautiful place, but there's a ceiling," she says. "I felt like I didn't have anything left to accomplish there. I was pretty bored." (William ended up leaving Vancouver, too, a few months later; his move to Montreal this spring has left Vassiliou as the only member still living in the city where the band began.)
In January, with Deep Fantasy completed, White Lung landed a coveted record deal with indie powerhouse Domino Records. "Mish is one of the most exciting front people I've seen in ages in any genre," says Susan Busch, the A&R veteran who signed them. "I've been following White Lung for quite a while, and the songwriting and musicianship started to elevate on Sorry in way that made me certain that whatever came next would be fantastic. Deep Fantasy is exactly what I'd hoped it would be—aggressive, smart and challenging."
Negotiating the Domino deal added an extra dash of pressure to the band's turbulent fall. But White Lung's members relished the opportunity to join a roster of artists, from Blood Orange to Animal Collective to Arctic Monkeys, that sound nothing like their band. The move also solved many of their financial concerns, letting them pay back the few thousand dollars they had borrowed from the owner of their previous label, the tiny Canadian hardcore imprint Deranged Records, to make their first two albums. "It made sense," Way says. "It's nice when you can be in a band and still afford to eat."
The other big difference in White Lung's recent quality of life has been the addition of their new touring bassist, Fortune, since October—a transition made easy by the fact that Fortune's band Wax Idols had toured with White Lung in the past. "Playing with them has been a real treat, and a real clown show," Fortune tells self-titled. "Being around the wild abandon and headbanging and jumping up and down and being covered in sweat—I love that stuff. It makes me feel young."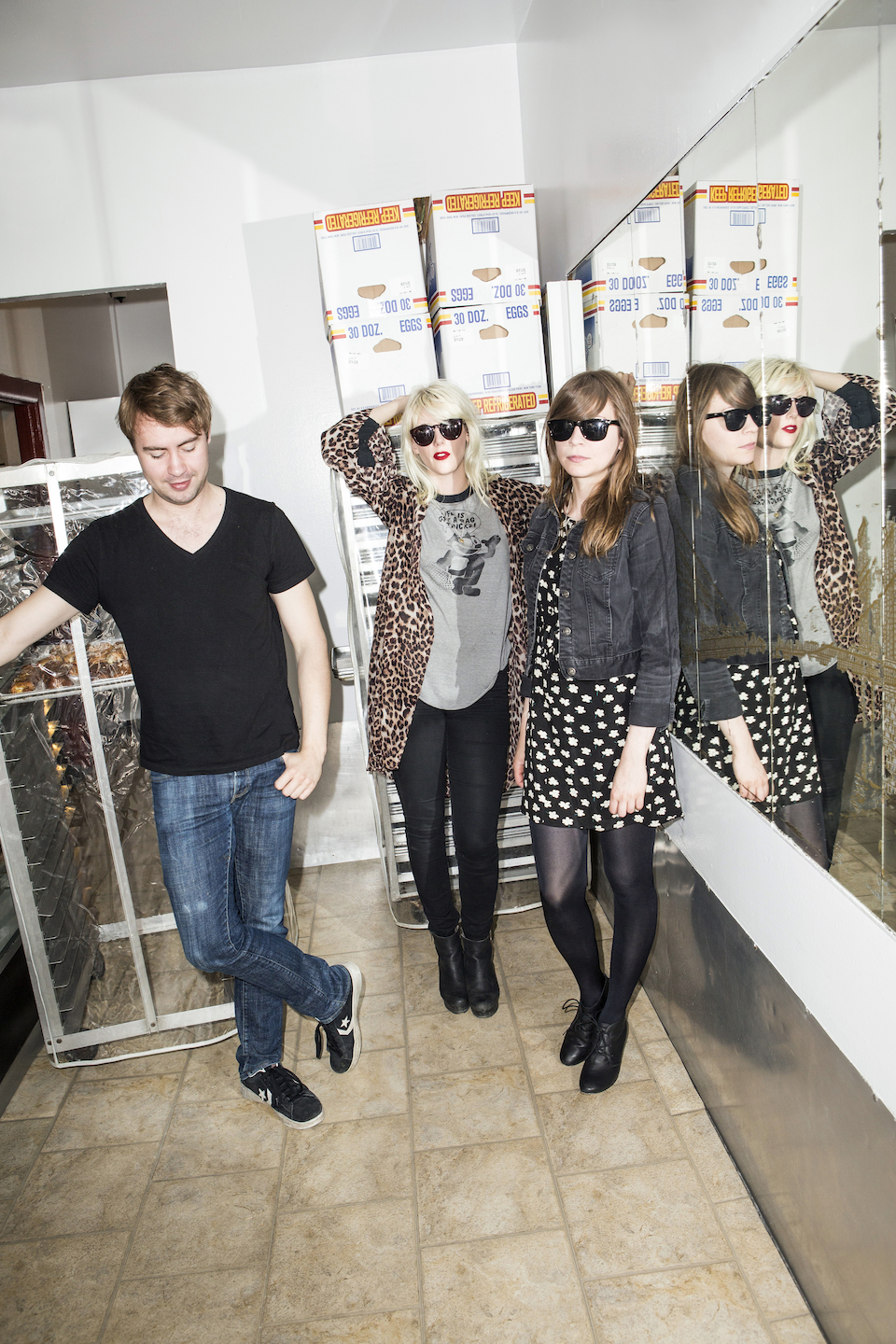 THROUGH THE FIRE
"We're all hungover, and Hether can't move her neck," Way says over the phone a few days later. It's the morning after a particularly raucous show in Ottawa; afterward, the band ended up taking a 4 am swim in a pool they may or may not have broken into, and possibly injured Fortune's shoulder in the process. ("It was worth it," Fortune Tweets later that day.)
Earlier in the evening, right after White Lung got offstage, Way had an encounter with a fan that she's still thinking about. "I was in the bathroom, and these two girls were there," she recalls. "One of them said to me, 'I remember the first time I saw you guys play, a couple years ago. It was one of the first punk shows that really got me excited.' That meant a lot to me. That's the whole point. I care a lot about people like that coming to see us play and singing along to the words."
The songs on Deep Fantasy, which Way considers White Lung's most lyrically driven album, explore topics like sexual assault ("I Believe You"), body shame ("Snake Jaw") and gender-based power dynamics ("Down It Goes") with unflinching honesty. "I have a microphone, and I'm not just going to sit up there and say nothing," she says. "There's a million other bands that do that. That's not what I'm about. I want to say something. I just hope it gives people some confidence because that's where I got all mine—from writers and songwriters who weren't afraid to be vulnerable."
The bigger White Lung gets, the more often the band members will likely have to deal with other kinds of fans. Call it the Nirvana paradox. "It always boggles my mind when there's a guy in the front who yells, 'Show me your tits!' and is singing along to the lyrics of our songs," Way says. "It's like, 'Are you not listening to what I'm talking about?' But whatever. The more the merrier; we don't care."
Way says she doesn't expect White Lung to last forever, and if and when the band ends, she'll be happy to write full-time. "Look, I know this will run its course eventually—they'll find another blonde screaming lady. That's music."
We've been talking for a while, and Way needs to get off the phone so the band can make it to their next gig. "I know there will be a point when there's another thing that's more interesting than us," she continues. "But I'm enjoying the thing that we have right now. I love playing shows, and to do it in front of people who are excited to be there? Give me more of that. Put 'em in front of me; I'll scream in their faces."
White Lung kick off another North American tour on September 2nd in Allston, MA. Check out their latest dates here…