Photo KRISTOPHER KIRK
"It was one of those moments where the tune just figured itself out," Death Bells says of their "Hysteria" single, which drops through Dais today. "It feels urgent, immediate and honest, and we're very proud of it."
The tightly wound track was actually one of the last songs Will Canning and Remy Veselis wrote for their looming Between Here & Everywhere LP, a palette-expanding, hi-def effort that happens to feature a stacked guest list. We're talking pianist Arian Jalali (STRFKR), drummer/producer Colin Knight (Object of Affection), keyboardist Jeff Fribourg (Numb.er, Froth), violinist Laena Myers-Ionita (Feels), and vocalist Laura Delogu.
Check out a handful of other hook-laden heavy hitters from the album below, along with an exclusive "Van Music" playlist that the band describes in detail, from the "croony, '70s musical stylings" of Tex Crick to the future-shocked glam-rock of T. Rex.
"Amongst the current iteration of Death Bells," the Australian-born, LA-based duo says, "sharing music has become a bit of a ritual when we're on a long drive. Today we'd like to share with you a few of our favourite songs for the road: music we've either rediscovered or been exposed to through the kinship of touring…."
F.J. MCMAHON – SISTER, BROTHER
Remy did us all the favor of showing us this gem last November. It did us well on a stint from Boise to Las Vegas. "Sister, Brother" is a warm and inviting (yet slightly haunted) slice of psych-folk-whatever that I've listened to on a daily basis since then.
HOPE SANDOVAL & THE WARM INVENTIONS – ON THE LOW
On that same tour, I got really into this record, Bavarian Fruit Bread. This song is slow, narcotic, and helps me get in tune with the utter vastness of the world around me.
JARVIS COCKER – BLACK MAGIC
I never paid much attention to Pulp, but when Joey [Camello, of Fearing] showed us this Jarvis Cocker song last year, I recall everyone falling silent just to listen. I love it all — the dubbed-out drums, hectic synth bass, and Elfman-esque hand bells. Cannot recommend listening to this enough.
TEX CRICK – THE WAY YOU ARE
Tex's second album, Live In… New York City, is something I've been totally obsessed with since it came out a year ago. It's so well done — croony, '70s musical stylings delivered with ultimate poise. Tex used to be around in Sydney, and we had a particularly memorable night out with him in 2018 when he was living in New York. I'm fairly sure he's been living in Tokyo, and am excited to hear where his music takes him next.
BLACK GRAPE – A BIG DAY IN THE NORTH
I find this song so menacing, although I don't think that was the intent here. Shaun Ryder's vocal delivery is just so rough and no-fucks-given, which lends a lot to that feeling. We listened to this a lot when we were over in the UK a couple of months ago. It was my first time visiting that part of the world, which filled in a lot of missing context for me around the various British bands I've been a fan of over the years.
THE ONLY ONES – BIG SLEEP
"Big Sleep" has been my favorite song for just about six months now. It's an enrapturing, fatalistic love song that really stays with you. I keep half-joking with Remy that we need to bring back guitar solos for Death Bells, and this tune is the reason why.
FOR AGAINST – LOVE YOU
Reuben Sawyer of The Column & Anytime Cowboy showed us For Against on our first U.S. tour, which feels like a lifetime ago. The band has definitely stuck with us as the pinnacle of all dream-pop. Their music is truly beautiful, and "Love You" doesn't disappoint. Remy listens to this whilst driving often.
MICHAEL GIRA – BLIND
Jeff [Fribourg, of Numb.er] shared this song with us last year. Swans have always been super hit-or-miss for me, but "Blind" floored me when I heard it. The level of self-awareness on display lyrically feels so pure. It has been a real inspiration to me of late.
T-REX – BALLROOMS OF MARS
T-Rex has actually been a massive influence on the newest record. For one, I adore Marc Bolan's voice, and then all the production sounds so futuristic for a band that was working 50 years ago. The double-tracked guitars and vocal delay on "Ballrooms of Mars" sound so cool.
QUIET VILLAGE – VICTORIA'S SECRET
Although kitschy, this song has a lot to offer. It's perfect for mornings in the desert, evenings by the coast — you name it. Something about Quiet Village crafting this expansive, cinematic music for a film that doesn't exist is fascinating to me, almost as if it's designed to score our own moments as we float through life.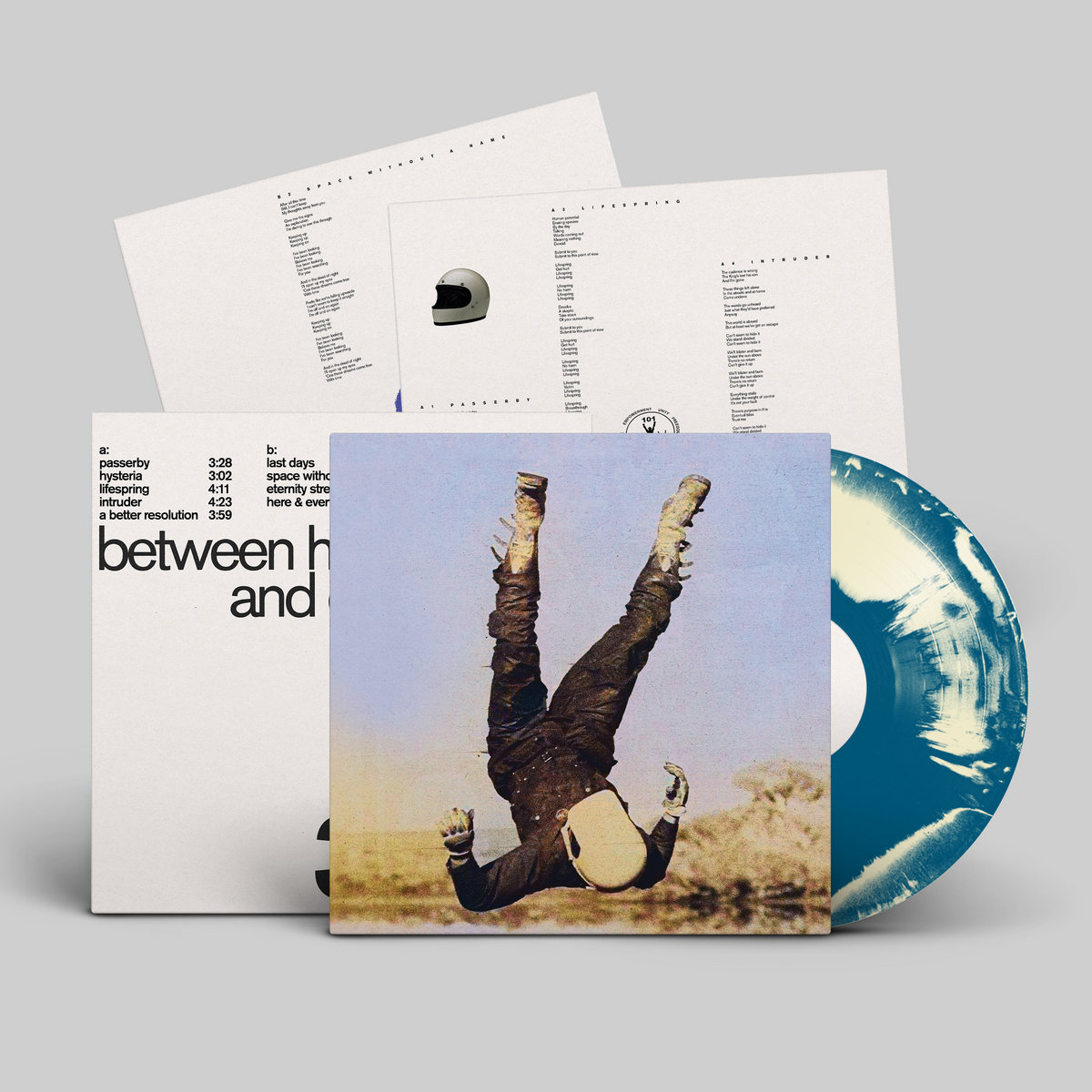 Death Bells
Between Here & Everywhere
(Dais Records, May 24th)
1. Passerby
2. Hysteria
3. Lifespring
4. Intruder
5. A Better Resolution
6. Last Days
7. Space Without a Name
8. Eternity Street
9. Here & Everywhere