Words + Mix JEN MONROE
Cover Art JEFF VELKER
As we first explored in the inaugural volume of Listen To This' OMG JAPAN series a couple years back, few scenes have shaped contemporary electronic music as much as Japan in the 1980's. Synth-pop and its offshoots—city pop, electro-pop, and techno kaya, among others—were particularly at the forefront of the conversation, enabled both by an increased availability of relatively affordable synthesizers and a culture of musical curiosity. Genres mutated in a way that was largely unprecedented at the time, and the members of Yellow Magic Orchestra (Yukihiro Takahashi, Haruomi Hosono, and Ryuichi Sakamoto) were at the center of the shift. The group's influence has been enormous, so much so that it's impossible to trace in a straight line: Juan Atkins, Kevin Saunderson, The Orb, David Sylvian, 808 State, and Afrika Bambaataa have all cited YMO as a major inspiration for their work.
Just as compelling as the music others made in response to Japanese synth pop, though, were the conversations that Japanese musicians had with each other, often in response to imported sounds. After all, YMO's breakout single was a synth reinterpretation of Martin Denny's "Firecracker," a favorite piece from the father of exotica and a soundtrack of 1959 suburban fantasy-fueled Orientalism.
That interest in playing with conceptions of "Japanese-ness" shows up all over the Japanese pop canon, not just in the work of the members of YMO. On this mix, you can hear it most palpably on dip in the pool's sparse and sprawling "Rabo Del Sol," whose heavy, ceremonious drum and bell syncopation suggests traditional taiko, revisited with a medieval-futurist sensibility.
That proclivity towards inventive genre splicing is all over this mix, actually, perhaps most noticeably as a reggae influence in three very different incarnations. First, Akiko Yano's steel drum-flecked synth-reggae cupcake "Ashkenazy Who?" is replete with gleefully gnashed vocals, twisted and slung in the mouth as if to mimic warped synth pulses. Next, Junko Yagami leans even more explicitly into reggae fusion on "ジョハナスバーグ" ("Zyohanasubargu," i.e. a Romanization of the Japanese pronunciation of Johannesburg), a thick synth-funk ode to a global love for reggae, winking with drum machines and synthetic accordian. Last is Pecqre's "Kylyln," a spaced-out dub rendition of a song originally written by Ryuichi Sakamoto for Kazumi Watanabe, which comes from one of the most slept-on records in the Japanese canon. It was largely recorded in Jamaica at Channel One and Tuff Gong Studio on a trip organized by Bob Marley himself, as the story goes, at the urging of drummer and diehard reggae fan Masahito Hashido (aka Pecqre). It's an incredible lineup: between Aston Barrett and Robbie Shakespeare on bass, Carly Barrett and Sly Dunbar on percussion, Minako Yoshida's lead vocals, and Marcia Griffiths and Judy Mowatt singing back-up, one can only dream of being a fly on the wall during those sessions.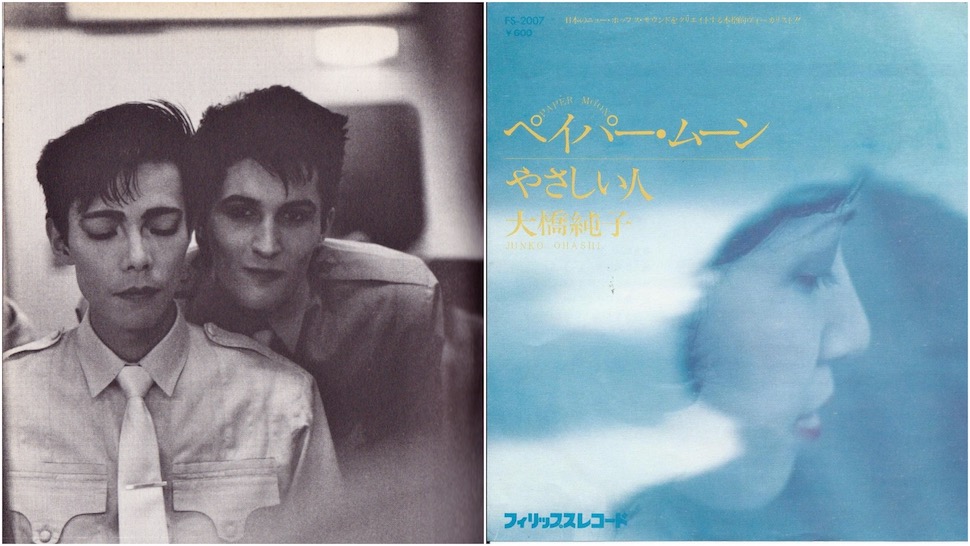 Elsewhere in genre-bending is the supremely strange and wonderful "Down? Down, Down!"/"Stay Outta My World," from Mariah vocalist Jimmy Murakawa, which, between its cavernous metallic clanging, creeping synth lines, and echoey muttering, feels more German industrial than Japanese. But by the song's conclusion, it's somehow morphed into a slinking hip-hop bass line with reverb hand-claps and sinister kiss-off lyrics to match, sounding uncannily like an unfinished Notorious B.I.G. track. Mami Koyama's "Love Song" is a stunning piece of hypnagogic ambient pop punctuated by smoky swirls of koto, hyper-polished both in its opiated production and futuristic use of dimensional space.
Pizzicato V's cover of Simon & Garfunkel's "The 59th Street Bridge Song (Feelin' Groovy)" is, for all its cheekiness, a gorgeous lounge-pop precursor to the Shibuya-kei sound that the group would go on to make famous in the '90s. Ayuo Takahashi's "流れる" sounds like top-tier, private press, cosmic New Age, except it's by way of an avant-garde child prodigy-turned-early music scholar in collaboration with Koharu Kisaragi, a playwright and experimental theater figure (who, incidentally, makes an appearance in OMG JAPAN Volume 1 as well).
It's generous music, and the rabbithole seems to go on forever, so it's not surprising that it attracts obsessive record collectors. While a resurgence of interest has brought about a stream of exciting reissues, there are still countless incredible records that have have yet to be distributed outside of Japan—so happy digging, and happy listening!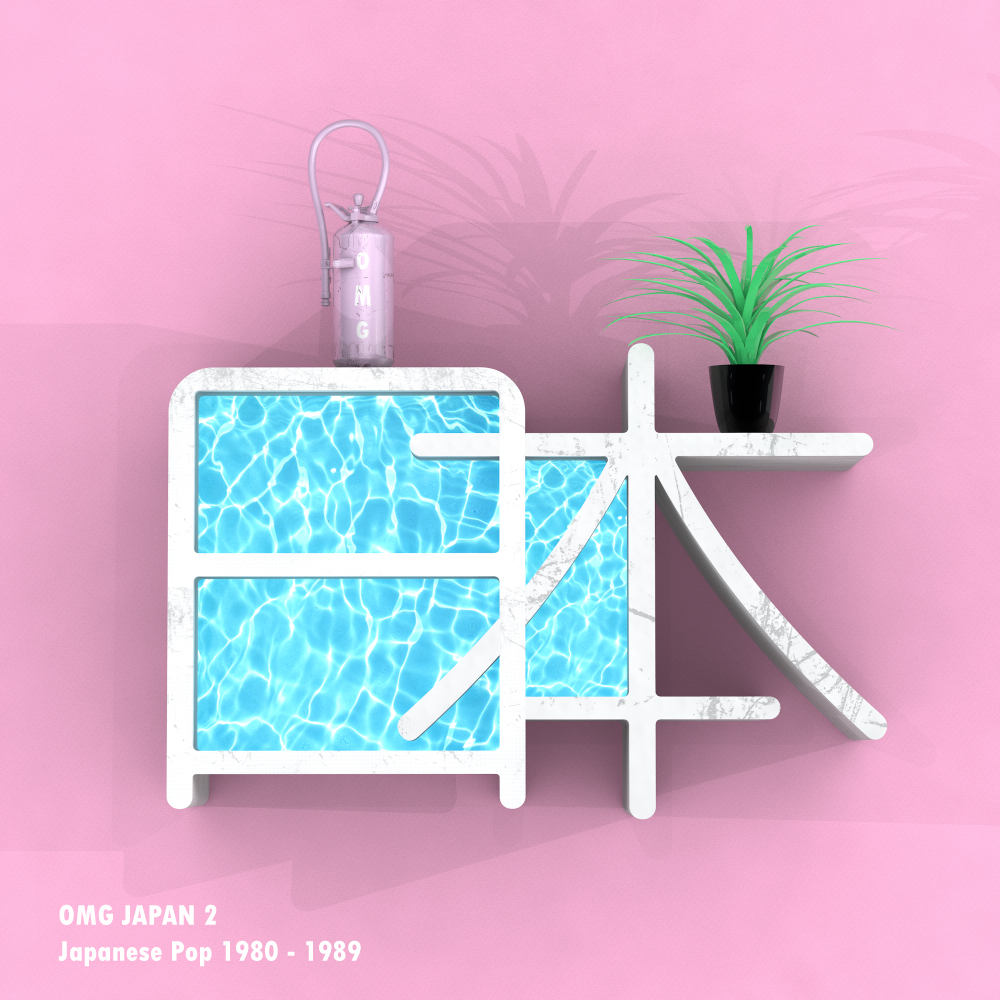 TRACKLISTING:
1. Tabo's Project – Feel
2. Imitation – Narcisa
3. Jimmy Murakawa – Down? Down, Down! / Stay Outta My World
4. Zabadak – 蝶
5. Akiko Yano – Ashkenazy Who?
6. Junko Ohashi – I Love You So
7. Junko Yagami – Zyohanasubargu
8. Tatsuro Yamashita – Love Talkin' (Honey It's You)
9. Yukihiro Takahashi – Konchu-Ki
10. Sandii & The Sunsetz – The Serious Game
11. Pizzicato V – The 59th Street Bridge Song (Feelin' Groovy)
12. Pecqre – Kylyn
13. Joe Hisaishi – The Winter Requiem
14. dip in the pool – Rabo Del Sol
15. Masami Tsuchiya – Never Mind
16. Mami Koyama – Love Song
17. Toshifumi Hinata – サラズ・クライム
18. Ayuo Takahashi ft. Koharu Kisagari – 流れる
19. Hiroko Yakushimaru – 透明なチューリップ (Transparent Tulip)