Eluvium has shared the details surrounding his first solo piano album since 2004's An Accidental Memory in the Case Of Death LP. Due out May 31st through the composer's longtime label Temporary Residence Ltd., the aptly named Pianoworks features 13 new pieces in several different formats. The most luxe of which is a triple LP featuring "iridescent mother of pearl" vinyl and 76 perfect bound pages of sheet music that covers Matthew Cooper's entire career. This limited edition also tacks on a bonus album (Pianoworks Vol. 2, naturally) of re-recorded compositions from Eluvium's back catalogue—something that also pops up in a deluxe CD pressing for all the Discman fans and pesky audiophiles out there.
As for what Pianoworks actually sounds like, a press release describes the deceivingly modest effort as "inspired by the quiet thoughts and solitary observations of children—and the evolution/dissolution of that ephemeral, uncorrupted wonder of simple joy…. The record's dramatic simplicity in both execution and expression is with purpose: Cooper wants the music to be simple enough to inspire children and novices to play, and the concept simple enough to resonate regardless of age or experience. As any minimalist painter, poet, or architect can attest, it is oftentimes the profoundly simple art that proves to be the most time-consuming and torturous to produce. Pianoworks exemplifies this dichotomy, having been recorded, re-recorded, and re-re-recorded in the span of nearly a decade."
Check out a complete breakdown of both records below, along with a couple early leaks straight from the source….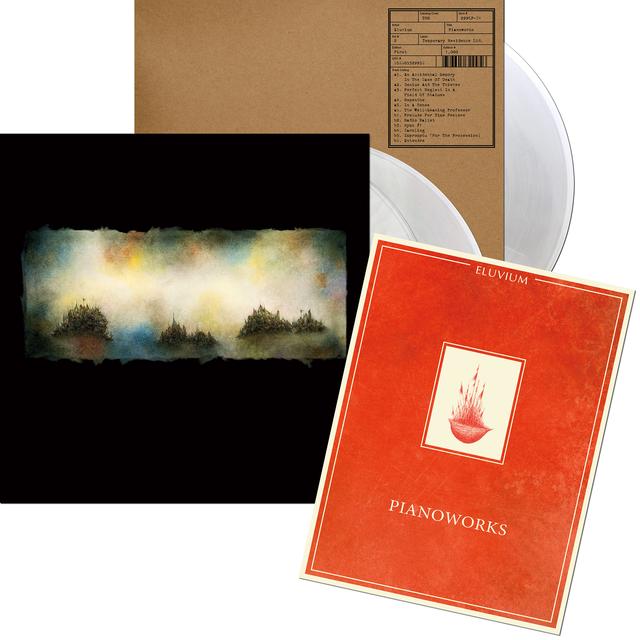 Eluvium
Pianoworks
(Temporary Residence Ltd., May 31st)
1. Recital
2. Quiet Children
3. Carrier 32
4. Inherent Mosaic
5. Transfiguration One
6. Masquerade
7. Underwater Dream
8. Vacuous Plenum
9. Transfiguration Two
10. Paper Autumnalia
11. Myriad Days
12. Soliloquy & Aside
13. Empathy For A Silhouette
Pianoworks Vol. 2
1. An Accidental Memory In The Case Of Death
2. Genius And The Thieves
3. Perfect Neglect In A Field Of Statues
4. Nepenthe
5. In A Sense
6. The Well-Meaning Professor
7. Prelude For Time Feelers
8. Radio Ballet
9. Hymn #1
10. Caroling
11. Impromptu (For The Procession)
12. Entendre