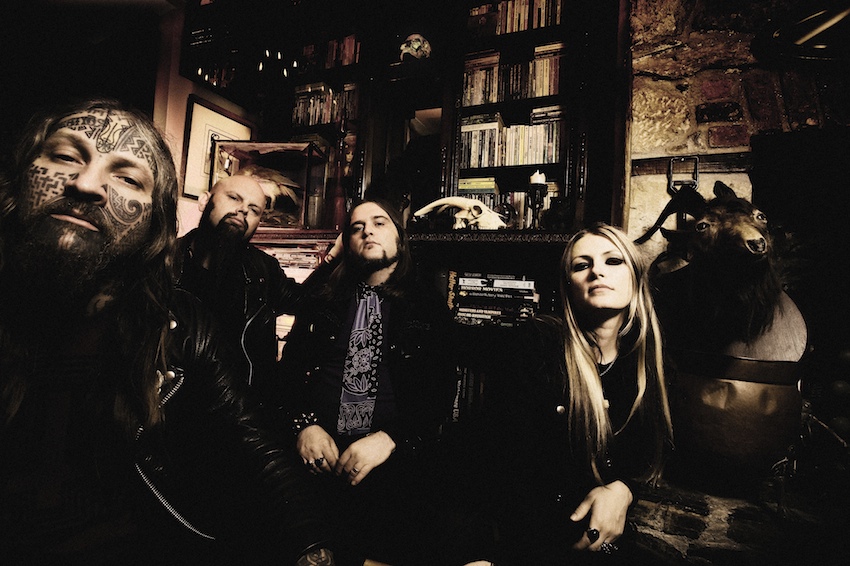 Our intern's name is Ezra Teboul. He was born in Bordeaux, goes to school in Massachusetts, and thinks Dopethrone is the greatest album of all time. Dude's an enigma, in other words. With that in mind, we recently asked Ezra to interview the grand sorcerer himself, Electric Wizard frontman Jus Oborn. The only problem? His tape recorder kept cutting out. Goddamn interns.
Expect to hear more from Ezra in the coming months, as we let his wide-eyed views of the world counteract our unwavering cynicism. And now, his first self-titled profile…
"My dream, really, is to be accepted in the pantheon of classic metal albums."
As one would expect, Jus Oborn is very much about the classics. Not only Black Sabbath–Electric Wizard's dark roasted riffs are rooted in the same cheap Laney amps as legendary guitarist Tony Iommi–but also My War-era Black Flag, Sleep, and Saint Vitus. In fact, Oborn hasn't listened to any new records in at least a year.
What he has been enjoying is movies. Which makes perfect sense; most Electric Wizard records are rife with horror film references, and Black Masses is no exception. For instance, "Venus in Furs" doesn't have anything to do with the Velvet Underground. More like a movie with the same name, an adaptation from a Sacher-Masoch novel dealing with domination. "Crypts Of Drugula" is the latest in a long line of widescreen Electric Wizard instrumentals, only this time it's inspired by the Web's 24/7 gateway to Oborn's favorite films.
When asked about the Internet's impact on the way Electric Wizard records are distributed, Oborn simply replies that it'll never replace a live show. Even though Black Masses–like all of Electric Wizard's other albums–has been recorded in a "live" environment, it's still only an approximation of just how loud they sound onstage.
Stylistically speaking, Black Masses strikes a nice balance between the in-the-red rawness of Dopethrone and the unholy soundscapes of Witchcult Today. The vocals are also clearer this time around, although they're in a constant battle with the band's monolithic riffs. (Sure enough, Oborn has never even owned an acoustic guitar.)
"Is the mainstream something that needs to be challenged constantly?"
"Yes, definitely."

If there's one thing Oborn has always said in interviews, it's that he wants his music to be visceral, to inspire fear in people, and to shock. He's quite traditional, though–yet another knotted branch in the time-honored family tree of Black Sabbath, Hawkwind, and Motörhead. All of which dabbled in their fair share of drug culture, a point that isn't missed by Oborn. The way he sees it, listening to Electric Wizard isn't all that different than sparking his favorite plant.
"The destruction of braincells creates the same numbing effect," he explains.
At this point, Oborn starts comparing interviews to dentist appointments, and lets me know that Electric Wizard are going to try and visit my "stinky town." And for that, I'm thankful. Now if only I could find a proper pair of earplugs in the meantime…