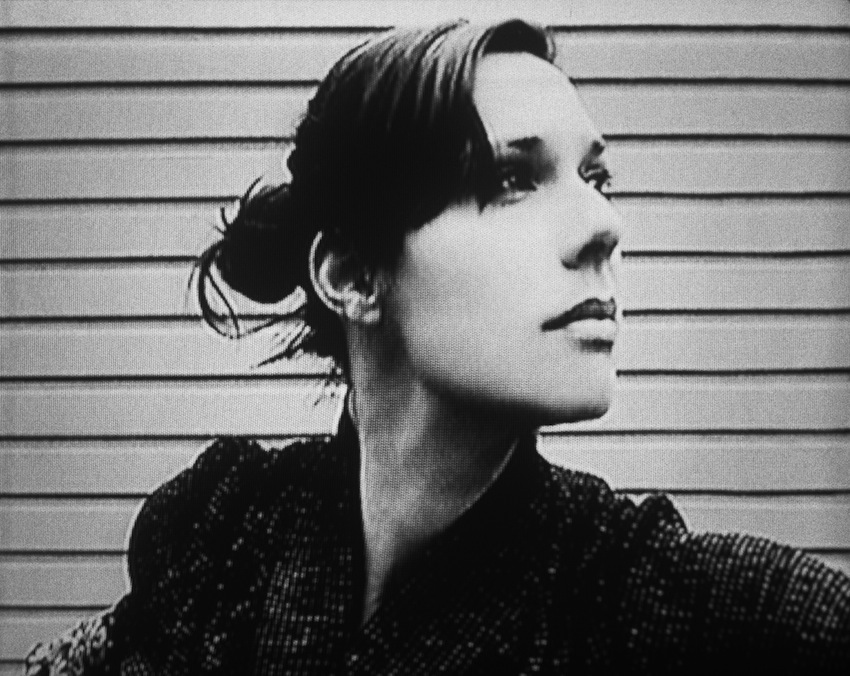 Interview by Ezra J Teboul
It's hard to believe considering they just released a new record (Not Music, a.k.a. cuts rescued from 2008's Chemical Chords sessions), but Stereolab announced their indefinite hiatus a year and a half ago, writing the following vague message on their Web site: "As we recently made #51 with Emperor Tomato Ketchup in the Amazon 100 Greatest Indie Rock Albums of All Time we feel that our work is done for the moment."
While Stereolab may be sticking to reissue campaigns in the near future, singer/multi-instrumentalist Laetitia Sadier (also of Monade) has already emerged from the ether with her first solo album (The Trip) and the following rare interview, which touches upon the following: glamor shots, matters of preference, and several French artists you need to hear immediately…
After two decades of making music with Stereolab and Monade, how does it feel to finally put out a record under your own name? Was it a natural extension of the last Stereolab sessions, or something you've been working on for years?
Monade felt more like a 'natural extension' of Stereolab…I now welcome the transition to working under my own name. The time is right to be more visible and stand on my own! Although this new album and my stepping out on my own is still part of a continuum of what I have done before and hopefully what will come next.
You recently covered Catherine Ringer on "Un Soir, Un Chien." Were you inspired by Ringer's singing when you started performing with Stereolab? How would you describe her music to people who have never heard her before? Is there any particular album of hers that you would recommend?
I remember seeing [Ringer's band] Les Rita Mitsuko in 1985 or so, opening for the Smiths in Paris. I was absolutely impressed by their presence and the way they carried off their poppiness in such an impetuous way. They didn't seem to care, they weren't here to please. They were doing what they had to do and surpassed any judgment that one would put upon them. It was hard to be free artistically in France at that time, and they were booed off the stage by idiots who were responding badly to their wild, uncompromising energy.
Yes, Ringer is an inspiration, a direction to follow–to integrate some of this woman's impertinence and raw delivery. Rita Mitsuko's first, self-titled album is fab. The No Comprendo is also stuffed with nuggets!
Are there any modern French pop artists that you feel close to or appreciate?
Yes there are! I particularly feel close to Philippe Katerine. Another charmingly and humorously impetuous artist. He has the knack of just putting a mirror up to what goes on socially/artistically, and does it with great skill and unpretentiously. I also love Aqua Serge and am very fond of Bertrand Burgalat's work. We are part of the same family and it was thrilling to meet them at last after years of searching. In fact, I had given up…
How did you discover Wendy & Bonnie's "By the Sea," and why did you decide to cover it on your first solo album?
I was brought up in the tradition that you have to have a good reason to do a cover version. In this instance, I heard a lovely straightforward pop song in the original "By the Sea." The trick was to speed it up! I've had Genesis, the only Wendy & Bonnie album, for many years and am very happy that this gem is now widely available for all to enjoy.
Did you experiment with any new instruments on your solo record–ones you wouldn't normally play in Stereolab or Monade?
[Not really.] I always had a strong to desire to use African instruments on my recordings and have yet to follow this idea through. I love the sound of the balafon, for instance, and some other delightful instruments whose names I shall discover!
Not Music includes material that was recorded at the same time as Chemical Chords. Do you have any more songs left from those sessions, or is that it? Also: Should your new record be viewed as outtakes or a completely new album in and of itself?
Not Music is, in my eyes and ears, a proper record onto it self. It is my real Chemical Chords. It resonates more truly with me. I don't think there are anymore songs from those sessions. I wish it had come out sooner, but here it is coming [out two years later]. It also has two amazing remixes from Atlas Sound and Emperor Machine on it, which complete it beautifully.
You've worked with a lot of artists over the years. Could you tell us a little bit about what it was like collaborating with the following people: Atlas Sound, Mouse On Mars, Blur, Common…
Collaborating with Atlas Sound felt very natural in the sense that Bradford and I are friends and/or like family. There is a strong spiritual connection which made the collaboration simple. Mouse On Mars are also very goods friends and like family. We have done more together and I do hope to carry on in the years to come working with Jan and Andi. I would like to collaborate again with Common, too, because I feel I didn't get a chance to thank him enough for the opportunity to be part of his [Electric Circus] record. I only really discovered and enjoyed later the real quality of his work…
The last two Stereolab albums are more laid-back than your early records. Does part of you miss the motorik beats, guitars and organ drones of records like Random Transient-Noise Bursts?
I don't know if I miss the past, but it is true that I have difficulty getting into the romp-dee-romp rhythm of Chemical Chords. Not Music is more fluid. Maybe that's why I like it more.
The Trip was recorded in two sessions between the UK and the U.S. Is the title of your record a reference to this purely physical movement, or does it have some spiritual aspect?
Yes, the title is meant to be read poetically, as in the journey through life, and possibly beyond.
The contrast between Stereolab's bright covers and the black and white, mugshot-like photograph for The Trip feels like a statement of some sort. What part did you play in those cover designs?
I felt I needed to break away from the colorful 'lab record covers. I also felt a bit tired of having a drawing on my covers. My boyfriend suggested I have a photo of me on the cover. I didn't want a posed photo of me–that idea horrified me! I thought that if I searched for the right photographer, he would come along. And he certainly did! Patrice Hanicotte [lives near] me and when I met him, he proposed an idea that was exactly what I was looking for: he filmed me in my garden and in a local park, and took photos of some stills of the movies from an old TV. Hence the highly pixelated result. I love it!
To what extent is album art important to you? I'd assume a lot, given how well your covers have always referenced things like library music sleeves and pop art.
Tim was always looking for new ideas for our covers in the beginning. Towards the end our friend Julian [House, of the Focus Group and Ghost Box Music] would come up with ideas which we would chose from. Julian also does a lot of Broadcast covers. Of course the cover plays a very important part of your listening experience. I think it completely conditions your perception of the music.
What's been on your record player lately?
I recently visited the Drag City office in Brixton, so I came home with three beautiful records: Bill Callahan's, Sometimes I Wish I Were An Eagle, Joanna Newsom's triple LP, and a promo of my record! I also received the Soft Pack's latest CD as a present, which never fails to provide goose pimples and get me dancing frantically in my kitchen. When in Brazil recently, I bought Chico Barque's classic Construcao [album] and my beloved desert island disc A Tabua de Esmeralda by Jorge Ben.
Finally, I've read somewhere that Stereolab setlists don't have any song names; just the name of the bands that have inspired each song. Care to clear that myth up?
Let's keep the myth for another while yet!