If you're one of those people who decided they didn't like jazz without actually listening to any of it, may we suggest Get the Blessing? With a couple Portishead connections (bassist Jim Barr and drummer Clive Deamer, along with recurring collaborator Adrian Utley) and a solid clean-up crew in place (saxophonist Jake McMurchie and trumpeter Pete Judge), the quartet's looming Bristopia LP is not a laid-back listen. It climbs right up the walls and doesn't look down. Stream it in full below—a day before its official release—and check out the band's complete track-by-track commentary….
"IT IT CAN IT WILL"
Obviously this is a comedy car chase. One car is a Fiat 500 with 20 chimps in it; the other is a Rolls-Royce Silver Shadow, driven by a tree sloth. (But who is chasing who?)
This was written before we got into the studio, a classic blessing tune…. All we had to do was get the right energy from the recording. Features a great sax solo from Jake and a bit of extra baritone guitar and there it is—fully realised and wobbling on its Cuban heels .
"COCOCLOUD"
It makes perfect sense when you realise you've consumed too much beer, and fall flat on your back in the middle of college green on a perfect summer's day.
"Cococloud" was written before we started recording. What really makes this tune is the SPACE FX used on the sax and trumpet to create that huge afterglow each time the melody plays . There's also some fine, subtle pedal steel from Maggie Bjorklund. It's one of the many tunes on this album in 6/8.
"CELLOPHANT"
Elephantine hip-hop… an elephant wrapped in cellophane, playing a toy drum kit and spitting some bars at the same time.
This one is an improv from our session at Vale Studio. Pete got this outrageous sound from his pedals—like a cartoon dinosaur! Jake has a Flintstones vibe going on with the pitch-shifted saxophone. Jim added some bass v1 later and hey, presto: sweet, easy swinging jazz!
"SUNWISE"
A trumpet sun salutation. Drums sound better when you play them with maracas. The sun deciding to set (extra beautifully) in the East. Another improvisational piece, we played this again and added the little tune and a key change.
It was hard to recreate what we'd originally done; we realised that we were all playing in different time signatures… or time zones! We still don't know how it works; it's probably 6/8, too.
"NOT WITH STANDING"
A Kafka-esque story of a man who wakes to find his head has turned into a blind spot convex mirror…. More improv! This is exactly as it was when we played it that one time in the studio (except Adrian added some guitar and Pete added some bass pedals).
"RECORDED FOR TRAINING AND QUALITY PURPOSES"
Just to annoy our customers. No one would want to listen to this while they're on a running machine; it would make you run too fast, and on only one leg.
This one was written before we started recording—again, just a question of energy. It originally started as a kind of minimalist piece, but we soon ruined that…. Then Adrian added some E-bow guitar. A bit of bass and some fuzz; a great trumpet solo from pete…. bingo!
"BRISTOPIA"
Bristopian jungle/drum 'n' bass…. or what happens when you go out and realize you've put all your drums and bass on inside out .
Actually a leftover tune from the Lope and Antelope sessions. It resurfaced, and we used it for a live soundtrack we were doing. It seemed rude not to include it on this album since it had been so nice to us. It's also really fun to play, and a Clive Deamer tour de force!
"RULE OF THUMB"
This is purely improv—just played, mixed, and there it is.
It has an atmosphere…. and a big, fat, stupid bass v1 sound from Jim.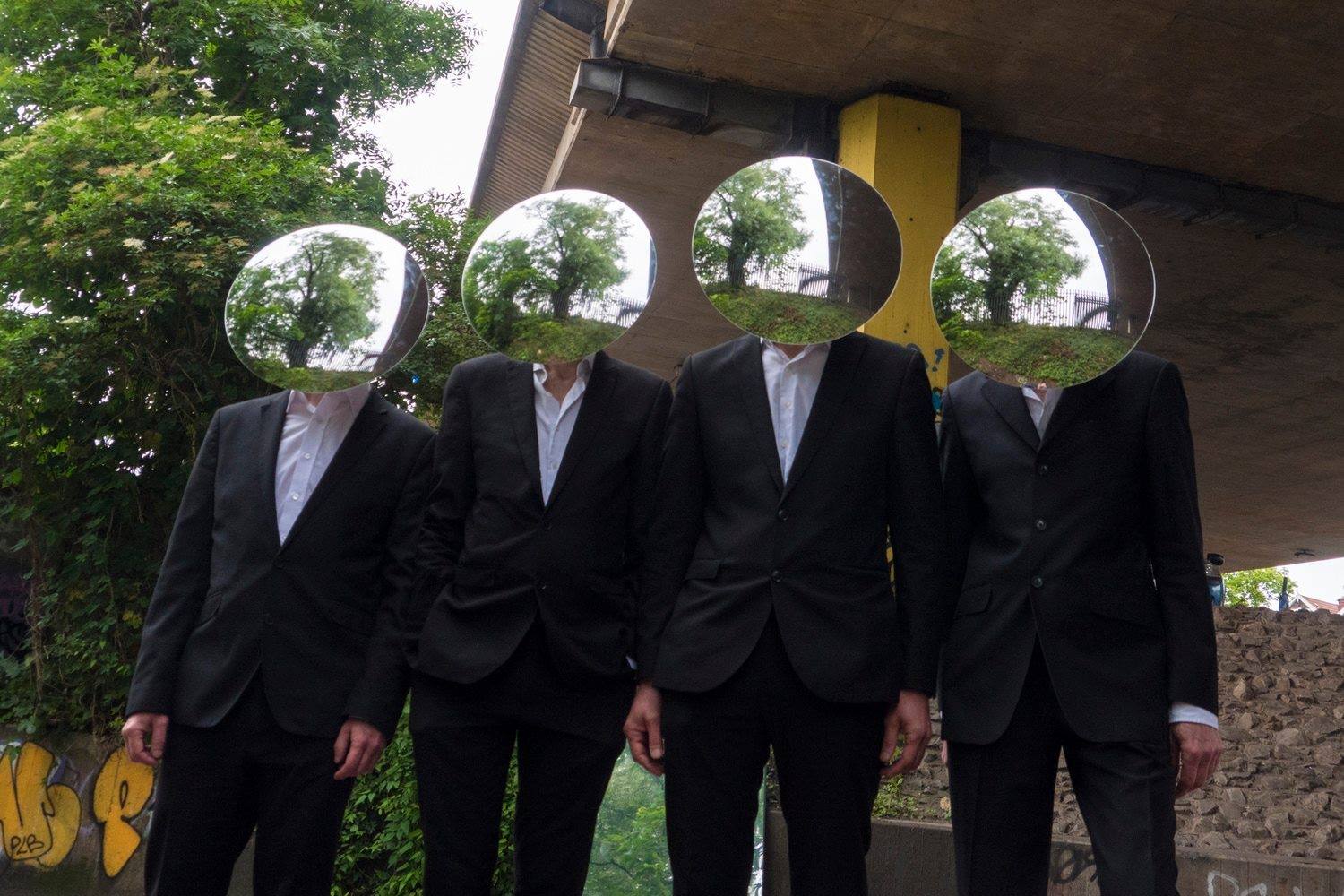 "THE SECOND THIRD"
A Bond theme for the new Bond film starring Johnny Vegas.
This was partly written; partly improvised. Call it GTB Danish Noir. There's some lovely delicate piano texture in there courtesy of Mr. Judge. Two drum kits, lots of horns, filters, etc. And another great solo from Jake.
"TUATHAL"
Our tribute to people who prefer to travel widdershins. This piece was written and performed the wrong way round. It's also the opposite of "Sunwise."
This came to the studio as a kind of song kit—a flatpack with no instructions .Some screws were missing and there is an extra door…. It's a strange journey that is strangely satisfying and ends in a very good place. More cool pianos from Señor Judge and brutal ring mod sax from Jake.
"THE GRAND SCHEME OF THINGS"
A small gathering of long notes sets out to explore its feelings of utter insignificance in the face of the vastness of the universe, and finds itself lost in comforting darkness within two minutes of leaving the house.
Pure improv electronic brass band from Jake and Pete.