Between all of David Psutka's solo projects (ACT!, EGYPTRIXX) and side hustles (Ceramic TL, LIMIT), it can be hard to place where the Toronto producer's head is at within any particular moment. Take last fall's Dream Baby LP. A delicate yet dynamic turn of events for ANAMAI — Psutka's longtime duo with singer Anna Mayberry — it sounds like it exists out in the ether. Far removed from Psutka's extraterrestrial dance tracks and Mayberry's previous life as a rabid noise rocker, it's both serene and unsettling.
Which makes it a perfect match for the present, to be honest, a liminal state that feels like one long pause button. Although Mayberry insists, "I feel blessed to be alive. I cycle through all other possible feelings in somewhat alarming and irregular patterns. I'm studying, having new ideas, making things, and loving. It feels like bullshit just can't stick."
Psutka has a similar take: Rather than wait for our regularly scheduled program's (uncertain) return, we might as well flip the page fully and create. In his case, quarantine life also means supporting like-minded artists and musicians on Psutka's growing Halocline Trance imprint, which he discusses in detail below alongside an exclusive Needle Exchange mix. Mayberry also offered her thoughts on everything from surgical recording sessions to the one song she kept on repeat for an entire year….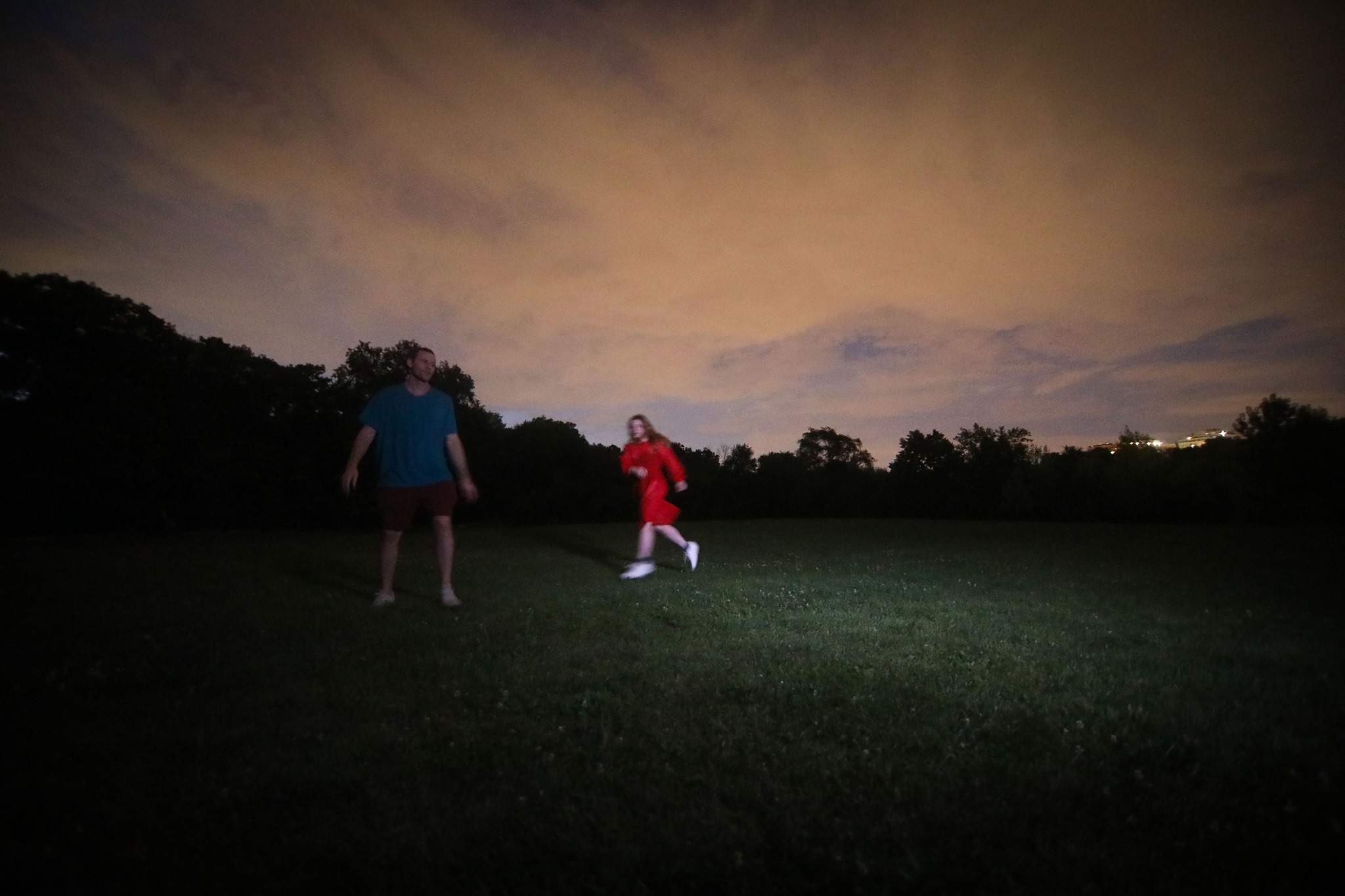 Let's start with a simple question since a lot has changed since Dream Baby dropped: How are you feeling? Has the sudden stop in touring, and even leaving our homes, been a source of inspiration at all — an excuse to pursue creative projects you had on the back burner before everything turned into a mess?
David Psutka: This is definitely a complicated moment – if you've managed to avoid getting sick, life has been surreal, monastic…tense. This daily barrage of death + infection counts and deranged behaviour from politicians makes for a pretty strange atmosphere. LOL. Personalrly, I've been ok, I have access to my studio and will keep working. It feels a bit crass to talk about how Covid19 might be constructive, but I think it will provoke reflection on many things; lifestyle habits, work/life routines, relationships, creative work, consumption…everything. Most artists I know are taking advantage of the break in schedule to refocus and dig in to new work.
Aside from the obvious — everything being put on hold, essentially — how has the COVID-19 crisis impacted Toronto's local scene, including your own label? Do you feel like it's kind of a wait-and-see situation from this point onward?
Whatever hardships we've faced are very minor compared to the incredibly grim things happening worldwide right now, but Halocline Trance has had a few cancellations and schedule disruptions. I think we'll still be able to keep our release schedule for the year, albeit slightly modified. Concerts and parties will probably take a long time to return to 'normal' — organizers and venues will take a massive hit. It's been nice to see people coming together for virtual events and online gatherings; The Music Gallery has been doing some great stuff. I'm happy to see artists and labels continue to release music. I think it's important to keep making and sharing creative works throughout this thing.
Tell us about a few Toronto artists that deserve to be more well-known outside Canada, and may be having a hard time getting the word out about their work right now.
Casey MQ is an ultra-talented pop musician/ film score composer from Toronto, and recently launched a virtual club night/performance space (@ClubQuarantine) that is popping off. We just finished Casey's debut album and will be sharing that soon!
Xuan Ye is a visual artist and musician with a broad creative practice that has always felt extremely vital and original to me. Xuan recently released their debut album xi xi 息息 on Halocline Trance. It's a document of live improvisations across a three-year span, and was one of my favorites last year.
Colin Fisher is a multi-instrumentalist, improviser, and master musician I've known for a while, and always been inspired by. Colin recently contributed a bunch of parts to the new Caribou album and has a couple collaborative and solo records dropping this year. Colin and Ilyse Krivel will be releasing an immense record with Halocline Trance this spring with their Indweller project.
Kat Dumas (FKA Kaade) is a post-club / pop artist from Toronto with a unique sound. I love her new material and am really excited for it to start coming out.
Soft Matter is an artist from Toronto who dropped a record (Muscle Performance) with us at the beginning of 2020. Her release party was booked for the first weekend of the COVID-19 shutdown, so it was scrapped, but we will hopefully reschedule it once things start opening up again.
How do you think the Canadian government has dealt with this situation so far? Ours has been a mess, to be honest, especially for independent contractors / self-employed people like musicians, as many of us haven't been able to receive any assistance yet because of the vague language in our stimulus bill and lack of guidance from the guy in charge.
David: I'm sorry things have been tough for you; politicians have been as craven as ever throughout this thing. Our situation in Canada has been relatively stable. There are some financial relief programs here that have been helpful, but I'm reluctant to celebrate any politician because navigating this crisis is just their job and the vast majority of them are barely doing it.
Ego theatre and misinformation seem to be the standard, actually; I hope this lesson isn't forgotten when the crisis ends. Generally I get the sense that most people are bypassing politicians and trying to get COVID-19 information directly from medical and economic experts — Americans, in particular.
Anna Mayberry: Since I regularly pay my rent with a restaurant job, I have been able to access relief funds from the government. This has been relatively quick and painless. There are many who are still falling through the cracks of the Canadian Employment Insurance and the new CERB system, but for the most part, it seems like the federal government is trying really hard to get money out to everyone who is suddenly out of work.
Shifting to your own music now, what would the elevator pitch be for each of your projects?
ACT! – Universal music; new psychedelia meets ecstatic groove.
ANAMAI – Creative folk. Exquisitely personal. Minuscule yet infinite; proud but deflated.
Ceramic TL – Decadent, durable sound. Euphoric and dismal.
LIMIT – Crucially free: L-Vis 1990 + Egyptrixx.
Egyptrixx – Celestial club music; jeep music for a Saturn moon.
What songs would you recommend to get a sense of how your sound has evolved over the years?
What are your plans for Halocline Trance moving forward, and what are a few guiding principles you try to follow when signing new artists?
The label is definitely evolving and has expanded somewhat dramatically in the last two years. When I started Halocline Trance, it was only intended as a vessel for my collabs and projects, so I could freely release records as I made them. We are a loose collective, and only in the last few years did it seem realistic to sign other artists and expand our program. We are still very small, but this year we will put out records by a half dozen artists, and release an AR (augmented reality) multimedia project. Like all new labels, I'm learning as I go and trying to embrace the fluctuating purpose of record labels in a pretty unpredictable time in music and, more broadly, all media.
My basic attitude is that all platforms should be transparent conduits of its artists' work. In my opinion, anything beyond that is curatorial vanity, and can feel contrived — self-important. So I really just try to listen and connect with what people around me are doing and go from there. We are just getting started, but it's been rewarding to watch Halocline Trance grow. I don't have grand ambitions as a label, but ultimately I hope it can be a decent platform for creative music, whatever the scale may be.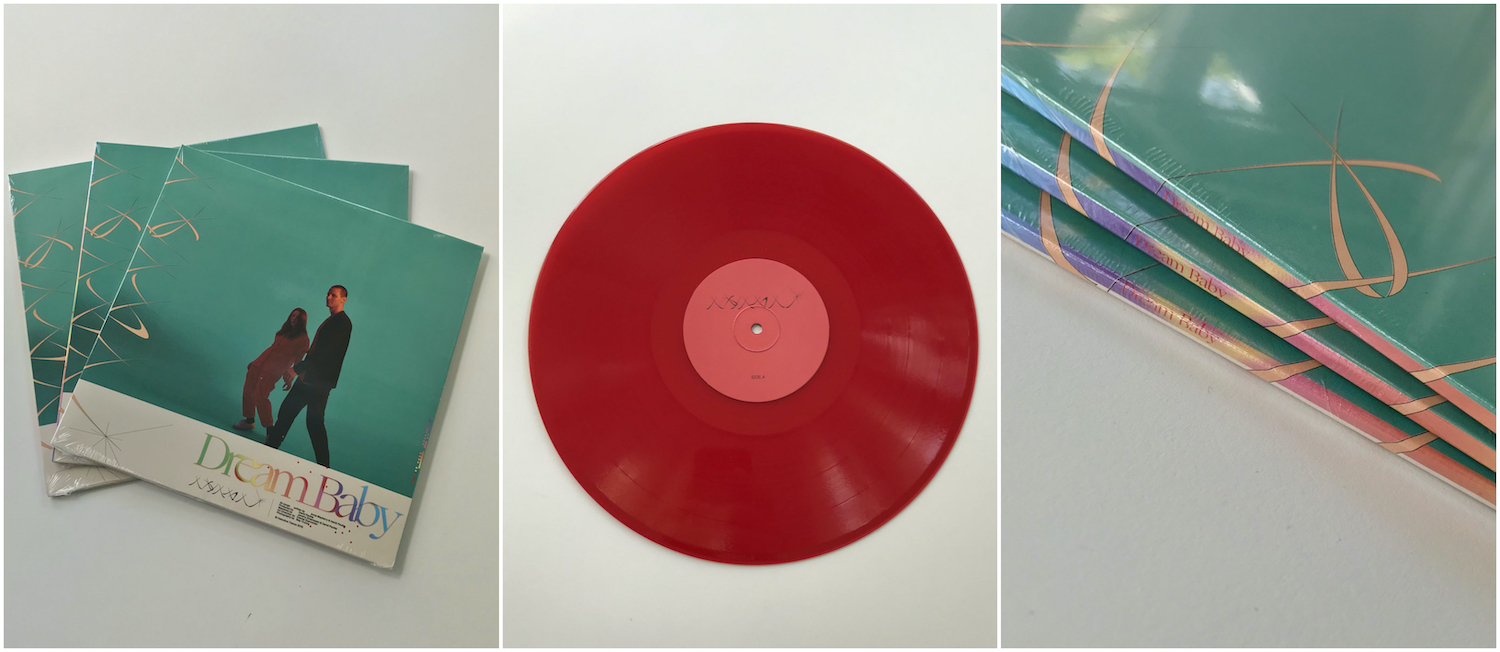 Dream Baby feels like your most fully realized ANAMAI record. Can you talk about the chemistry you and Anna have creatively — a little bit about what each of you brings to the table and what you were trying to achieve with the new album, as compared to your previous work together?
With ANAMAI, Anna usually contributes elements of traditional songcraft — vocal ideas, melodies, and storytelling themes — and I usually bring compositional and sound design ideas. With Dream Baby, we wanted to develop our ideas more slowly and thoughtfully than previous records, which had basically been studio improvisations. We started by scrapping together a pile of partial ideas and slowly sculpting them into a record. A handful of the melodic ideas on the album I had repurposed from unused score sketches I wrote earlier that year. The work itself was mostly remote and online; sending files back and forth. We live in different cities now, so we were only in the studio together a few times throughout the process.
What were some records you were both listening to a lot while making it — your mood board, so to speak?
David: I don't remember exactly what I was listening to, or if I was working with other records as references, but the basic idea of ANAMAI has always been to explore intimacy with ultra-personal songs, situated in spacious sketches of sound. IMHO, the constant, dramatic fluctuations of scale are what make the material unique.
Anna: Jeanette, "Corazón de poeta." This was the only song I had on my phone for the year we spent making this. I generally avoid recorded music while making a record. I find it really hard to not get thrown off track or have my sense of self vacuumed out. I tend to obsess over my songs, let them overtake everything else in my life, and be sure I'm not trying to make them into anything they are not.
How about some non-musical influences — things like books, films, etc.?
Anna: The Royal Bank Plaza lit up at sunset, viewed from a boat in Toronto Harbour. A recurring dream of flesh I had as a kid.
Where are your heads at right now in terms of what you'd like to produce next?
Anna: Dream Baby felt like the most extreme outcome of the way we always worked together as ANAMAI. Puzzling our two very different perspectives together, somewhat surgically, the results hovering above us. I'm working inside the body now.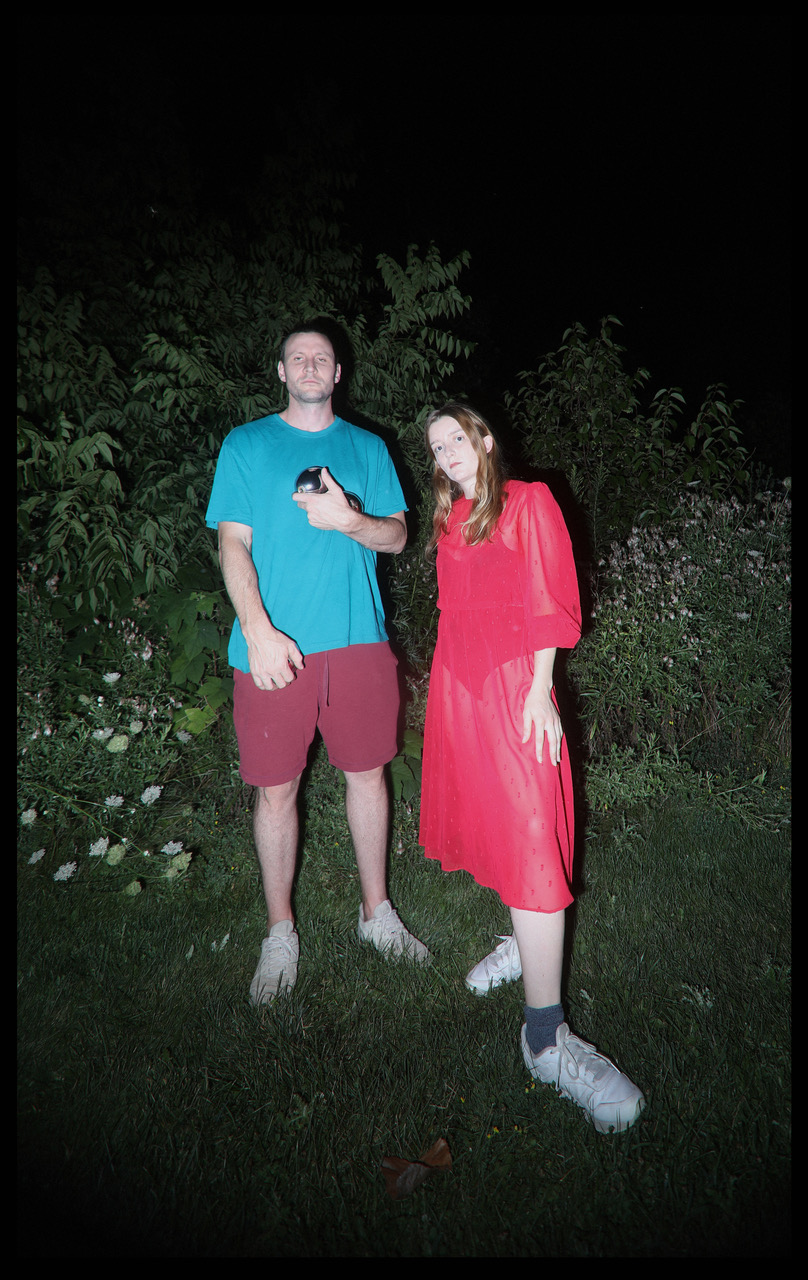 David: Lately, I've tried to be really patient when writing and producing to allow ideas to develop more gradually. I want to work slower and get better creative and technical results generally. My process is completely DIY. On most of my projects, I'm involved at every stage of the process: conceptualization, writing, recording, mixing, and mastering. Having this level of control over a work is great, but it can get fatiguing.
I'm enjoying working on a cool mix of stuff; I've just finished work on Casey MQ's debut album, and am doing some songs with Kat Duma. I've also just finished a score for a cool AR project by Belgian artist Karen Vanderborght and am working on the second ACT! album. I probably won't be able to take on anything new for a bit, but after that we'll see! I'm basically open to anything fun and interesting.
Is ACT! your main solo outlet now, or are you planning on making a solo album under your own name next?
ACT! is my main solo project at the moment, but I try to be pretty fluid with project identities or any kind of artistic brand identity really. Vague or diffuse brand identities work for me; I like to spread ideas across many projects or mediums, and eventually I'd love to do scores for public transit systems, airports, or something like that. There will be a few ACT! releases in the next year or so.
Finally, can you tell us a little bit about the mix you made for us?
This mix is a selection of unreleased music from Halocline Trance and friends, and some older tracks from the label and elsewhere. There are also some tracks that are aesthetically important to us, or just random stuff I'm feeling!
TRACKLISTING:
A Hutchie – Executioner (Halocline Trance, forthcoming)
Oliver Coates – Peace (by Micachu) (Foom, 2017)
Kassa Overall – Visible Walls (Brownswood, 2020)
Casey MQ – Glossy Lips (Creamcake, 2018)
Baba Zula – Your Languished Gaze On That Couch (Doublemoon, 2003)
So Percussion & David Lang – The so-called laws of nature: 1 (Cantaloupe Music, 2011)
Xuan Ye – dawns upon me in the snow, becoming ravens (remastered) (Halocline Trance, 2019)
Ceramic TL + Ipek Gorgun – Tactics is Hench (Halocline Trance, 2017)
Glen Velez – Pyramid (CMP Records, 1985)
Esplendor Geometrico – La Produccion Sigue (Captain Trip Records, 2009)
Off World – Scrubdown (Constellation, 2017)
Mike Cooper – Kokoke Nalu (Room40, 2019)
Tierra Whack – Fruit Salad (self-released, 2018)
Casey MQ – Candyboy (Halocline Trance, forthcoming)
Priscilla Ermel – Martim Pescador (Music from Memory, 2020)
Indweller – Vessel (Halocline Trance, forthcoming)
ANAMAI – The Choss (Halocline Trance, 2017)
Carlo Gesualdo & Noel Akchote – Gelo ha Madonna il seno (self-released, 2011)
ANAMAI – Brother Green, Sister Blue (Halocline Trance, 2017)
Wicca Phase Springs Eternal – It Takes (Disposition Collective, 2016)
DJ Amazing Clay – Vinheta Clay (Man Recordings, 2011)
DJ Shortstop – Force (Databass Records, 2004)
10k.Caash – WEST COAST CURE (Def Jam Recordings, 2019)
Steven Warwick – Open Fire Hydrant (PAN, 2019)
Rob Mazurek & Emmett Kelly – Back to the Ocean, Back to the Sea (International Anthem, 2016)
Colin Fisher – VI (Geej Recordings, 2018)
ACT! – Section 5 (81-100) (Halocline Trance, forthcoming)