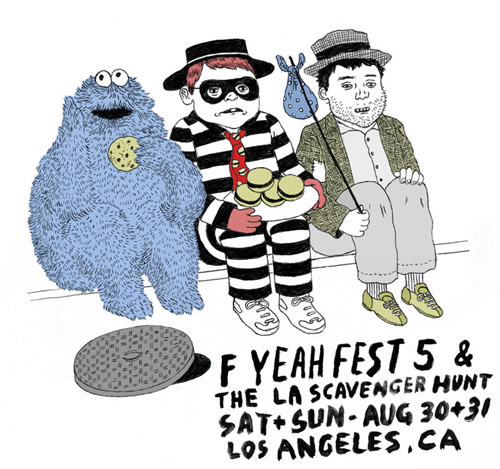 Wow. As if things weren't tough enough on Sean Carlson this summer (the 23-year-old concert promoter took his F Yeah Fest on the road amidst the hard realities of 26 hot, hungry people on a bus for 28 shows in 27 days), he's now been the victim of an alleged attack by Hollywood Bowl security outside a Radiohead show Monday night.
According to an LA Weekly report, Carlson and co-promoter Phil Hoelting were handing out flyers for this weekend's Los Angeles show while Michael Reich of Videothing.com shot their every move for a documentary. Nearby, an ejected concertgoer was allegedly getting roughed up by four CSC Security guards.
"The guy was screaming,"  Reich told the Weekly, "and trying to tell them that he would leave peacefully if they let him go."
They didn't. So Reich turned his camera on the proceedings only to get the following reaction …
Photo courtesy of Sean Carlson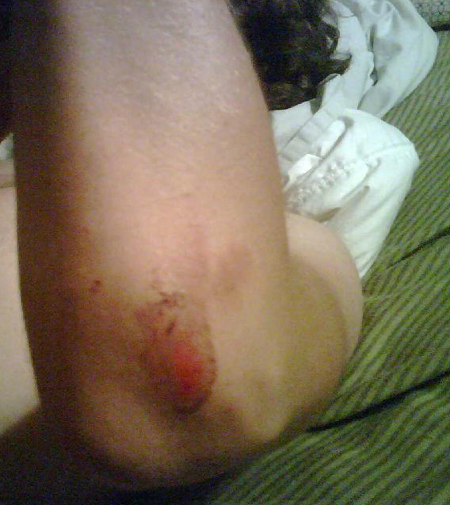 (via LA Weekly) "The guard walked up to [Reich] and said, 'What the fuck do you think you're filming?' and grabbed at the camera," says one eyewitness who requested anonymity for fear of retaliation. According to the witness, Carlson walked over to intervene, whereupon the security guard pushed Carlson to the ground, sending the flyers scattering across the pavement. Reich filmed this, as well. The eyewitness and his wife, not wanting to get involved, continued toward their car, but notified the L.A. police officers–"at least six or seven of them," he says–stationed at the Bowl entry that there was trouble up above. He says that they did nothing.

Reich and Carlson began to leave the premises, says Reich, certain he had captured the use of extreme force on tape. Hoelting, who had stayed behind, then overheard a guard say, "That shit's going to be on YouTube. We gotta get that tape."
As you might expect, things only worsened at that point, with the guards chasing Carlson and company despite a mad dash towards oncoming traffic.
Be sure to read the rest of the story at Randall Roberts' blog, which rescued this cops-gone-wild story before it could fall through the cracks. Considering Carlson contributed a tour diary to the New York Times last month–raising his profile from a scrappy DIY promoter to a punk rock hero of sorts–it's likely this one will only get uglier as the days wear on.