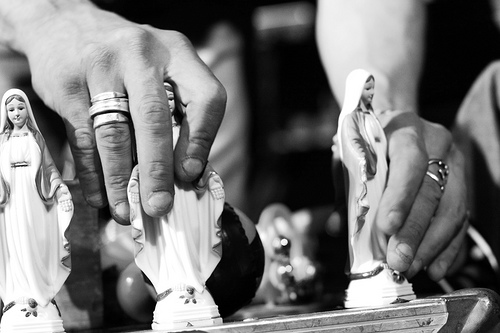 [Black & white shots by Aaron Richter; color shots by Andrew Parks]
By Andrew Parks
Please don't take the Björk reference in the above headline the wrong way. It's got nothing to do with gender or our inability to critique an album without making gross assumptions. In fact, Bat For Lashes' shape-shifting songs and surreal fashion sense shed the shadow of Iceland's undisputed queen the second we heard "What's a Girl To Do?", Donnie Darko-indebted video and all. By invoking the spirit of Phil Spector with a skin-crawling harpsichord, hollow, heavyweight beats and that voice, Natasha Khan immediately reminded us of the first time we heard "Joga," "Hyper-Ballad" and "Human Behaviour"–songs that wiped away our preconceived notions of just how daring and downright chilling a solo artist can be when they put the acoustic guitar down and embrace everything from IDM to baroque music.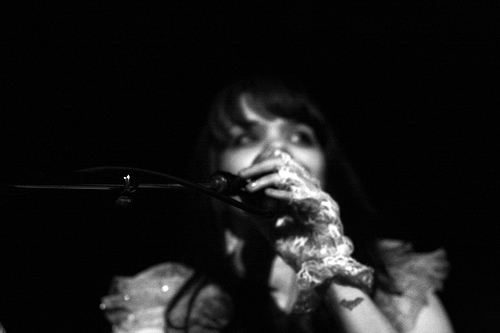 Last night's Bowery Ballroom show took our love of Bat For Lashes' two LPs–2006's Fur and Gold and the recently-released Two Suns–to a whole other level by proving Khan's real deal status. In a thorough, catalog-skimming set that emphasized just how varied her songs can be, Khan nailed every note, with her three-piece band rounding out her hearty melodies and textured keys with groove-locked percussion (Sarah Jones, who hammered away at drum pads and a complete kit), Technicolor chords (former Ash guitarist Charlotte Hatherley) and the multi-instrumental wizadry of Ben Christophers.
Some standouts in a set that was full of 'em: the powerhouse crescendos of "Glass," two distinct versions of "Daniel," the sinister, Lynch-ian throb of "Sarah," the spare, spine-tingling peaks of "Siren Song," and the part in "Sleep Alone" that kills us every time, as puzzle piece rhythms fall into place and become a death march of sorts. More than just a simple believe-the-hype experience, Thursday was the sound of an artist who's just starting to hit her stride. See her now before she's headlining MSG and the second day of Coachella 2010.