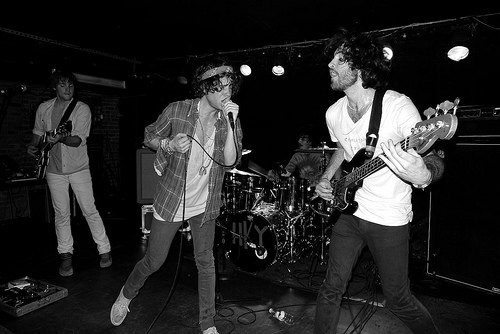 Words and Photos by Aaron Richter
Music this good must be easy to sell. Even with the record industry struggling, a band like Portland, Oregon's Hockey is a golden nugget for any label savvy enough to snatch 'em up (in this case, Capitol–lucky bastards). Hockey's appeal is broad, and the songs are satisfying. The band members look good, and they play their instruments well. The charisma is abundant, and the potential is huge. 
At Mercury Lounge, Hockey (not to be confused with James Murphy's upcoming project Hockey Night) performed danceable pop cuts touched with a sizable volume and impact ready and begging for mainstream attention. Self-aware tracks such as "Too Fake" and "Song Away" could sound right at home on an episode of The Hills, yet there's something charming about these songs that even the most jaded listeners can't deny, whether it's hints of The Boss, shades of the Rolling Stones or echoes of LCD Soundsystem. Singer Ben Grubin is a surprising presence, as well. All goofy legs and nervous energy between songs, the slight vocalist transformed into a howling frontman, wavering between a Julian Casablancas howl and a Jamie Lidell croon–white-boy soul with bite and grit–without ever shedding his endearing silliness. 
Although the Friday-night crowd was packed with friends and family (Grubin's sister and parents were in attendance and seemed to know everyone in the audience), smart money would peg Hockey to become the MGMT of 2009 (only with better songs). And looking toward a major-label release due in June, you can't help but wonder whether the band members even realize the storm that's about to hit them.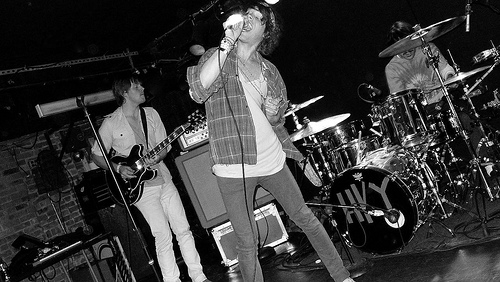 [The Mercury Lounge show was night three of a four-evening stint in NYC. This was Hockey's first time playing in New York.]
[Ben Grubin mostly sings about two things: 1) "writing songs" and 2) "being in a band and writing songs." Oh, irony!]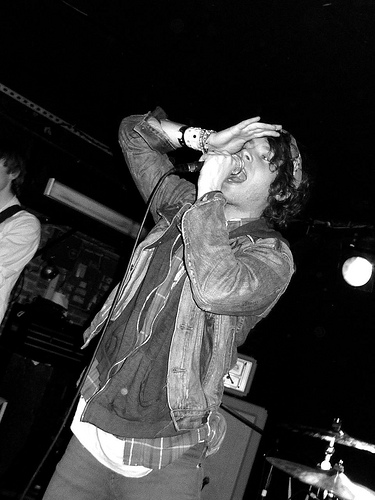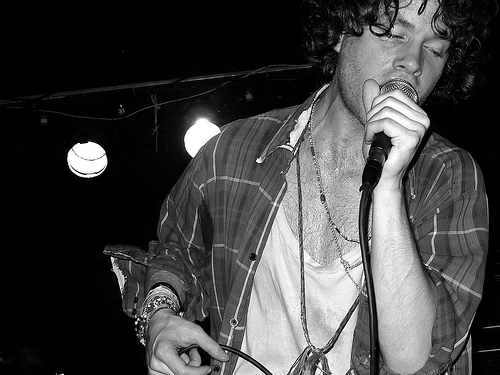 [Grubin was floppy and goofy between songs, but once turned on, his voice was epic, filled with soul and surprising power.]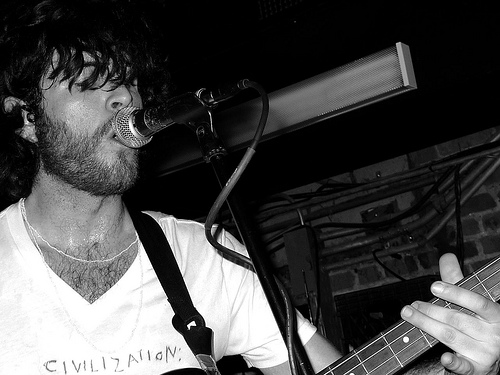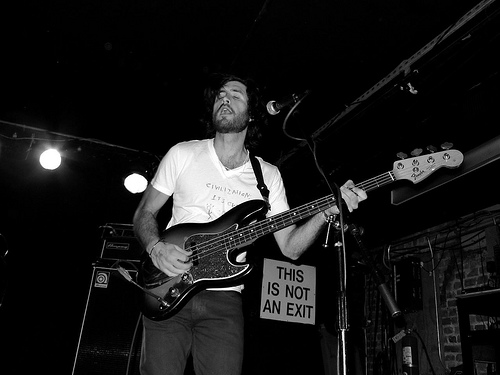 [Bassist Jeremy "Jerm" Reynolds was excited to have eaten at Rosario's Pizza earlier in the evening. He said it was the best pizza he'd ever had. Then again, it was also the only New York pizza he'd ever had.]