["77BoaDrum" portrait by Andrew Parks]
No. 11. That was the spot assigned to Christopher "Pow Pow" Powell (Man Man, Icy Demons, Need New Body) when he was asked to be one of 77 drummers in the DUMBO performance of the landmark Boredoms piece "77BoaDrum."
While he was only a few kits away from the Japanese group's eYe-led inner circle last year, Powell got upgraded to a "drum leader" spot at the August 8 premiere of "88BoaDrum" at LA's La Brea Tar Pits. Now that he's had some time to let both experiences sink in, we asked Powell to share his thoughts and personal photos from two of the most surreal shows he'll ever play.
77 BoaDrum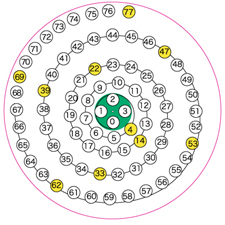 > There's really no words to describe the feeling I had after playing last year's event.

> I've been a huge fan of the Boredoms for a long time, so when I was given the opportunity to perform in last year's "77BoaDrum" in Brooklyn, I was floored.
> There's such a primal element to a performance like that, so trying to describe it to friends and family can be tough sometimes.
> Everyone was playing in unison, most of us having never heard the composition we were performing.
> There were cues. There were movements in the piece that were described to us by the handful of drum leaders chosen to help communicate with everyone there and make it sound like one big animal. One big ocean. One big universe.
> It felt just like that.
> Once we started swirling around drum patterns, the rest was a blur.
> It was a heavy focus on communication and in turn, a definite sense of community.
> There were plenty of strangers there performing. Some super close friends. We were all playing together, all improvising, all speaking to one another as well as the listeners.
> "77BoaDrum" had a total element of surprise. It was a different feeling for me during this year's "88BoaDrum in Los Angeles …
> There was word on the street that the Boredoms were organizing another (possibly in two cities) Boadrum performance for 08/08/08.
> When (musical director/organizer) Hisham Bharoocha asked me to be one of this year's "drum leaders" in Los Angeles, I freaked out with enthusiasm and joy!
> The Boredoms helped steer the "artistic" part of my brain at an early age, so this was an honor.
> The next thing I know, we're setting up drumsets in a rehearsal space along with the Boredoms.
> We had two days to rehearse before the Friday performance.
> Once things were all set up, we ran through the piece's transitions and movements. It sounded enormous. It felt endlessly powerful.
> On the day of the show, we discussed how to communicate with the other drummers.
> There was a sense of community throughout the tent, as if everyone was there for one unified reason: to play together that evening, with the Boredoms, as one band.
> There were quite a few drummers from last year's event so it ended up feeling both more focused and more free at the same time.
> More improvising than last year.
> More freedom to let each drummer be as expressive as they want to be within the composition's structure.

> More playfullness than last year's.
> Then it was over.
> I was sad to leave cause there is so much potential with that many people and we only had a few days to work on it all.
> Regardless, it was magical being able to play in the Boredoms for a brief period of time and to be able to share that experience with such amazing drummers from all over the country.
> Both shows have changed me forever and given me a new outlook on what can be done with music.
> It helped me to get over a creative hurdle I've been dealing with all year. Now I feel endless potential for making music again.

> The Boredoms rule. Period.