Jessy Lanza explains what really inspired her debut album, Pull My Hair Back…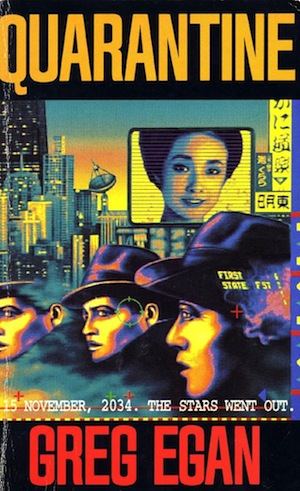 1. Greg Egan Novels
I read a few Greg Egan novels last year; Permutation City and Quarantine both really stuck with me. I can see his vision of the future eventually becoming reality. I was reading a lot of his stuff and there is a kind of anxiety about it that I think sort of crept onto the record.
2. Sparkle
Sparkle is a Szechuan restaurant in Hamilton that Jeremy and I ate at a lot when we were making the album. Cooking stresses me out. This restaurant is amazing, and weird stuff happens in it—random brawls, kitchen fires, servers randomly wearing costumes, etc. It was a nice place to get away from the studio and not talk about music for 45 minutes.
3. Dan O'Bannon Movies
When I was making the record, I became obsessed with watching every movie Dan O'Bannon had ever been involved in. It's pretty inspiring to hear him say, "Yeah I got fired working on Star Wars and then had a couple of dark years…Then I wrote Alien…" He just says it like it's no thing. Everybody loves Alien and Total Recall and so do I obviously, but Screamers is the underrated one.
4. Star Trek: The Original Series
After working at the studio, I find it really hard to relax once I get home, but there's something about the '60s Technicolor glow of the original series that makes it impossible for me to stay awake for longer than 10 minutes. That's not really a good endorsement for a TV show, but it's one of the only things that helps me sleep.
5. Hamilton, Ontario
Walking around Hamilton at night can be pretty lonely because there aren't very many people around. It makes it pretty easy to write songs about feeling isolated though. The fact that it's a city outside where everyone else lives is appealing to me and one of the reasons I don't think I'd live anywhere else.
'Pull My Hair Back' is now available through Hyperdub. Check out a few of its narcotic R&B numbers (co-produced by Jeremy Greenspan of the Junior Boys) below…