I definitely didn't invent the concept of a rice bowl or anything, but guests always ask for the recipe, so here's a version that'll serve about four people. —JQ
Salsa Ingredients
---
6 big tomatoes (beef tomatoes or similar)
1 garlic clove
2 bird's eye chilies (or 4 larger chilies)
Dash of paprika
Juice of two limes
1 bunch coriander
1 nice big red onion
Salt and pepper
Salsa Method
---
1. Chop all the ingredients up very finely, and leave the tomato skins on to get all the nutrients.
2. Rub the limes around in your hands before chopping and squeezing the juice out into the mixture.
3. Stir.
4. Serve in a bowl. It will keep for a while if refrigerated.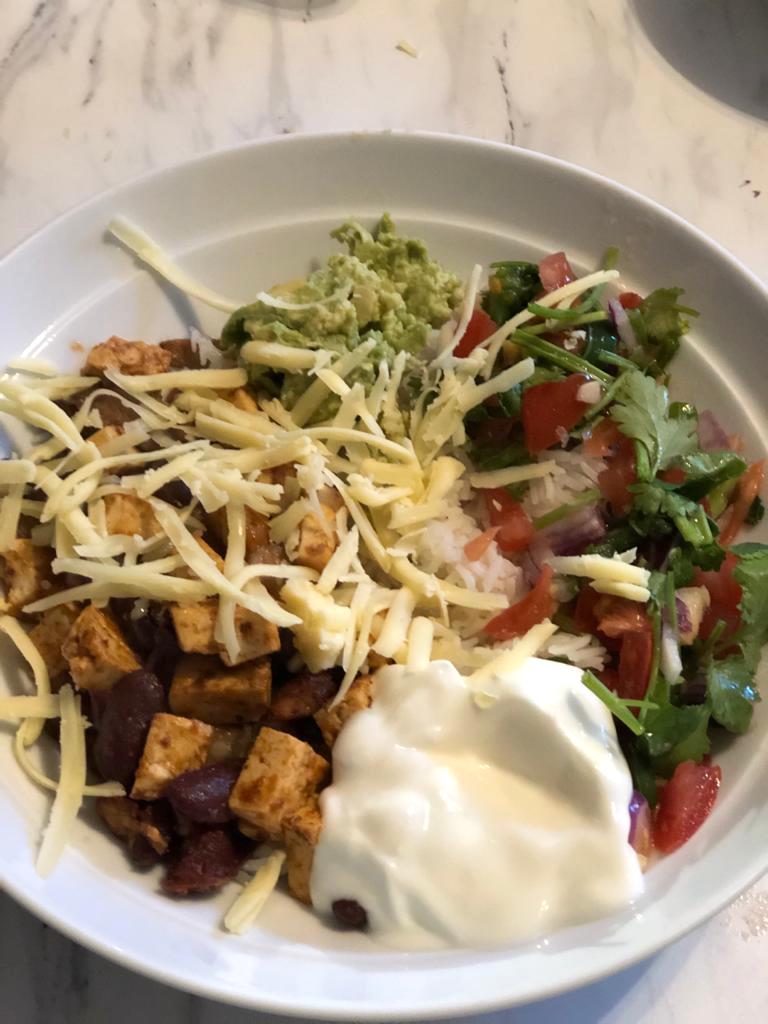 Main Dish Ingredients
---
1 package of tofu (firm is best, but silken will also work)
1 can of kidney beans (other beans or chickpeas will also work if you're out)
1 packet of mushrooms
Readymade fajita mix, or madras curry powder and ground coriander
Salt and pepper
Main Dish Method
---
1. Chop the tofu and mushrooms.
2. Heat a glug of oil in a pan, and add the tofu and mushrooms. Fry until it starts to sizzle.
3. Drain and add the beans.
4. Cook for another few minutes, stirring occasionally.
5. When cooked through, mix in the spices and add to a bowl with the precooked rice (around 360g will work for four people) and salsa.
6. Serve with such toppings as grated vegan cheddar cheese, natural vegan yogurt, chopped avocado (recommended), and more coriander if you fancy.
7. Enjoy!
JQ's new 'Truth Serum' tape is now available through the LA imprint postgeography. Stream it in full below, along with some more solo work from the Salmon Universe co-founder and a woozy Private Agenda remix that's part of the avant-pop group's looming 'Submersion' EP through Lo Recordings.