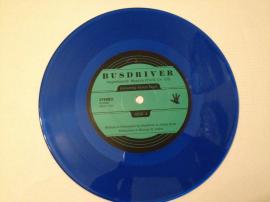 If you're like us and actually have fond memories of Def Jux's heyday, and Busdriver's first couple LPs–including one with Daedelus–the following 7-inch-only collaboration with Aesop Rock will almost make you forget about the MC's well-intentioned Christmas caroling with Kimya Dawson.
"Songs born out of aggression tend to usually make the final cut over here," Busdriver writers on his Web store, which is offering an exclusive blue vinyl pressing of 'Superhand's Mantra.' "This song is no exception. I asked Aesop Rock to join me in a spiraling death plunge into rap's blackened heart and he happily agreed. This song is the aftermath of that club house agreement.
"Unlike any of the songs on Beaus$Eros," he continues, "this song abandons all good taste and musings on matters of the heart. It's a fiery fuck you to everyone and the only tone that could have been utilized in my first collaborative effort with Mr. Ian Bavitz. It only exists on this tiny disc, so grab it while they exist."
Busdriver's Beaus$Eros LP hits shops on 2/21 through Circle Into Square/Fake Four Inc.