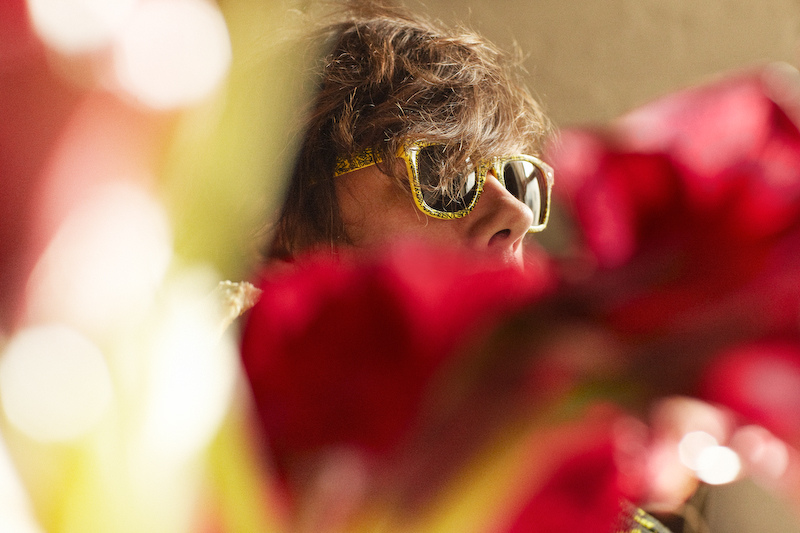 Words by J. Bennett
Photos by Alexander Wagner
The following cover story originally ran nearly three years ago, around the release of the Liars album 'Sisterworld'. It's presented here in honor of the band's biggest live show yet–in New York, at least–a site specific set at the Metropolitan Museum of Art tomorrow night…
In retrospect, it's difficult to determine which was more startling. It was bad enough when someone shot the security guard at the weed dispensary downstairs. The paramedics cut his clothes off as his blood spread across the sidewalk, his life leaking into the gutter in crimson rivulets–literally down the drain. According to the LA Weekly, it was the kid's first day on the job, for fuck's sake. But the night a couple of dudes smashed through Angus Andrew's bedroom wall with sledgehammers? Well, that was the last straw. The Liars frontman was wearing headphones at the time, working on music for his band's fifth album, Sisterworld. When the two-man demolition crew mistakenly punched through the wrong sheet of drywall, they were just as surprised to see a six-and-a-half- foot-tall Australian sitting there in his underwear as he was to see them. "It really freaked me out, man," Andrew recalls. "It freaked them out, too. I was in my boxer shorts screaming, so they ran off. But that was the maximum for me at that point. Once my sanctuary was violated like that, there was no turning back."
And so Andrew's tenancy on South La Brea Avenue, in the Mid-Wilshire district of Los Angeles, came to a close. He'd moved there from Berlin, where he'd spent a few years in self-imposed isolation, unable to speak the language, as deliberately cut off from world events as he was from his neighbors. The move to LA was a homecoming of sorts. His bandmates–drummer Julian Gross and guitarist Aaron Hemphill–were already living there. It's the city where they'd first met back in 2000, when Andrew and Gross were attending CalArts and Hemphill was working at a local record shop. But LA proved to be merely a jumping-off point then. They split for Brooklyn–Gross had yet to join the band–where Andrew and Hemphill wrote and recorded Liars' 2002 debut, They Threw Us All in a Trench and Stuck a Monument on Top, with then-members Ron Albertson (drums) and Pat Noecker (bass).
Meanwhile, their narrative became intertwined with those of fellow Williamsburg compatriots Yeah Yeah Yeahs and TV on the Radio. Corralled under various millennial post-whatever journalistic aggregations, the bands had whiffs of musical similarity–varying experimental degrees of noise, punk, art rock, dance and electronica–but the press concerned itself with more-tangible connections, like Andrew's erstwhile romance with Karen O. Since their origins, all three groups have had their fingers in one another's pies: TVOTR's David Sitek produced Liars' witch-trial-inspired 2004 album, They Were Wrong, So We Drowned (their first outing with Gross); Karen O directed a Liars video; Hemphill contributed to Karen O's Where the Wild Things Are soundtrack; and TVOTR's Tunde Adebimpe remixed a new Liars songs for Sisterworld's bonus disc.
Where Liars diverge is in their unwillingness to settle into an instantly recognizable sound. Their catalog seesaws from the snotty dance rock of Monument and dark atonality of They Were Wrong to the masterful percussion-drone collages of 2006's Drum's Not Dead and Moodswinger- enhanced motör-skronk of their self-titled 2007 album. On Sisterworld, Liars dabble in recognizable references–some sedated Beck here ("No Barrier Fun"), some mid-'90s Sonic Youth there ("Drop Dead")–while the inescapable influence of their friends becomes more apparent than ever in the gorgeously drunken, TVOTR-ish blur of "Scissor" and the "Maps"-like flash of "Proud Evolution."
But as any real-estate agent will tell you, location is everything. And for Sisterworld, that location had to be Los Angeles. Just up the street from the garage where Balthazar Getty works in David Lynch's Lost Highway, Andrew's apartment–the one that would literally become a hole in the wall–was selected because it was the halfway point between Hemphill's place in Venice Beach and Gross' pad in Highland Park. "We came here specifically to make a record," Andrew confirms. "But it wasn't until we got here that things started to establish themselves more, and we definitely took on the inspiration that was around us. I really got into it–trying to discover what LA is really like between the gaps."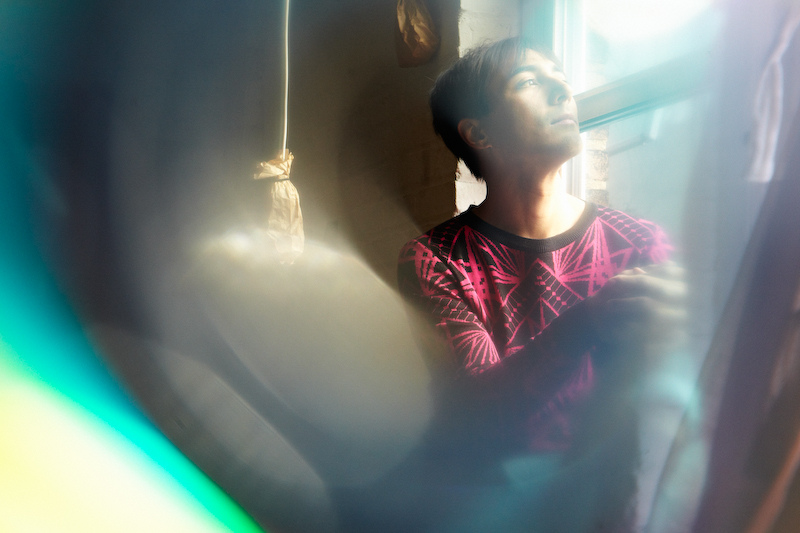 MICROCOSMS
Sisterworld–the name itself bespeaks alternate realities. For Andrew, that meant living far from the garish cock-suck glamour of Hollywood and the gentrified hipster territories of Silverlake and Echo Park, in a neighborhood tucked between the pockets of Latino sprawl and the prevailing strip-mall hell that pepper the city like bullet holes.
The space he found on La Brea, situated above a weed dispensary, shared an entryway with an unlicensed after- hours club–the kind of fly-by-night Craigslist rental that reeks of thigh-high platform boots, large-gauge tit rings, shitty drugs and general desperation. "It was really shady in this only-in-LA way, like they were young amateur-porn upstarts or something," adds Gross, who describes the scene's sensibility as "alien sex goth."
The tenants threw weekly parties and spent the other six days preparing for the big night. "They'd always be working on these weird props and sculptures and stuff," Andrew explains. "On Saturday nights, these groups of people would come, characters that you forget exist. It was a really good example of watching people who had fallen through the cracks or who need their own place to be, an environment where they can feel comfortable."
It was a congregation of the failed–those chasers of the Hollywood dream who missed the carrot and have been getting beaten with the stick ever since. "If you think about it, LA has to be one of the places where there's the biggest amount of rejected people," Andrew ventures. "It's this huge pool of rejection, and where do those people go? I'm sure there are a million other places just like the one I was witness to." The constant police presence in Andrew's neighborhood certainly didn't make life any less colorful. "There were always helicopters, blocks being cordoned off so you don't know what's going on, but you know something's going on," he elaborates. "But more immediately, there were a couple of attempts to rob the weed store that I was living above."
Cut to violence in the street: Gunshots ring out, and the alien-sex-goth crew comes running into Andrew's place, freaked the fuck out. Again, Andrew is wearing headphones, oblivious to the goings-on below. "I suggested we go down and check it out," he recounts now. "We saw the security guard laid out on the sidewalk. It was a really shocking and heavy scenario. But at the same time, I was kind of eating it up and really buzzed by it. Which makes you feel sick afterward."
FEELING CALIFORNIA
Today, Andrew lives roughly 10 miles from that dispensary, in a modest guest house just up the road from Gross' place. Though the surrounding neighborhood might not be much better than his old one, his street is relatively mellow, and his living arrangements are considerably more private. Inside, a large painting hangs above the futon on the wall that frames the front door. The other walls are more or less bare, but a nearby bookcase overflows with reading material. The spine of Cormac McCarthy's Pulitzer Prize–winning novel, The Road, is clearly visible from across the room. We sit drinking glasses of water, waiting for Hemphill to battle his way through freeway traffic from Venice. Gross has taken the change out of his pocket and is playing with it on the coffee table.
All this talk about shootings has brought back some not-so-fond childhood memories. "Seventh grade was the first time I remember hearing about someone from my school dying from violence," Gross says. "It was a kid who stole a radio…. His name was Cornelius. The story was that he came out with a screwdriver, so [a] cop shot him. The next day in school, everything was covered in handwritten memorials to this guy Cornelius. Girls crying, everybody crying. It was terrible, man. I didn't know him, but I knew who he was. He was in one of my homeroom classes."
By the time Gross hit Venice High, the situation had not improved. "The first time I ever saw a drive-by, I was in class listening to [Stevie Wonder's] 'My Cherie Amour,' " he recalls. "I heard the pops, and then I looked out the window, and there's a guy standing in the street, shooting at two girls and a guy who ran off. Then he jumped into a car and sped away. I was probably 16."
When the cops arrived, they asked Gross and his friend to come down to the station to look at mug shots. "Then this crazy old Venice gangster came up to us," Gross continues. "I remember he had his shirt off and shit. He goes, 'You saw what happened?' And I go, 'Uh… yeah?' Then he was like, 'You gonna tell the police what happened?' And that's, like, fifty-fifty right there, you know? What is the right answer? I figured he was from Venice and the shooting was against Venice, so I said yes. And he goes, 'Okay,' and walked off."
When Gross finally split town, he couldn't leave fast enough. "I hated LA when I first left. I was like, 'I'm never coming back.' But after a while, I was just longing to be here. When I finally moved back, I appreciated it more– the historical parts especially. Even though the gang stuff isn't that great, I like that it was born here. And I like that part mixed with this kind of super-Hollywood side, the ugly part–like Hollywood Boulevard 15 years ago when it was just like crack hell. It was a very different place. But yeah–sun, beach, mountains–it's great. And having everybody here again for the first time since school."
Attaching the band members' various LA experiences to any specific Sisterworld tracks is where the story gets a bit fuzzy. A song like "The Overachievers" might be the most obvious place to start looking–at one point Andrew barks the refrain "LA! LA! LA!" before shouting a line about the stars in Malibu–but Liars have never included printed lyrics with any of their albums, and they've become hesitant to explain their concepts in anything but the broadest terms. When Hemphill arrives, he relates an anecdote about turning down a fan's e-mail request for lyrics to a Liars song. "I wrote back sincerely how great it is that the person took the time to write and that they actually care enough to get the lyrics right, but ultimately I said, 'I can't give you the lyrics.' I went into detail as to why and even apologized, but it sorta means too much to me."
Hemphill has the disconcerting habit of appearing to frown slightly when he talks. It's unclear whether this is part of his natural demeanor or because he dislikes the questions he's being asked. At one point, he mentions "spooky coincidences" within the lyrics that he and Andrew wrote for Sisterworld but, when pressed, refuses to elaborate. "I'm gonna have to decline," he tells us. "I just don't wanna sidetrack [this interview]. There are tons of things that we put ourselves through. I think we deleted this same sentence from the record bio, but we do have strong conceptual sensibilities when we approach things. It's super brainy and interconnected with banal things and super-crazy, spooky things. I can't really divulge them, though. Angus and I have to discuss that first. It's not that we're scared to be ourselves. It's just that we don't wanna make this record more confusing–again."
As it turns out, trying to avoid confusion has become one of Liars' top priorities. "The majority of the time, when we're disappointed about a record, it's because it's been misinterpreted as something other than what it's intended," Andrew confirms, "like people think we've made a really crazy, noisy, arty record, when really our intention was to make a really song-oriented record." He cites the DVD that accompanied Drum's Not Dead, which included three homemade music videos for each of the album's 12 tracks. "But then it's like, 'Oh, shit–maybe they got all that arty stuff from the way we titled the songs or made the DVD.' It's all these extraneous things that aren't actually the music."
In fact, Liars have altered their own creative inclinations based upon how past records were interpreted, even going so far as to strip their self-titled 2007 album of any overarching concept. "When you put out records, you do learn things about how well you communicate ideas and how well people react to them," Andrew explains. "For example, we did this concept record with the witches [They Were Wrong, So We Drowned] and it was really fun for us to do that, but it was also not the best idea for people to deal with. A concept record about witches is kind of heavy, and people get kind of shut off immediately because of that. And then we made Drum's Not Dead, which was less based on a concept, but we had these images and characters that represented things, and that was kind of confusing for people, too. I think that's why we reacted and made Liars devoid of that stuff. People were getting stumped on these ideas and not really getting to the music."
As such, Sisterworld's concept is deliberately broad and intentionally vague, at least as far as the listener is concerned. But Hemphill's reticence to discuss the conceptual nuances of the band's music is rooted in the nature of explanation itself. "To me, there's no such thing as a misinterpretation of the record by a listener," he offers. "It's more of a misinterpretation of a quote, and it all takes place in this world outside of music. Like, if I say there's a song on the new album that was inspired by an LA drag race, suddenly all the reviews are about this drag race. But it's not about demystifying it; it's that I don't wanna put my name on it again. I don't wanna promote the mystery of what I intended it to be about or what Angus intended it to be about. I wanna promote whatever the listener thinks it's about. I want them to have fun with it. It's not important what we think."
Of course, there are limits to this strategy, limits that Hemphill readily acknowledges. "That kid who e-mailed me, if he said, 'Can you give me the lyrics to that gay-bashing anthem you wrote?' and the song is really this ballad that I had written for a woman, then yeah, I'm gonna say, 'It's not what you thought, man.' But I'm gonna put it in broad terms. If it's that crazyvof a misinterpretation, that's different. But how we can effectively communicate that stuff is an ongoing thing, and we're not gonna get to the point where we can communicate perfectly. That'd be stupid anyway. It wouldn't be an art form. It'd be something to learn, a quiz."
Ultimately, Liars want what any artist wants: for the art to speak for itself. "When bands are overly forceful with all the rigors of their rituals to come up with their sound or lyrics, I question it," Hemphill explains. "It's like a photographer who tells you too much about what the photograph means. Why did you choose photography as your vessel to communicate in expressible ideas if you keep talking? You should do spoken word or something."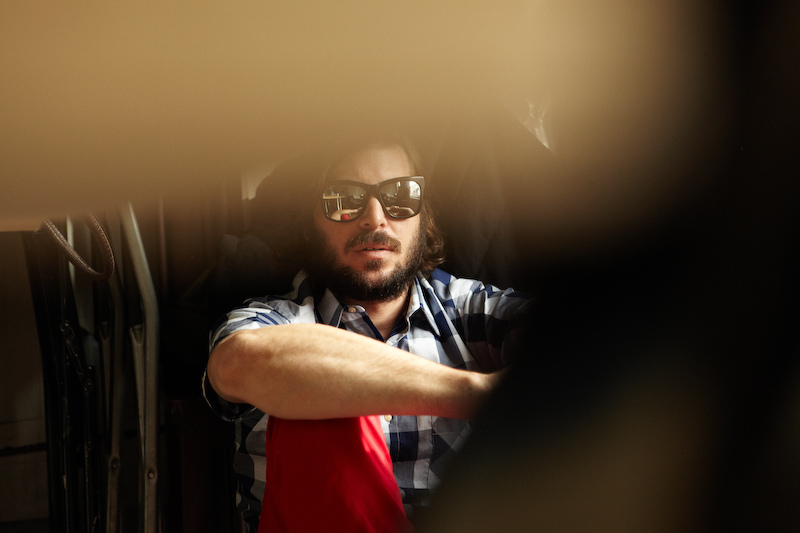 DENOUEMENT
The security guard, he died from his wounds. His name was Noe Campos Gonzalez. He was 25 years old. His death has become something of a flashpoint in an ongoing controversy that is particular to Los Angeles. The proliferation of medical marijuana dispensaries is such that the February 2010 issue of Harper's claims that the ratio of the "minimum number" of dispensaries in LA to the number of Starbucks is now four to one. According to the November 23, 2009, issue of the L.A. Weekly, though the city placed a moratorium on dispensaries in 2007, an inexplicable loophole in the law allowed roughly 400 more dispensaries to open by way of a bizarre "financial hardship" clause. As of late November, the Weekly puts the total figure of dispensaries in LA at around 540.
It doesn't take a genius–or even a stuffed suit from city hall–to understand that where vast quantities of weed are known to be stored, crime will follow. The brute-force logic of smash-and-grab has been around since the Stone Age, and in this case, it's simple as Simon: Hold up a dispensary; take the weed and the cash; resell the weed; make more cash.
As we spoke with Liars after the violence on La Brea, neither Andrew nor self-titled realized that what the singer had witnessed was, in fact, the aftermath of a homicide. Nevertheless, it served as a grim reminder of how frail the barriers between our seemingly private worlds can be.
"I had this setup where I had a couple of extra locks on the doors, and I felt really secure in my little space amid this sort of maelstrom going on around me," says Andrew, recollecting the urban sanctuary he created following the shooting. "Until one night these guys with sledgehammers came through the wall." //