Photo DAYNA SZYNDROWSKI
Words SCOTT MORGAN
Here is my veggie burger recipe, kind of scratched together. It changes every time I make it — and I usually try different things — but today it was this….
INGREDIENTS
about 3/4 cup of dry french lentils (cooked)
about a cup and a half of cooked black beans (I use dried, slow cooked but a can will work)
about 1/3 a cup of oats – steel cut or rolled
2-3 chopped garlic cloves
1 egg (optional)
about 1/3 a cup of almonds (cashews work too even walnuts)
about 1/4 cup of pumpkin seeds (i've also used sunflower seeds)
couple tablespoons of bread crumbs
maybe a tablespoon of nutritional yeast
teaspoon of cumin
salt and pepper
teaspoon or so of Braggs or soy sauce
chipotle hot sauce – adds a nice smokey flavour and some kick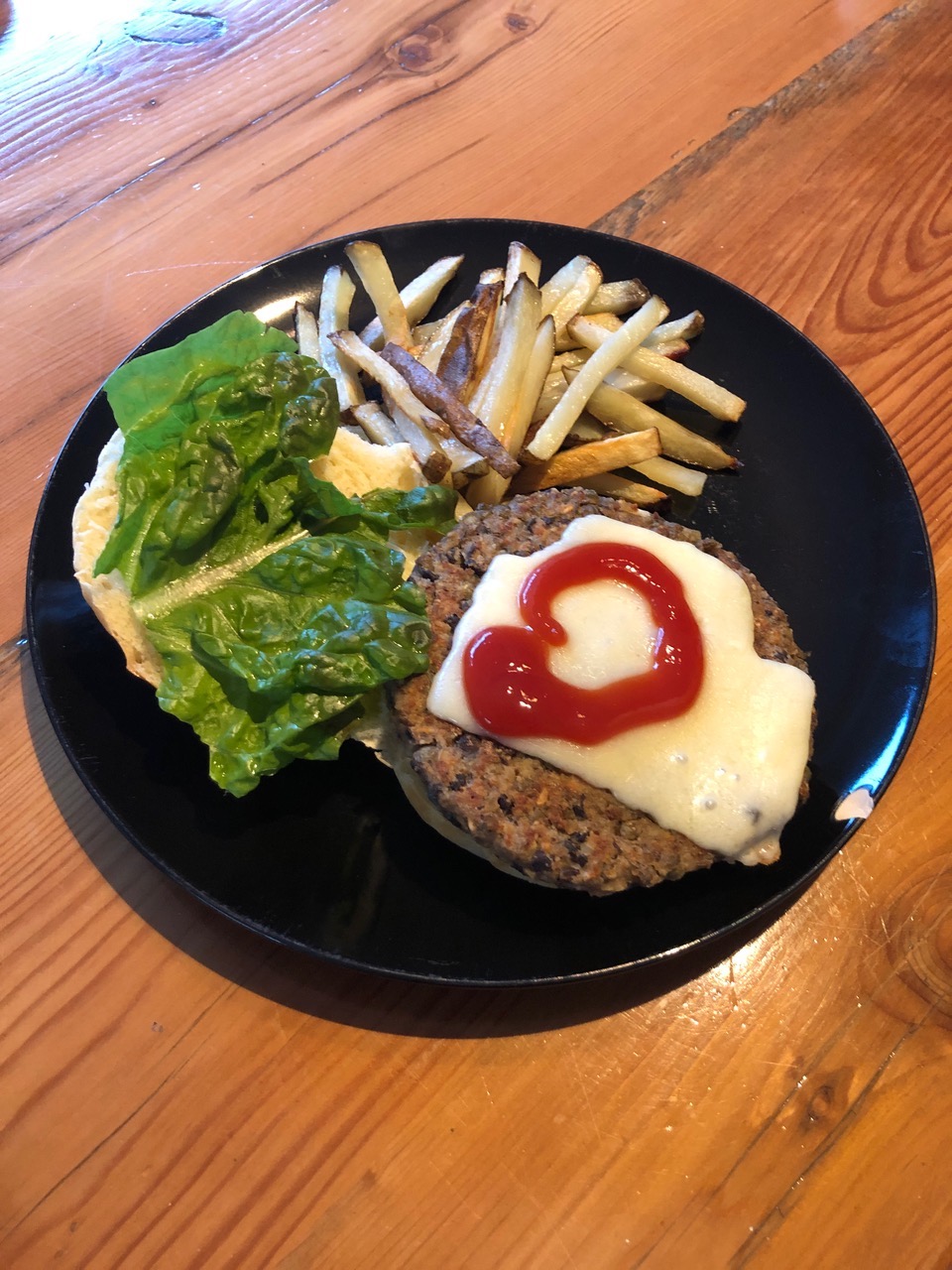 DIRECTIONS
1.  Pre-cook lentils and black beans (unless you're using canned).
2. Pre-cook the oats.
3. Blend the nuts, breadcrumbs, yeast, salt, pepper, cumin into a flour-like substance, leaving some of the nut chunky for texture. I use a Vitamix for this, but a food processor or blender would also work.
4. Combine beans, lentils, and oats in a bowl. Blend about 30-percent of this mixture into a paste, adding small amounts of water if needed.
5. Combine the dry ingredients with the bean paste and the remaining beans/lentils.
6. Add the garlic, egg, salt and pepper, chipotle sauce, and liquid aminos, and mix thoroughly. Let this stand for a bit.
7. Form the mix into four ounce patties using a kitchen scale.  Divided evenly, you should be able to make about eight burgers. Refrigerate uncovered for a couple hours to help them congeal. At this point, they can be pan fried or frozen for later use.
ADDITIONAL NOTES
I've also tried these with sautéed mushrooms, kale, shredded carrots, corn, etc. Pretty much anything can work so long as you have some beans as your base. A bit of soup stock will also add more flavor, if desired.
Loscil's latest records include the 'Lifelike' soundtrack and a nearly hour-long, name-your-price edit of the producer's generative app/album 'Adrift'. Stream both of them below, along with the album Loscil recommended listening to while making this recipe: Emily A. Sprague's new self-released LP 'Hill, Flower, Frog'.