Photo TOM HINGSTON
Massive Attack have unveiled their first collaboration with Tricky since 1994's Protection LP. Available in video form below (directed by Hiro Murai and starring Oscar nominee John Hawkes), "Take It There" is the lead single from a surprise EP called Ritual Spirit. According to a press release, it was produced by Robert del Naja and his longtime studio collaborator Euan Dickinson, with additional guest appearances by a ghostly Azekel, Young Fathers, and Roots Manuva. A second EP written and co-produced with Daddy G is expected in the spring, followed by the first Massive Attack LP in six years.
Massive Attack's Wild Bunch reunion with Tricky has been hinted at for several years now, including a self-titled interview where the latter broke their initial sessions down as follows:
We did three or four tracks but I can't even remember what I sang like, and I've kinda lost interest. We hadn't seen each other for 10 years, and we got into an argument within two hours. My thing is, I don't give a fuck about Tricky or Massive Attack. If I lose all of this tomorrow, if I never make another record, I'll still be happy with myself. But 3D, god bless him, he loves that Massive Attack thing. He hasn't got a life apart from it. I'm too hard on people, but to me, I see that as a sign of weakness.

He kept going on about Massive Attack, what we created, and da, da, da. Now I ain't gonna sit around talking about that. If someone asked me about [Maxinquaye] in the press, that's one thing, but I'm not going to sit down with 3D and talk about how Maxinquaye changed things. That's boring to me. So I got angry with him and I said, 'Listen, the kids out there don't give a fuck about Tricky, and they don't give a fuck about Massive Attack.' And that's okay.

I don't think he gets me. It's like, this ain't a friendship; it's strictly business. That's all it ever was. I just don't want to sit around talking about how good we were or how good it was. Just be yourself and I can relate to you. Now don't get me wrong; he's a nice guy. He's not malicious, and he's a nicer person than me, but I don't want Massive Attack or Tricky to make me who I am. I'm happy with myself.
And we're happy with how this turned out…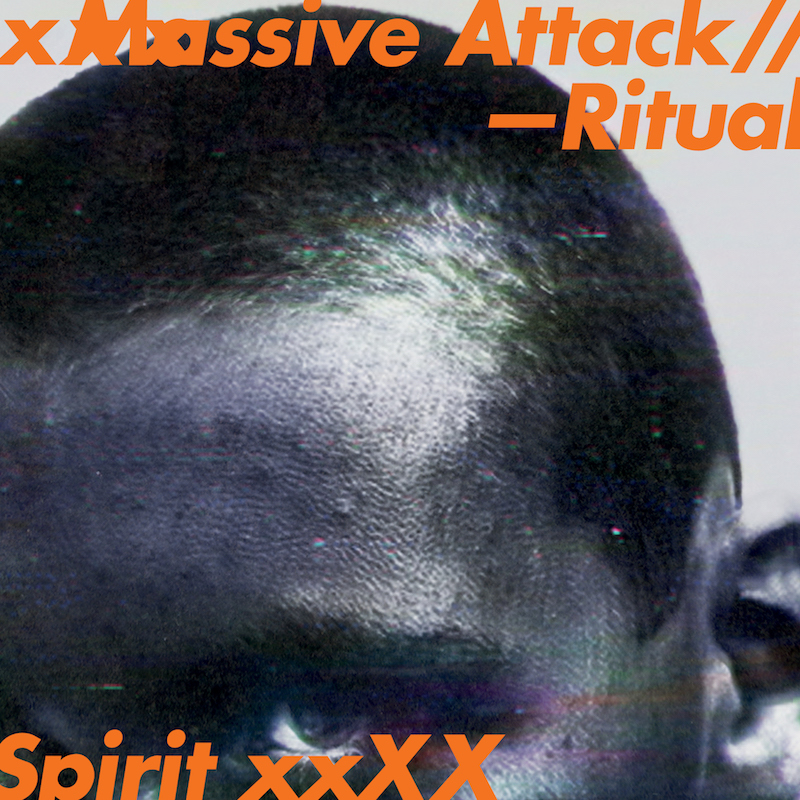 Massive Attack
Ritual Spirit EP
(Melankolic Recordings, January 28th)
1. Dead Editors (Massive Attack & Roots Manuva)
2. Ritual Spirit (Massive Attack & Azekel)
3. Voodoo In My Blood (Massive Attack & Young Fathers)
4. Take It There (Massive Attack, Tricky & 3D)

Massive Attack tour dates:
1/28 Manchester, UK – The Apollo
1/30 Birmingham, UK – O2 Academy
1/31 Portsmouth, UK – The Guildhall
2/1 Brighton, UK – The Dome
2/3 London, UK – Brixton O2 Academy
2/4 London, UK – Brixton O2 Academy
2/5 London, UK – Brixton O2 Academy
2/7 Copenhagen, Denmark – Tap 1
2/9 Alzette, Luxembourg – Rockhal, Esch
2/10 Brussels, Belgium – Palais 12
2/12 Milan, Italy – Fabrique
2/13 Milan, Italy – Fabrique
2/14 Padova, Italy – Geox Theatre
2/16 Cologne, Germany – Palladium
2/17/16 – Berlin, Germany – Tempodrom
2/18 Berlin, Germany – Tempodrom
2/20 Vienna, Austria – Gasometer
2/21 Munich, Germany – Tonhalle
2/22 Munich, Germany – Tonhalle
2/24 Eindhoven, Netherlands – Klokgebouw
2/25 Amsterdam, Netherlands – Heineken Music Hall
2/26 Paris, France – Zenith
2/27 Paris, France – Zenith