While there's still more than a month left until this summer's over, we're gonna go out on a limb and say it won't get any better than this Sunday's live music offerings in New York City. Here are three reasons why:
Omar S–techno's newly-anointed 'bad boy' and the man responsible for one of our favorite 2009 mixes–spins at Justin Carter's always on-point Sunday Best party.
JellyNYC's free summer concert series features former/future self-titled cover stars.
And finally, Torche will burn the Music Hall of Williamsburg down along with their Hydra Head mates/co-headliners Harvey Milk.
No doubt about it, we'll be exhausted by the time that last show even gets started. Yet there's no way the self-titled staff is going to say no to one of Georgia's real deal underground rock icons.
Here's why according to their biggest fan, Chunklet editor Henry Owings, a guy so driven to spread the Harvey Milk gospel that he's personally released an LP and DVD from the group. Henry, you have five minutes to tell us why Harvey Milk's a must-see. Go!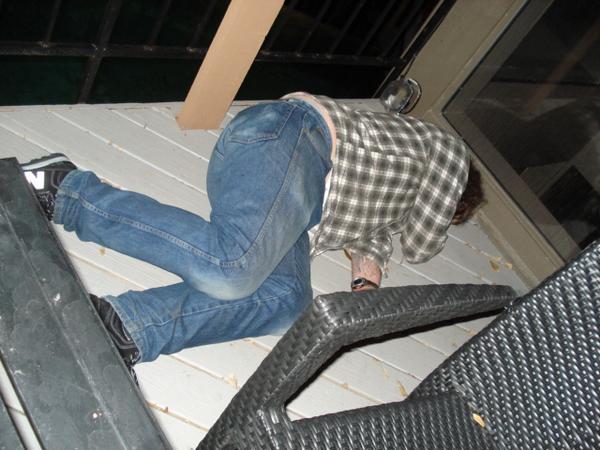 When Harvey Milk reunited in 2005, I felt it was time to turn back the hands of time and make things right. Finally, the band that I've worshipped for years in obscurity would have the chance to win. Harvey Milk are the good guys, not some vapid, flash-in-the-pan, here-today-gone-tomorrow, fashion casualty, trust fund baby art band. These fuckers are lifers. They played when there were 10 people at their shows; they'll play if there's 1,000. They mean it and they will never, ever compromise.
In a recent discussion about Harvey Milk, somebody asked me what musicians were akin to them. And man, I couldn't think of any from the past 50 years. I mean, sure, they play loud. Very loud. And very passionately. You could make the dumb-dumb lazy journo comparison to Led Zep, ZZ Top, Melvins and Shellac. And sure, that'd point you in the right direction. But after sifting through countless hours of watching [vocalist/guitarist] Creston [Spiers] and [bassist] Stephen [Tanner] play together, there's something very primal about their relationship. Something instinctual. Something very…I don't know. Pure? When I watch Creston, I see a man whose eyes roll into the back of his head as he drags out a white man's howling death blues in a hypnotic channelling of some crazed Charley Patton moan. If he talks to the crowd, it's for a beer or a shot. Not a plea to buy their shirts or records. He could give a fuck. And then there's Stephen on the other side of the stage in front of his bass cabinet that has the same tone since I first heard it in '92. Dirgey and soulful. Not a bit has changed about Stephen in those 18 years. I mean, except for the beard. And his continual drinking himself stupid. But goddamn, he's the ideal counterpart to Creston. He can sense every note. Every breath. Every fill. Perfection. Genius. Honesty.
And I'm a fucking asshole because I still haven't brought up the drumming! Georgia's created its fair share of drummers, but there's two that every rock fan in Athens or Atlanta can agree upon as the best ever. Jerry Fuchs, who has made a successful career of making otherwise creatively bankrupt bands on the DFA roster (!!!, The Juan McLean, et al.) sound HUMAN and EXPLOSIVE, and then there's fellow former-Atlanta suburban kid Kyle Spence. Good Christ. "The Kid" as he's known to people around town, he's a monster of a drummer. Not just hitting hard (because, well, anybody can do that, right?) but creating poetry every time he hits his kit. A truly "GOD DAMN!" moment is standing and watching Kyle get "into the pocket" for a song like "A Maelstrom of Bad Decisions". Just watch. I guaran-goddamned-tee you'll have never seen anything like it anywhere else. Ever. Ever.
So why go see Harvey Milk? Well, as a young buck of 40 years, I routinely kick myself for not seeing bands when I had the chance to. And you'd think I'd let it go, but I never do. And sure, living in New York, the best artists in the world come to your door every day. Good for you. But in Georgia, you never take anything for granted. When Harvey Milk plays, the devoted come out of the woodwork and worship at the altar. Are you a fan? Then you know what I'm talking about. Case closed. But if you're one of these guys or gals that just goes with the trendy flow, then chances are you won't go. A Harvey Milk gig is a commitment. There's not an awful lot of petty chit-chat. It's an event. And if you can't appreciate that, then chances are you better just stay at home and get ready for the big kickball tournament.
But if you want to see something that will forever change your life? Well, I think we all know where you'll be. – HENRY OWINGS
[audio:http://www.self-titledmag.com/wp-content/uploads/2009/07/01%20Death%20Goes%20To%20The%20Winner.mp3]