Like all of the MY DISCO albums that came before it, Environment examines the Australian trio's sound from completely new angles and emerges a band reborn. Befitting their recent signing to Regis' Downwards imprint and their boundless surroundings at Boris Wilsdorf's Berlin studio, it's a spare and spooky experiment that references everything from Rainforest Spiritual Enslavement to Einstürzende Neubauten.
In the following exclusive, bassist/vocalist Liam Andrews shares the record in full a day early and breaks down MY DISCO's creative process and deep background….
Let's say someone has never heard your music before. Never mind what folks like us think; how would you describe your sound?
Not long before we started working on the Environment LP, a friend of ours that was unaware of the music we made at the time came to one of our shows. The description after seeing us live was that it sounded like a machine that was broken. We loved that. Machine Broken then became the working title of the album during its making. That's also how we've been describing what we sound like to those that ask.
Very few people have the patience to listen to an entire record these days. Can you pick one song from each of your first four albums to give people a sense of how MY DISCO has evolved over time?
It's tough for any band to stick together for a decade, let alone 16 years. What's your secret?
I think it helps that we don't all live in the same hemisphere. When it comes down to it, MY DISCO wouldn't exist without the input of all three of us. We're not active until we're all together. It's been like that since we began.
MY DISCO is named after a Big Black song. You actually got to work with Steve Albini on your second album. What was that experience like?
Incredible. An unforgettable experience. He's a master of his craft. We later toured with Shellac following those recording sessions. We're due a revisit.
What are some other artists and records you guys bonded over early on?
Obscure and short-lived Australian punk music.
You've played a lot of unique gigs over the years. What's one you'll never forget?
There's a lot to recollect, although in 2005, we toured Southeast Asia for the first time. One of the most memorable shows of that tour was in Bandung, Java, in Indonesia—a special place. It was a DIY exhibition and performance space. The second we finished our performance, the audience all sat down surrounding us and to our unknowing we entered into an open Q&A session with the entire audience. It was such a humbling experience. The next morning we climbed a volcano.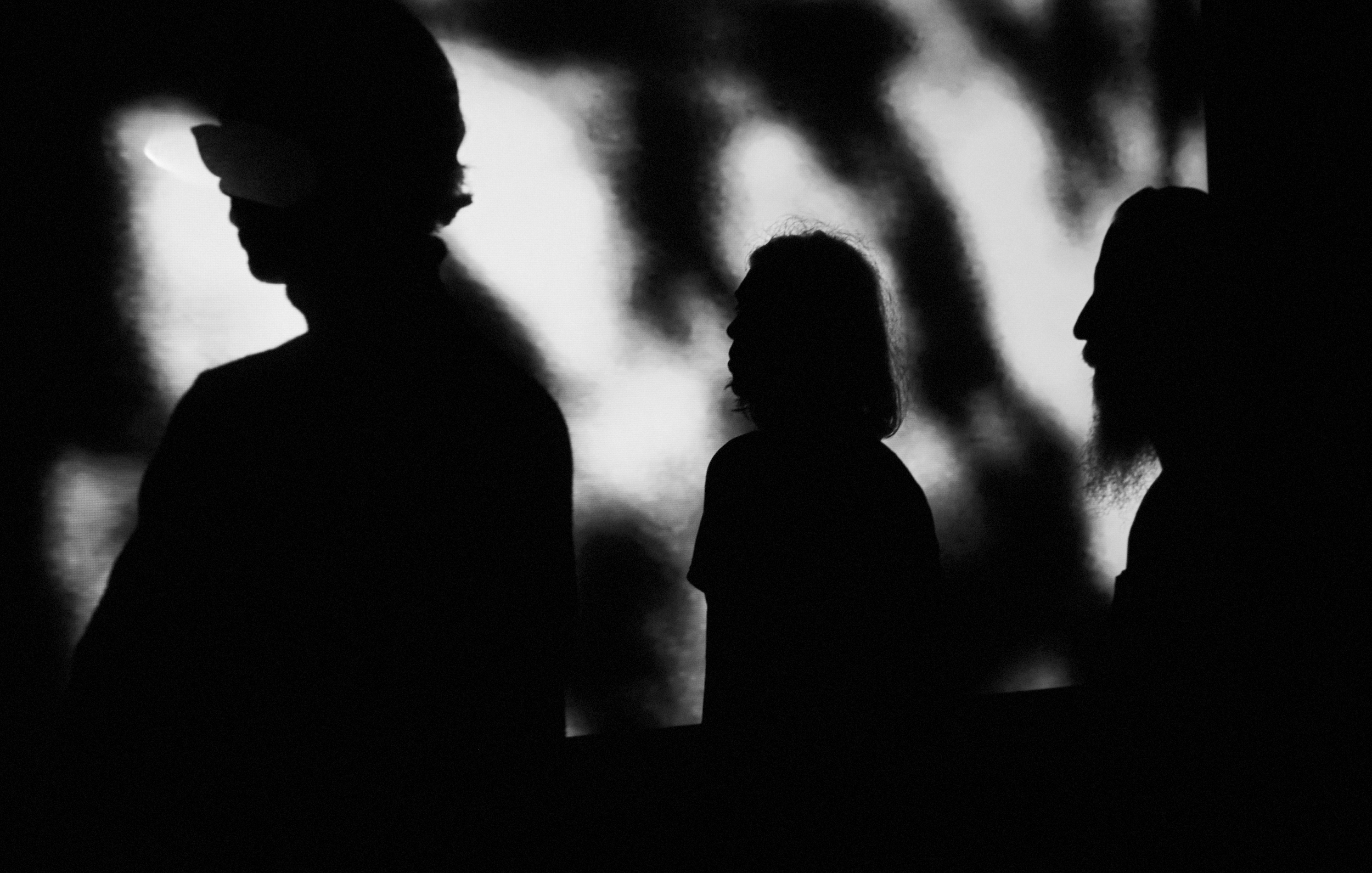 What were some of your goals and general ideas heading into the Environment sessions? Did you use any unique instruments or techniques that were different than anything you guys have done before?
We wanted to be in a neutral location—somewhere none of us lived—and for it to be winter. There wasn't much discussion about the musical direction before we all met there. I guess our main goal was to leave Berlin having recorded an album. That, we achieved.
We also had two complete aluminium guitars made for the recording of Environment. Matt Hall of the Obstructures design team had them built for us. He's from a band called New Brutalism that we did some shows with back in the 2000s in the southern states of the US. We'd never seen instruments like them—fucking incredible things. We also introduced a bongo and gongs to the arsenal.
What was it like working with Boris Wilsdorf of Einstüerzende Neubauten, and what did Cornel Wilczek—your unofficial fourth member, essentially—add to the album during the mixing process?
Working with Boris at his studio in Berlin allowed us to explore and experiment during recording to new levels. There's nothing that could shock him. I guess from working with Einstürzende Neubauten over the past three decades, there's not much he hasn't explored in his approach to recording. It's a great studio space. We lived there, wrote the album there, and recorded it all in three weeks. We later mixed the album in Melbourne, Australia with Cornel at his studio Electric Dreams. He's an absolute genius. His understanding of our sound and realizing our ideas is mind blowing. One of a kind.
Pretend there's a mood board in front of you that illustrates some major influences on Environment, musically and otherwise (things like books, films, etc.). What are some of the things on it and how did they impact your creative process this time around?
The work of Pierre Soulages. The film and score to John Carpenter's The Thing. Rainforest Spiritual Enslavement's Ambient Black Magic. Bernard Parmegiani's De Natura Sonorum.
You guys are a perfect fit for Downwards. What's one record you love from that label and why?
The Grebenstein and CUB releases are standouts. CUB live at Corsica back in December was so good. Although, to be fair, all of Karl [O'Connor]'s output is killer. We have the upmost respect for the label and it's such an honour to be apart of it.
Now that Environment is done, how do you see the future of MY DISCO playing out on both a personal and creative level?
We are just beginning to tour the Environment album. We're in Australia right now with Sandra Electronics (Karl O'Connor / Regis). There's still a lot of destinations on the future agenda that we'd like to go to. I think we've performed in over 30 countries to date. Would like to add to that. I think we'll just continue to do what we've been doing since our inception.