Words + Mix LARRY GUS
Alexandros Voulgaris is a director, writer, poet, actor and musician. Most of my friends in the United States have definitely seen him in Dogtooth, portraying the dog trainer. The movies he directed are hard to find even in Greece, and he's also an actual living database, archiving a fully comprehensive list of every film ever made, all ranked in different categories.
But above all, he is the guy that gets me to cry the most when I listen to his songs. One of the reasons is that he is the only musician that can describe precisely what it means to be a Greek around this time and age. He has released more than 15 albums in the past few years, under different aliases, projects, groups and names. He is the most prolific artist among us, and he is the one that expresses with perfect words the weird, bleak, awkward disgust of living in Greece, always with an underlying comic absurdity. He has been a huge inspiration on my live show; he is one of the most eloquently poetic people I've ever met; and on top of that, he can quote every single line from every given episode of Eastbound & Down.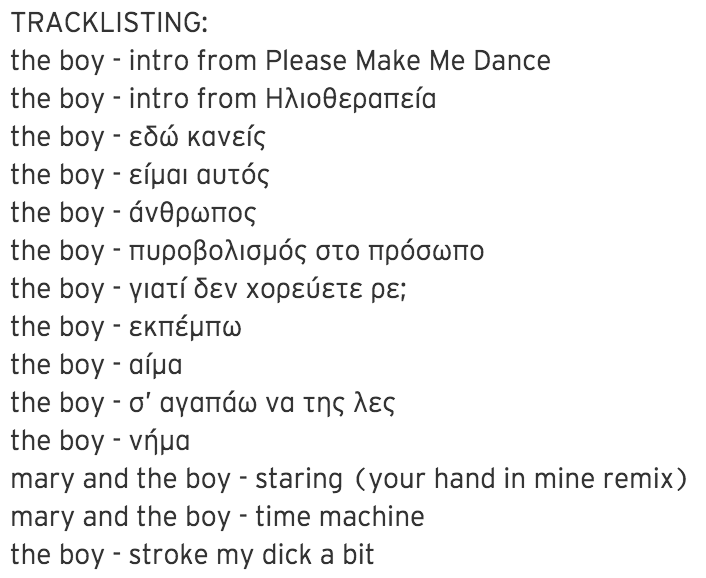 Larry Gus' latest album, 'I Need New Eyes', is now available through DFA Records. Stream it in full below, right alongside a round of rare tour dates and a few other official videos…
Larry Gus tour dates:
10/29 Philadelphia, PA – Kung Fu Necktie
10/31 Brooklyn, NY – Palisades
11/5 Brooklyn, NY – Rough Trade #
11/7 Washington, DC – U Street Music Hall #
11/9 Boston, MA – The Sinclair #
# with YACHT