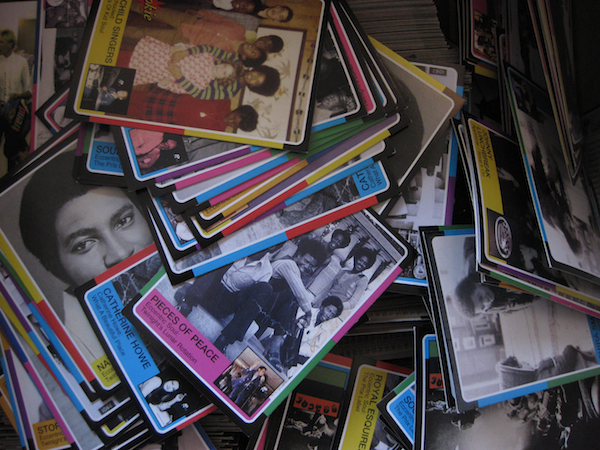 What you're about to hear may be the most meta mixtape of all time. Or at the very least, the strangest Needle Exchange back story yet. The basics…Shoes–a duo known for stealth DJ edits (Miles Davis, Al Green, Moodyman)–crammed Numero Group's 7-year-old back catalog onto one 12-inch. That means more than 70 vital funk, soul, folk and psych reissues distilled into a 40-minute mega-mix.
"We typically think of bootleggers as the type of person who would push your granny down a flight of stairs if they thought she had a rare 45 in her purse," a Numero Group rep tells us. "Shoes is no exception to that rule."
While that may be true, the Chicago-based imprint got the last laugh, bootlegging their bootlegger with their very own pressing of Eccentric Breaks & Beats this week. In honor of that scatterbrained release, we asked Numero Group to hand over an edit-free mix of their favorite label finds and a (hilarious) track-by-track commentary…
Pastor T.L. Barrett and Youth For Christ Choir, "Like A Ship" (Good God! Born Again Funk)
Men empty your wallets and women open your purses, Pastor Barrett is passing the basket. You want on board? Well, beggars don't ride for free sucka!
The Performers, "Mini Skirt" (Eccentric Soul: The Big Mack Label)
We're tight with the neighbors over here and the weathers changing. Think it's about time to bust out that mini skirt.
Eight Minutes, "Here's Some Dances" (Home Schooled: The ABC's of Kid Soul)
Yeah, yeah, your kid is an honor student at Jerk Elementary, but our kid is in Eight Minutes and has more moves than your whole family. Get used to it.
Jim Schoenfeld, "Before" (Wayfaring Strangers: Lonesome Heroes)
It's unusual for a professional hockey player known for beating the shit out of opponents with his fists to create a beautiful two chord acoustic guitar dirge. Very unusual.
Wee, "Try Me" (You Can Fly On My Aeroplane)
We could be beautiful together, like two giraffes fucking under a baobab tree.
Marion Black, "Who Knows" (Eccentric Soul: The Capsoul Label)
Snaking around the block a huge black Oldsmobile slowed to a stop. Marion Black was at the wheel and he had the corpse of rock and roll wrapped in a tarp inside the trunk.
Pisces, "Children Kiss Your Mother" (A Lovely Sight)
In the '60s, Rockford, IL, was as far away from the Haight Ashbury scene as you could get. Thankfully Pisces never quite figured that out.
Missy Dee and the Melody Crew, "Missy Missy Dee" (Don't Stop: Recording Tap)
A staple at Paradise Garage. Late night parties turning into early morning gatherings; powders and sticky fruit juice spilled all over the place.
Caroline Peyton, "Engram" (Wayfaring Strangers: Ladies From The Canyon)
These days, it's practically impossible to find a special lady friend out in the country that wants nothing more than to be "hanging out all night and doing right for you."