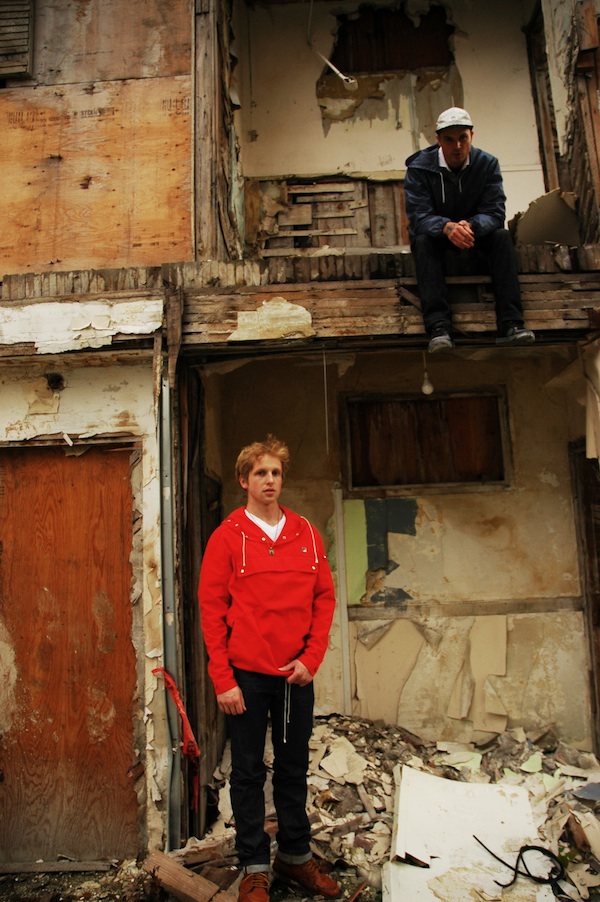 So the name–Blue Sky Black Death–sounds a little dramatic. But here's the thing: it fits the Bay Area duo (producers/multi-instrumentalists Kingston and Young God) perfectly, starting with their heart-sinking debut, 2006's A Heap of Broken Images. To this day, the instrumental side of that double disc remains one of our favorite 'downtempo' discs, a left-field extension of early DJ Shadow singles and the bleak loops of underground heads like DJ Signify, Boom Bip and Blockhead.
Now that they've got a series of hip-hop records (including collaborations with Jean Grae and two members of the Wu-Tang Clan's extended family, Holocaust and Hell Razah) behind them, BSBD have switched gears once again, going the moody synth-pop route (think: The Pains of Being Pure At Heart with beats) on Third Party. The following Needle Exchange exclusive (dubbed the "Coup de grâce MIX") drops a handful of new cuts alongside a Pimp C tribute and some exclusives from the group's next instrumental disc. If there's ever been a self-titled tape you oughta bump in a car late at night, it's this one.
1. Untitled
A yet-to-be-titled track from our forthcoming and second instrumental album, NOIR.
2. Carl Sagan (Featuring Alexander Chen)
From our new album, Third Party. It features lyrics and vocals by Alexander Chen (Boy In Static). There's an amazing stop motion video in production for this song, directed by our guy Austin Saya. The video also features seasoned actress Elisha Skorman, who's done backup vocals for Beck and Nigel Godrich. She's also been in CSI and The Young and The Restless (fuck, yeah).
3. Untitled
This is another untitled track that we will probably use for NOIR. It's in its beginning stages as an instrumental, but was originally used on a Third Party song (guess which one).
4. Cynic's Cough
Another dark Third Party song with Alex Chen. We were hella excited to do some dark tracks with Alex, because his music is typically very bright and upbeat, and we thought his smooth harmonics would be a good contrast with a grimey backdrop.
5. My Work Is Done (Unreleased Version)
This was the preliminary version of "My Work Will Be Done," off of our first instrumental album, Late Night Cinema. It became something else entirely, but we just recently revisited this version and still like it quite a bit. This was produced back in 2006 when we were living together in the North Bay Area. More recently we used a version of it to remix an AZ track.
6. Slow Years
This is an instrumental track off of Third Party. We usually think of our music in terms of images and colors. The cover explains some of the colors we imagine as the music. But for the image, I think of a space ocean. Yeah, I just made that up. A space ocean.
7. Untitled
This is an instrumental off of NOIR. To me, it is signature BSBD–a mix of soulful ambience, post-rock crescendos, and electro down South rhythms.
8. Call To Arms
A Third Party song we wanted to be the single, but were convinced otherwise. It doesn't really matter because we never make songs in terms of singles. My favorite bits of this song are the unexpected drum fill sample and the breakdown at the end. I love Alex's cadence on this song too.
9. Untitled
We started this beat, like, two weeks ago.
10. Threads of Gold
An instrumental from Third Party. When I first started working on this, it started bothering me because It reminded me too much of M.I.A.'s "Paper Planes." You hear that? The bass, and the guitar. Wasn't intentional, but now I like singing "Paper Planes" over it in my head.
11. RIP PIMP C (BSBD Blend)
This is a remix made shortly after Pimp C died. This is one of my favorite rap songs so I wanted to take it and make it more of a mourning song. And the singing on this song is some of the best I've ever heard in a rap song. The guy should be famous. I love how his voice and melody sounds completely natural amongst the organs and guitars.