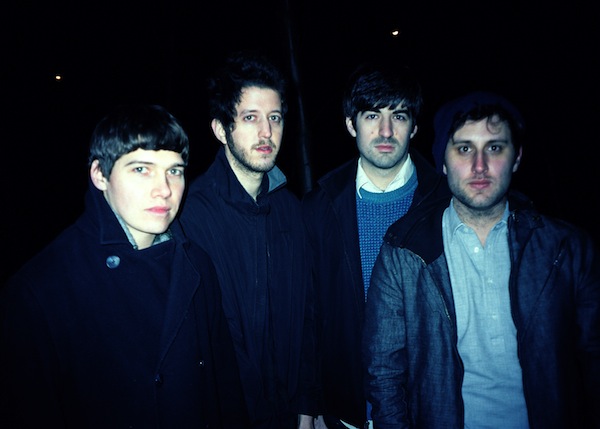 By Josh Kolenik
Over a short stretch of our tour with Washed Out and Pictureplane, I'd been a bit under the weather and sleeping as we barreled through the south and southwest. So I tried to pick songs that I'd listen to as I lay the day away, looking at the country go by. The mix also corresponds to the places and people we encountered along the tour.
Moss of Aura, "Climb"
We played with this fella (who's also in Future Islands) at Floristree in Baltimore. It's this amazing DIY space on the sixth floor of a big warehouse building. He sat in the middle of the floor with lights surrounding him and proceeded to mesmerize the Charm City kids.
The Dream, "Right Side of Your Brain"
The Dream has somehow taken M83, R&B and college a cappella and made it into a radio jam. I love how emo he gets on this record, one of the weirdest pop successes of last year.

Toro Y Moi, "Minors"
We started our tour up in New England, and did a wild show with Chaz at Bates College where kids broke all our lights and crowd surfed the entire set. His live presence blew me away and really got me hooked on Causers of This. There's so much detail underneath the surface of these songs that emerges after multiple listens.

Fred Neil, "Sweet Mama (Unreleased Take)"
I had been meaning to get into Fred Neil for awhile and I just got a hold of a box set of a ton of his stuff…He seems to be a touchstone artist for a lot of the folk performers I've loved (Karen Dalton, Tim Hardin, etc.), and I was always obsessed with "Everybody's Talkin'" from Midnight Cowboy, which he wrote. His voice is so haunting on this track. It really puts my brain at ease.
A Sunny Day in Glasgow, "The Horn Song"
This band is criminally underrated. Their last two records are strange and effortlessly beautiful. Always bumping this on a night drive. The horn build at the beginning is such a nice element to weave into a mix, too.
Talk Talk, "I Believe in You"
Talk Talk is a band I never get tired of. Their sound is quintessential '80s, yet it transcends with its somehow cool jazziness and subtlety. The end of this track is so comforting and uplifting.
Nasty Millionaire, "Friday Afternoon Home Alone"
Nasty Millz is my boyhood friend Mikal Britt, who pretty much got me into playing music. He lives in LA and makes rap beats and weird instrumentals while hanging out with his cats. He's got a comprehensive blog of almost all the songs he's done since he was 7 or so. This is a little sound piece he did a few years ago that I always liked. I added a vocal over it while everyone else was asleep in the van, too. Seemed like the proper setting to match the vibe and title of the song.
White Hinterland, "Icarus"
This song has a gorgeous bounce to it. One of my favorites of the year so far! Want to do a remix when we get back from tour if time allows. (Gotta finish our record!)
Julian Lynch, "Andaza"
Love so much of the Underwater Peoples stuff. Saw Mr. Lynch play a set via Skype at Market Hotel this summer and was intrigued. "Andaza"'s got this great balance of cruddy wah-wah elements and  a great lullaby melody. A JAM!
Ariel Pink, "Alisa"
Is House Arrest the most underrated album of the last decade? It's just hit after hit and I never heard anything about until a year ago. Definitely was late to the party on A-Pink, but I'm glad I got there. Such a clever songwriter and producer.
Renata Zeiguer y Juan, "Violin Experiment"
Juan recorded our friend Renata playing some violin pieces she'd written in our practice space. They screwed around with pedals and got some really cool tones. There's another lovely section that we want to sample for a new song too.
Jagjaguwar's expanded/remastered reissue of Small Black's debut EP is hitting shops on April 27.