Words by Andrew Parks
Remember when grime was supposed to storm these shores like some sort of woofer-wrecking, Vice-approved British Invasion? Well, aside from the brief breakthroughs of Dizzee Rascal, Wiley and the Streets, that never quite happened. Meanwhile, grime's become a massive movement in the UK–a platinum-coated scene that has more than a few things in common with mainstream hip-hop here in the states, including the questionable creative decisions of major labels and the cash-rules-everything-around-me obsessions of many A-list artists.
One producer's stood his ground through it all, though: Terror Danjah, a recent Hyperdub recruit with a long history of carefully-curated compilations and shifty beats. All of which have been leading up to Undeniable. Due out November 1, it's a proper LP that reaches well beyond the street-hardened realm of grime music, from the lean, laser-like synth lines of "Minimal Dub" to the moonlit pop/R&B detours of "Story Ending" and "All I Wanna Do."
In the following exclusive Needle Exchange mix, Terror Danjah shares four of his new songs alongside a handful of exclusives and key cuts from such club favorites as Roni Size, Benga and Wiley. We also tracked him down for a thorough E-mail interview about all of the above. If you're just here for the mix, be sure to scroll to the bottom of this post and check it out along with a complete playlist…
Let's start with a simple question: What's with the Gremlin voice that's all over your records?
I got the laugh from a jungle/drum & bass sample pack. I started using it in 2001. I left it out in a few tunes, and my mates said, "Where's the Gremlin laugh? [You should] use it in every tune. It sounds good. It's your trademark." So I did.
Speaking of vocals, this record has a lot of guests. Could you tell us a little bit about each of your collaborators on Undeniable?
Dream Mclean kicks off the intro track, "Grand Opening." He's from Colchester Essex and only 18. He's very witty and has a clear and extremely lyrical flow, he's my tip for 2011 and beyond.
"This Year" (a.k.a. "Pro Plus") features one of my proteges, Mz Bratt, who I noticed 5 years ago. She has the potential to pick up where Ms Dynamite left off, and that's worldwide domination. Griminal was recently signed to Universal. He's a beast on tracks; Grim is like family to me! His raw energy is matched by none! So collaborating with Bratt & Griminal is like putting Nicki Minaj and Lil Wayne together.
"Undeniable" is the title track of the album, so I had to get the best grime MC in the world, D Double E. He's my school friend from the early '90s, so I had to get him on the album! He's known for hard-hitting, witty wordplay and clever punchlines. So we switched it up and gave it a ladies/zumpi approach to show his versatility and Double executes it to perfection.
Bruza is one of my favorite MCs, and his character shines through on "Leave Me Alone." I wanted that Faithless kinda sound ("I Cant Get No Sleep"). His emotion and delivery on that track is what I feel sometimes. Everyone can relate to that track at some point, and I feel Bruza is the only man for the job.
'"ll I Wanna" featuring Lauren Mason is a track I always wanted to do. I wanted to show Lauren's range and show another side to me. I think Lauren's voice is very emotional and shows a lot of soulful pain.
"Time To Let Go" is basically me sampled!
"Story's Ending" is a secret. It could be Burial's vocals pitched up. Loooool!
Were most of the tracks worked out over the Internet, or did you invite some people into your studio to finish their track?
Everyone at some point came to my studio! I like to produce the vocals; personally, that's the job of a producer.
You've worked with Bruza a lot over the years. How would you describe the chemistry between the two of you–is he the Missy Elliott to your Timbaland basically?
Bruza is Busta Rhymes–his own monster, and my right hand man. He's a true friend to me! Mz Bratt is my Missy Elliot. I'm defo Timbo lol!
You've been a major figure in the grime scene since the start. How would you describe where it's at in the UK right now? It's basically as big as hip-hop is here in the states, right?
Hip-hop artists are still broke, just like their the grime counterparts [in the U.S.]. Jay-Z, 50 Cent, Lil Wayne, etc. are not hip-hop no more. They are Hollywood, just like Dizzee, Chipmunk, Tinie Tempah, Tincy Stryder, etc.
[Grime] instrumentals haven't made their way to the mainstream yet, but hopefully myself, Hyperdub, Wiley, Butterz, Swindle, Newham Generals, Skepta, D.O.K–to name a few–can push it to the front.
Do you feel like major labels have tried to influence grime producers in the same way they do here with hip-hop?
Yes and no. Yes because labels tell grime producers to tone it down, and eventually get pop producers to make the tunes. And no because people can make a choice like me and go it alone–knock down the doors and barriers!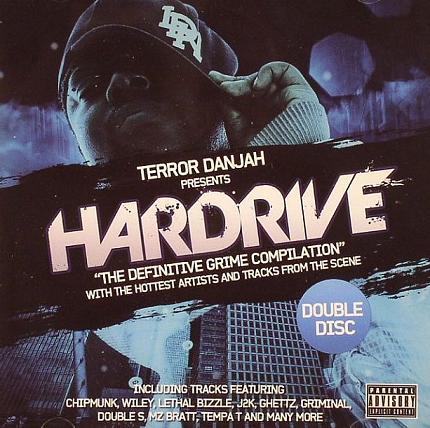 The artwork on some of your records (like the Hardrive comps) resembles the hip-hop tapes people have always sold on the streets of New York. Has the image and hardcore vibe of American hip-hop influenced the attitudes of grime artists?
Well like it or not, Afro-American culture has a great influence on urban kids here, because we didn't really have our own scene in the early '90s and we can relate. We didn't have star MCs until the early '00s, with So Solid, Pay As You Go, More Fire Crew, Roll Deep, Nasty Crew, Heartless Crew, etc.!
Dubstep is starting to finally catch on here in the states, gaining a larger audience than grime ever did in many people's eyes. Outside of the obvious (the fact that grime is a very British sound), why do you think grime has failed to crossover on a larger scale in the U.S.?
I think it was too early. The U.S. couldn't relate to the slang and also thought we was probably cheaply imitating hip-hop.
For those of us who are still knew to it, how would you describe Bristol's Purple sound?
It's very colorful, phat-sounding analogue lead riffs and saw/triangle basses with playful weighty riffs–close to west coast hip-hop at 140 bpm.
What were some jungle/d&b records that first got you into dance music?
Mostly all of V Recordings/Philly Blunt/Dope Dragon (Roni Size, Krust, DJ Die)
Shy Fx: "Wolf," "The Message," "Chopper"
Andy C: "31 secs (Valley Of The Shadows)," "Titan," "Recharge," "Truly One," "Turbalance"
DJ SS: "Lighter," "MA 2"
Dillinja: "Friday," "Test 2," "Lionheart"
DJ Zinc: "Six Million Ways," "Super Sharp Shooter," "Reach Out"
The list goes on, I can be here all day looool!
How would you describe your Reckless Kru days?
We was a jungle/drum & bass collective/crew. I wasn't into garage; that's why I started making early forms of grime in 2000!
More than eight years have passed since your first single, "Highly Flammable." How would you describe where your head is at as a producer now, as compared to back when you got started? How have the musicians around you changed, both in their approach to building tracks and in their actual listening taste?
I was very limited with the equipment I had back then! I still make music the same way I did then now, and I guess the limitations have made me craft my techniques which I apply today! A lot of producers & MC's from that era have given up! Wiley, D Double E, Riko Dan, Target, Bruza, Footsie & Geenus are the only ones I can recall from the '90s [who are] still around!
Shifting to this record, "Grand Opening" sets the scene perfectly with its ominous samples and Dream Mclean's verses about how he's been waiting for this moment–his chance to shine–for a while. While you've been doing this for a while, does this album feel like the record you've been working towards since the start–your proper debut, really?
Yeah I guess. Dream is talking for the both of us.
Do you ever feel as frustrated as Bruza sounds on "Leave Me Alone?"
Yeah definitely, I gave Bruza the rough idea and he came back with a brilliant story.
"Think About Me" and "Story Ending" are the closest you've come to crafting full-on pop songs. They still sound like "Terror Danjah tracks" though. Could you see working with nothing but pop/R&B vocalists on one record?
I love singing. It touches the soul the most! I've used singing since the start of my career as a producer. The production on them beats merited it. With "Story Ending," I started with the vocal first, so the beat evolved around the vocal!
How about working with only one other person on an entire record? Do you feel like you'd get bored?
Not really. It all depends on the vibe.
Undeniable sounds a bit dark overall. Were you aiming for more of a melancholic/moody sound?
Kode9 helped me with the theme of the album, it was his interpolation of how Terror Danjah should sound, with one or two compromises. LOL!
If someone asked you to describe it in a couple sentences, what would you say?
Welcome to the wacky world of Mr. Danjah!
Would you have identified yourself as a "grime producer" five years ago? How about now?
Nope, I still say I'm a producer, a pioneer of the grime sound!
Let's say someone only has enough money to buy five digital tracks from the album. What five should they snag?
"S.O.S"
"Leave Me Alone"
"Minimal Dub"
"Undeniable"
"Breaking Bad"
You've obviously released a lot of other music in the past, too. What are some records people should definitely check out if they want to understand your progress as a producer?
"Cock Back" featuring Hyper, Crazy Titch, D Double E & Riko (2003)
"So Sure" featuring Sadie Ama & Kano (2003)
"Creepy Crawler" (2003)
"Zumpi Huntah" (2006)
"Bipolar" (2010)
You were devoted to your Aftershock label for a while there. What did you learn from that period in your career, and could you see being heavily involved with a label like that again?
I've learned so much from looking after 20+ artists, including Bruza, Tinie Tempah, Mz Bratt, Gemma Fox, Elrae, D.O.K, Badness, Loudmouth Melvin, etc. Radio promo, interacting with the media & DJs!
I've started another label now, Hardrive Records. The first release is D.O.K's Golden Axe EP, which features the club smash "Missing Step."
You've been involved with a lot of compilations related to the grime scene in England. Do you feel like you have a responsibility to keep educating people on the progress of that music?
Of course. All I can do is keep pushing quality music and proving to the world I deserve to be here!
You've given away a lot of free music via your Twitter. Do you feel like that's the new way of handing out demo tapes basically?
It was more of a way to get music that might not seen the light of day out to the masses. There was no scheduled release, so I gave it away free to raise awareness towards me.
Could you tell us about the inspiration for the track "Minimal Dub?" It sounds like you were listening to a lot of techno when you made it…
I was listen to a lot of Deadmau5, Armand Van Helden, Eric Pryde and various minimal-tech artists. I love the way them dance guys sidechain–build ups and down, so I implemented it on "Minimal Dub."
You seem to enjoy using different time signatures. Could you talk about that and some of your favorite software/hardware?
Why not? It's about time UK underground producers gave the listener the audio pleasure of time changes and signatures. The listener and raves are more
advanced and smart now, so I think they demand more than just copy and paste music.
Finally, what vibe were you going for with this mix?
Just to roughly showcase how I would DJ in a club!!!
–
Terror Danjah, Needle Exchange 037:
01) 'What Would I Do'_Badness & Terror Danjah
02) 'Breakaway' Katie Pearl (Tony Tokyo Dubstep Remix) (feat. Rax)
03) 'Drive Me' Miss Fire & TRC
04) 'On A Mission' Katy B & Benga
05) 'Claptrap' Joe
06) 'Peanut Punch' Terror Danjah & D.O.K
07) 'Selecta special' Mz Bratt, General Levy & Redlight
08) 'Minimal Dub' Terror Danjah
09) 'Street Fighter' D Double E & Dj Swerve (Terror Danjah special)
10) 'Undeniable' Terror Danjah ft D Double E
11) 'Wooo Riddim' S-X ft D Double E (Terror Danjah special)
12) 'Descending' Benga
13) 'Air bubble' Terror Danjah (Swindle Remix)
14) 'Stop Start' Terror Danjah (D.O.K VIP mix)
15) 'S.O.S' Terror Danjah
16) 'I'm A Sinner' Wiley
17) 'B.R.A.T.T' Mz Bratt & Dj Target
18) 'Bipolar' Terror Danjah
19) 'Oo Aa Ee VIP' TRC
20) 'Par/Road rage' Wiley
21) 'Space' Treble Clef
22) 'Wheel' Dizzee Rascal
23) 'Grand Opening' Terror Danjah ft Dream Mclean
24) 'Untitled' Big-E-D
25) 'Screama' Terror Danjah & Illmana
26) 'Reloadz' Terror Danjah
27) 'Killers Don't Die' Dj Hazard
28) 'Turburlance' Moving fusion
29) 'Super Hero (My Knight)' The House Crew
30) 'Dark Soilder' Ray Keith
31) 'Bambaata' Shy FX
32) 'Mr Happy' Dj Hazard
33) 'Buck Rogers' Firefox
34) 'Creepy Crawler' Terror Danjah
35) 'Trust Me' Roni Size