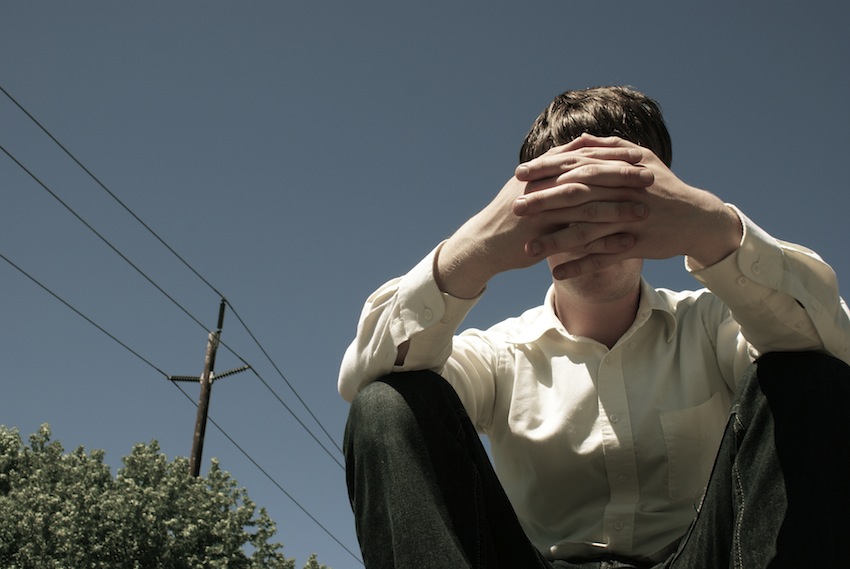 [Photo by Jim Duthie]
Much more than a simple folk singer, Benoît Pioulard writes ballads for Boards of Canada fans, casting his spare, spooky chords against frosty field recordings, ambient beats, and steam-powered drones. Like Pioulard's new Lasted LP, the following mix is essential fall listening,
1. Autechre, "Inhake 2" (Peel Session, 1995)
This song is from my favorite era of Autechre–when they struck a perfect balance between amazing rhythms and really good, understated melodies–and is something that runs through my head frequently. Their latter day albums are all excellent, to be sure, but I doubt the world will see anything quite like what they were doing in the mid-'90s again.
2. Belong, "Girl from New York" (Colorloss Record, 2008)
One of many bands that make me feel incredibly flattered to be on Kranky. When I found out that their new album was coming out next year, I immediately went to the back catalog & got all the same shivers I remembered from five years ago.
3. Group Bombino, "Imuhar" (Guitars from Agadez Vol. 2, 2009)
Sublime Frequencies definitely finds some incredible, obscure records, this one being my recent favorite. It's one of those albums that you can comfortably show to anyone and be confident that they'll like it. I think music whose purity and catchiness is this intense will win anyone over in a snap.
4. Boards of Canada, "Seven Forty Seven" (Warp20 Unheard, 2009)
I love this band so much that my first tattoo was mostly based on them. This is the only song they've released in like five years. Sigh.
5. Hauschka, "Fernpunkt" (The Prepared Piano, 2005)
One of only a few performers that I'm dying to see play but haven't had the chance; I hear he puts on quite a show and am always taken with the combination of playfulness and melancholy that exists in and between the notes & plinks.
6. Gal Costa, "Sebastiana" (Gal Costa, 1969)
Ooh, those acrobatic vocals. I don't even care what she's singing, this song is such a marvel in so many ways. A standout from an album of nothing but standouts.
7. Lego Feet, "Keyop" (Skampler, 1997)
Okay, so this is technically another Autechre track but different enough, I think. Acid without the tape hiss fails to be acid to me, and this track always makes me smile for whatever reason. One of those things that I feel might actually make me dance if I were to hear it on the right system in the right room.
8. Kurt Vile, "My Sympathy" (God Is Saying This to You, 2009)
I love the delivery and production of this track particularly, though the guitar and vocal melodies are of course key. Hearing this for the first time last year reminded me of hearing Devendra Banhart's Oh Me Oh My for the first time at just the right moment–both albums remain two of my favorite late night records of all time.
9. Mount Kimbie, "William" (Maybes, 2009)
I just had the immense pleasure of seeing these two play at Decibel festival in Seattle and was thrilled to hear them include this song (albeit in a very different version) in their set. Nothing out there is quite like what they're doing these days, and I see it as a very smart combination of all my favorite elements of more than a few genres. I also love the boldness of taking almost half of a song to get beyond the instrumental intro, ahaha.
10. tUnE-yArDs, "News" (BiRd-BrAiNs, 2009)
Holy hell, when I first heard this woman I nearly fell on the floor. I get the sense she does that to most people. This song in particular is like a radio single from an alternate reality, and I love the way she takes typical melodic progressions and stretches and kneads them like dough. An AMAZING live performer, too…
11. Tobacco, "Heavy Makeup" (Maniac Meat, 2010)
This always strikes me as roller rink music for incredibly fucked up people–in a good way. It's so dark but clever and spot-on, I can't resist.
12. Benoît Pioulard, "Keep God Going" (previously unreleased, 2010)
Eh, I let this loop go in the background while I was putting this mix together, so it seemed appropriate to include it as part of the experience. Oh vanity.
13. Andrew Pekler, "Rockslide" (Cue, 2007)
A sort of hidden gem in the Kranky catalog. I listened to this album almost every day for a few months when it first came out and return to it perennially to rediscover its many charms. Like soundtrack music for the best film never made.
14. Ssab Songs, "[excerpt]" (Ssab Songs, 1999)
I tend to tell people that this is my favorite album, even though there are a few candidates in reality. But there truly is nothing else like it in music history as far as I know. For reference, I would say this particular excerpt is the catchiest thing in the whole piece…Take that as you will.
15. Casino Versus Japan, "The Open Face" (Night on Tape, 2010)
A longtime favorite of mine whose new album is more than welcome. Something about the simplicity of his work just resonates endlessly in me. It's the musical equivalent of the culinary rule about using only a few really good ingredients for optimal results.
16. Lee Hazlewood "After Six" (Lee Hazlewoodism, 1967)
I think we've all felt like this at one time or another.
17. The Sight Below & Tiny Vipers "New Dawn Fades" (It All Falls Apart, 2010)
Slight conflict of interest here, as I'm making an album with these two and I love them to death. This also happens to be one of the best cover versions of any song that I've ever heard.  At least as good as "Nothing Compares 2 U." [Editor's note: Check out The Sight Below's rather goth-y Needle Exchange mix here.]
18. The Remote Viewer, "It occurred to me.  And went away" (You're Going to Love Our Defeatist Attitude, 2004)
I could listen to this band at any time, on any given day.  Every song is so delicately, and perfectly, constructed. There's such a variety of instrumentation without letting the recognizable center wander. The song titles crack me up, too, for some reason.