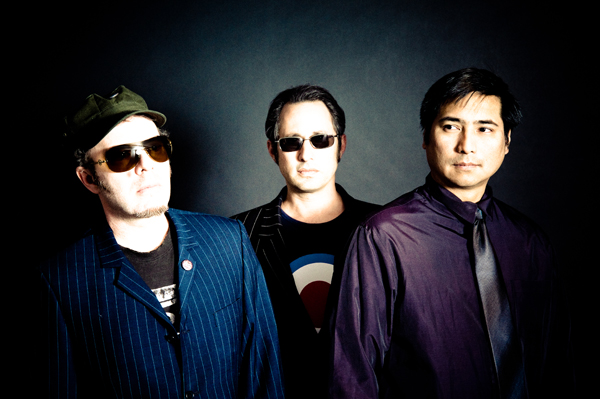 Words by Sid Barcelona
We've created a mix that represents many facets of the Thunderball sound. We are inspired by '60s and '70s cinema, Latin, funk, dub and soul, and try to incorporate these elements into cinematic grooves that shift from scene to scene in our own imaginary film. In this mix we debut some of the songs from our new album 12 Mile High alongside some Thunderball classics, rarities and inspirations.
1. Make Your Move – Thunderball
To kick off this mix, here's one of the songs from the new album. "Make Your Move" is an homage to '70s blaxploitation soundtracks. We co-wrote this song with our longtime friend and collaborator, Mustafa Akbar. His Superfly vocals move soulfully as the song switches tempos from half time to full on drum & bass.
2. Calypso Blues – Spiritual South
The Spiritual South produced an incredible version of this Nat King Cole classic. It has a great '60s Latin vibe that we love and is one of our inspirational songs that we always go back to.
3. Rico Ritmo – Thunderball
This is another new track from 12 Mile High. It's brazilian drum & bass meets Stereolab, featuring the lively vocals of Steve [Raskin]'s wife, Miss Johnna M.

4. Return of the Panther – Thunderball
The original gangster returns to the mic on this Thunderball classic that first appeared on the album Cinescope.
5. Woodchoppers Ball (Thunderball Mix) – Woody Herman
We've had some amazing opportunities to remix some of our legendary heroes including Tito Puente, Louis Armstrong, Joe Bataan and Bob Marley. Here's a rare remix we did of this Woody Herman track for a jazz remix compilation.

6. Sitargazer (Mo Horizons Remix)- International Velvet
We wanted to showcase a song from Rob [Myer]'s solo sitar project, International Velvet. The original version appears on the New Gold Standard 2 compilation that was released last year on our own Fort Knox label. We asked one of our favorite producers, Mo' Horizons, to do a remix and they just blew us away with this Balkanized drum & bass masterpiece.

7. Oracao sem Nexo – Riovolt
We like to drop this song early in the evening at our residency at Eighteenth Street Lounge. Ju Cassou's beautiful vocals makes this a quintessential nü-bossa track.

8. Lovesick (Upbeat Mix) – Gang Starr
We grew up on old-school hip hop and Gang Starr was one of our all time favorites. We were all shaken when we heard of Guru's passing this year. This song is an uplifting mix in memory of a legend.
9. Vai Vai – Thunderball
This song came out in 2001 on our second record, Scorpio Rising. Also featuring Miss Johnna M. on vocals, we were greatly inspired by Brazilian drum & bass producers like DJ Marky and DJ Patife.
10 How Bout Us – Katalyst
Katalyst is one of our favorite Australian hip-hop producers and the soul vibe that he captures on this track with Steve Spacek's vocals are epic!
11. Dub Science – Thunderball
On the new album, we were fortunate to bring back many of the great vocalists we have collaborated with over the years. On "Dub Science," we re-enlisted Zeebo from See-I/Thievery Corporation to create a spliffed-out odyssey perfect for any late-night session.
12. Enter the Brahmin – Thunderball
We always begin our live shows with this sitar song, which was never released. We decided to make a proper version for the new album. The voice that you hear at the beginning and end of the song is Rob's guruji, recorded when he studied sitar in Benares, India. Enjoy the trip!