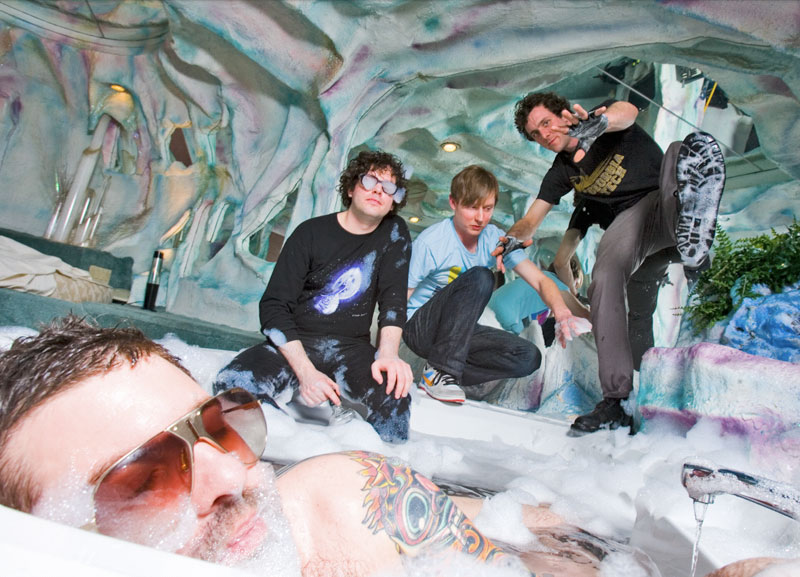 Now that Pink Skull's live band includes as many as seven members, we thought we'd ask Justin "JG" Geller–one-half of the Philly group's creative core alongside frontman Julian Grefe–to drill their countless influences down through a idiosyncratic DJ mix. Like genre-less peaks of Pink Skull's new Psychic Welfare LP (available now on vinyl through RVNG, and digital shops starting next Tuesday), it sees nothing wrong with revisiting one of the Chemical Brothers' more psychedelic moments ("Where Do I Begin") in the same set as strains of Bowie, Neil Young, Don Cherry and Aphex Twin…
1. Aphex Twin, "bbydhyonchord"
One of the artists that made me want to make electronic music. Same goes for Justin. It's Mr. James at his fun, shimmery, and summertimey best.
2. David Bowie, "Abdulmajid"
I love this track–my favorite Can song that Can didn't make.
3. Bent Leg Fatima, "Mouse/Lone Gunner"
The band that begat Need New Body and started a lineage of shambling art rock in Philadelphia. This track rules and so does the cover art (despite what MATT WERTH says).
4. A.R. Machines, "Come on People"
A raga-esque cosmic groove. I wish I had been cooler and unearthed this gem in rummaging some dank basement. I didn't. Thank you Interweb.
5. Don Cherry, "Brown Rice"
[Pink Skull] band member Mike Hammel hates "JAZZ," but loves Monochrome Set. So, guess what?! His opinion is no longer valid. Vetoed. I fell in love with this jam when I got this album. It's totally perfect and kinda sleazy in a spiritual jazz kinda way. Adam Sparkles also has had a love affair with this song for years.
6. Shuggie Otis, "Strawberry Letter 23"
Both versions of this song are great. Shuggie wins out this time. That guitar bridge…it's actually what was playing when Kim Gordon was having her out of body experience. Hello Elvis:
7. Elephants Memory, "Mongoose"
This song was first played for me by the music library that is Joel Flood of Rock Tits. Best track they did. Unfortunately the sound quality of the 45 is pretty dubious.
8. ZZZ, "Ecstasy"
It's a song about being on Ecstasy. MDMA is great. Sounds of equal parts Suicide and the Doors. Totally underrated band.
9. Yellow Magic Orchestra, "Cue"
I should like YMO way more than I do.
10. The Chemical Brothers, "Where Do I Begin"
Yeah, yeah, yeah…the Chemical Brothers. Doesn't matter. This song sums up about 15 years of my life and sounds like waking up on a damp rooftop during tour. Wish they hadn't tried to go and make another song like this (see their recent catalog). I think this ties with "Ugly Sunday" by Mark Lanegan.
11. 20th Jun Togawa, "All Tomorrow's Parties"
Not a total departure from the original, just an updated one.
12. Neil Young, "After the Gold Rush"
This song reminds me of the old Making Time after parties at Dave's house around 6:30 a.m.–mellow times with friends.