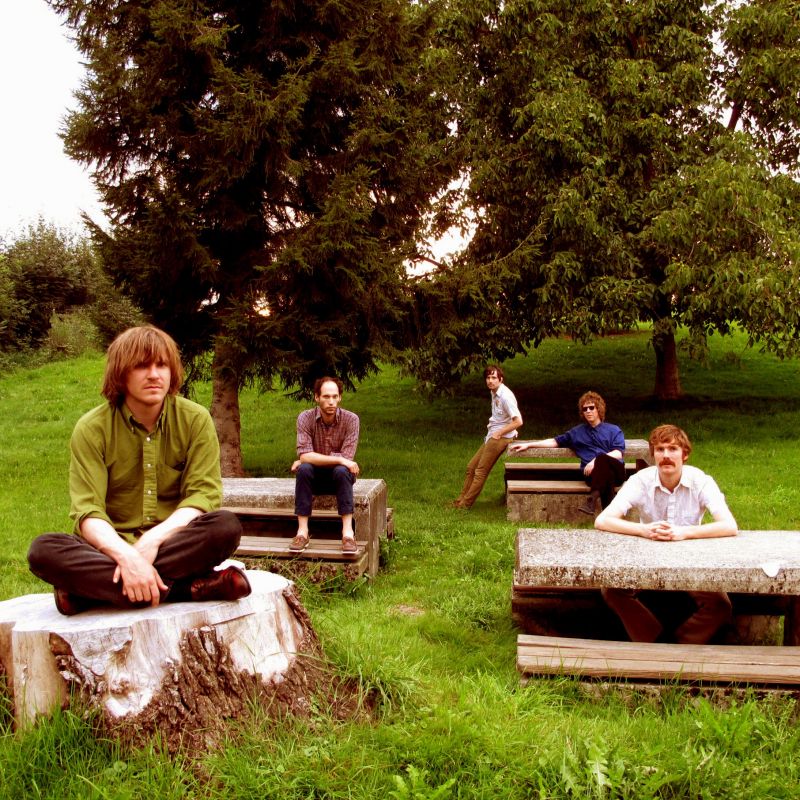 Words and Mix by Keegan Cooke of Crystal Stilts
I don't really like reading tracklists prior to listening to mixtapes myself. A proper sampler gives one the sensation of listening to the radio, and knowing what comes next takes some of the fun out of that moment of recognition, or wonder when you hear something that really strikes you.
This is a digitized version of a cassette I made during a failed attempt at a tape club a couple years ago. I have piles of them all queued up, but never got around to sending them out. This seems like a nice outlet for this one, though. Enjoy!
[Download here]
Shirl Milete – Afraid To Rock the Boat
One of Townes Van Zandt's lesser appreciated labelmates. This LP was released on Poppy in 1969 and then old Shirl seems to have up and vanished. That treble-y guitar line just sounds way too cool. I found this record a few years back and promptly destroyed it in a spray-adhesive disaster. That sticky residue doesn't just gum up your lungs; it also quietly decimates the grooves of your favorite LPs playing on the opposite side of the room. Anyway, I think he comes off like a more Christian Waylon Jennings.
F.J. McMahon – Spirit of the Golden Juice
The best privately pressed LP in the book, if you ask me. This is one of the best albums to drive by. Preferably on a random road in upstate New York, or along a California coastline in Santa Barbara, which is where F.J. hails from. This is the title track from one of the most cohesive and touching LPs I've ever heard.
Ted Lucas – Plain & Sane & Simple Melody
Ted Lucas made his name in the Michigan psych scene in a band called the Spike Drivers. I've never heard that band, but this record is a beautiful, moody blend of folky guitar/mandolin work, and extended raga jamming. The man has a fantastic deep voice, sweet. A perfect record for a dimly lit living room.
Skip Spence – Cripple Creek
The legendary Moby Grape guitarist and Jefferson Airplane drummer, turned psych-ward fixture. As the myth goes, upon being released from Bellvue Hospital, Skip rode by motorcycle from New York to Nashville to record his lone album, Oar, wearing only his psych ward jammies. True or not, always a classic downer LP.
Mike Millius – Poor Boy Michael Strange
I always think this is one of the underrated albums in that major label "Skip Spence-like" vein. I didn't know much about Mike Millius, but his album Desperado ambles along nicely to my ears. A quick tour through the online archives says this is the man responsible for bringing karaoke to the U.S. and Western Europe. Another reason to love Mike Millius. Anyway, this track is one my favorites of many great ones on the album.
Mayo Thompson – Horses
Red Crayola (Mayo's band) released what I think is one of the absolute best '60s psych LPs (Parable of Arable Land) and it was 50-percent just them and their stupid biker friends messing around with chainsaws. This is a rollicking party jam, no doubt. Play this song at your DJ night.
Ian Matthews – These Days
Some people think that this is the best recording of the famous Jackson Browne track. I'll always prefer Nico singing it based on nostalgia alone, but this version is undeniably great in a more rootsy, rural-rock way.
Richard Johnson – Always Dropping In
Plum Island is the name of the album. It's mostly guitar workouts on Dobro, or whatever other stringed instrument Dick can get his hands on, and this song really stands out as a highlight for me. I love rural New England folk/blues. This is the world that I grew up in.
Charley D. and Milo – Take Me Home
A staple $3 bin item at any record store across the country, and better than a solid percentage of the LPs decorating the walls. I don't think Charley D. and Milo made another album, and I don't know what happened to them. If you see this record out in the world though, give it a try. It's one of the good ones.
George Gerdes – Son of Obituary
A nice, funny track from this guy George Gerdes. One of my favorite drummers plays on this record. Kenny Buttrey, of "John Wesley Harding" fame. Of "Tonight's the Night" fame. Of every cool session man album ever produced fame. Anyway, George puts up a nice one with this silly play on words.
Kris Kristofferson – Loving Her Was Easier (Than Anything I'll Ever Do Again)
Indeed it was.
Townes Van Zandt – Waiting Around To Die
Seems like any easy song to select from Townes, maybe. One of the first songs he ever wrote allegedly, right? Locked in a room shortly after getting married? I first heard the other version of this one on the For The Sake of the Song LP, and was stopped dead in my tracks. This one is obviously more than a bit special.
Wynn Stewart – Worlds Youngest Naughty Old Man
The pinnacle in the "square guy country with fuzz" genre. There are no other Wynn songs that have that buzzsaw guitar that I have found yet.
Pierce Bros – Death Row
I don't think this is the real name of this band, or song. Our friend who compiled the God Less America album (a brilliant collection of down and out country ballads, and novelties) has a lot of fun changing the names of tracks, and I'm convinced this is one of the bogus ones.
Euphoria – I'll Be Home To You
In the 60s, big labels like Capitol gave two whacked-out musicians budgets big enough to hire every session musician in the industry to create records like this. The strangest blend of over-the-top orchestral sound collage and country-psych ever, came from the minds of two guys, Hamilton Wesley Watt Jr. and William D. Lincoln. I don't know which one is which on the cover of the record, but I can't thank them enough for producing this record. It's exactly the kind of varied listen I enjoy most.
Homegas – Bulldozer Blues
This band was named after the fuel company in my home state (Maine), and produced by John Fahey to boot! It runs though a variety of folk styles throughout the course of the album, at moments sounding exactly like Fred Neil, and then running off on an Incredible String Band jag moments later. Solid back to front and featuring a song entitled "Maine" that refers often to outhouses, and cold weather, two of the state's great features.
Guitar Nubbit – Georgia Chain Gang
Adam Lore from the great 50 Miles of Elbow Room website and mail order shop played this song for me and I had to find a copy of it. I put it on hold at a local record store to be priced, and when I returned a week later, it had vanished. A frantic run through the bins turned it up with a new somewhat hefty price tag on it. No regrets, ever.
Flamin Groovies – Whisky Woman
The closing track from the best Flamin' Groovies album in my mind. My friend Mike insists this album (Teenage Head) is as good as Exile on Main Street, and doesn't get a fair shake. Certainly the mythology surrounding the Stones album is tasty in a knock-the-wind-out-of-you depressing way, but I tend to agree with him when I listen to this song late at night. Powerhouse band, by the way. And Godbless that quick fade at the end. It would have been so disappointing to have been cut off when the tape ran out.
Crystal Stilts' Radiant Door EP is available now through Sacred Bones.