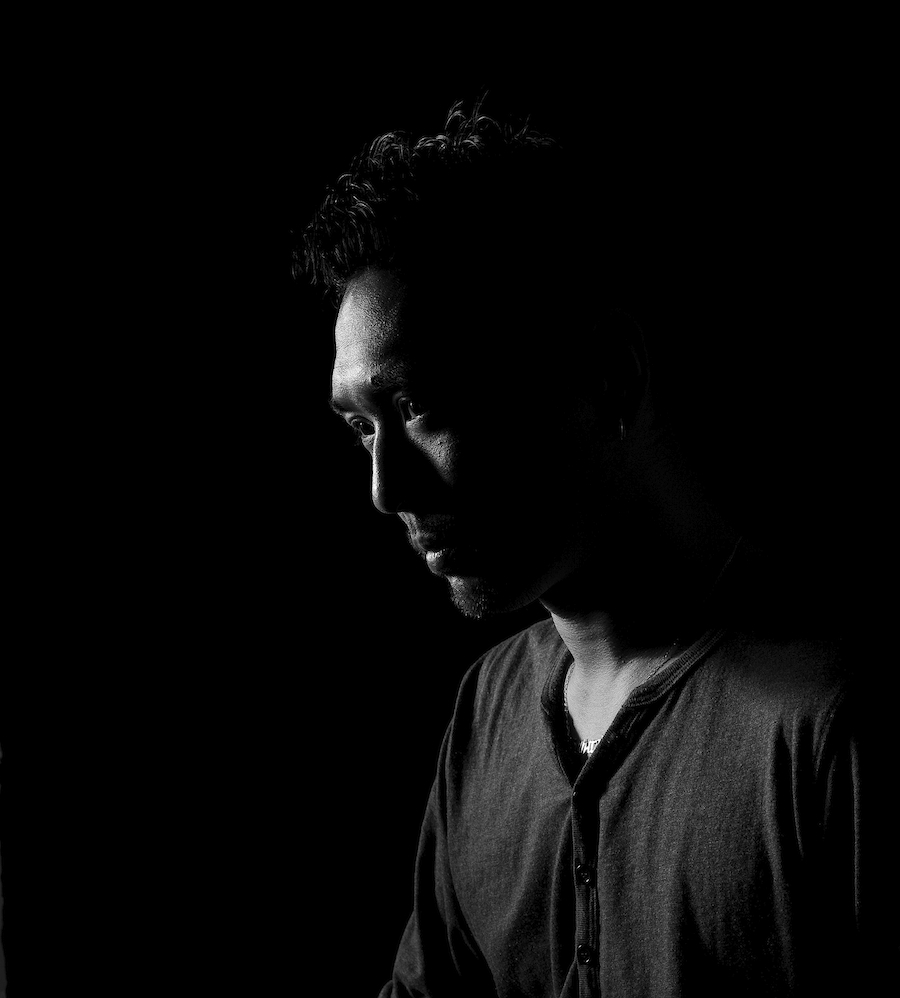 By Mitch Strashnov
The world of underground electronic music is nothing new to Goth-Trad, Deep Medi Musik's Tokyo-based purveyor of deep, definitive dubstep. While he's recently gained a cult following for tracks that can be traced back to everyone from DJ Krush to the producer's new label boss Mala, Goth-Trad's musical career actually began in the late '90s with tricked-out takes on hip-hop, breaks and jungle, as well as a few heady forays into noise music.
With his latest LP, New Epoch, hitting shops this week, self-titled asked the rising beat maker to share an exclusive mix and his thoughts on Japan's struggling music scene, repeated rewinds, and the fine line between "big, booming dubstep" and "boring electro"…
self-titlted: It seems like we've been hearing about you for years now. What have you been doing in the nine years between your debut album (Goth-Trad I) and New Epoch?
Well, I've been making music since about 1999–mostly in-between the genres of jungle and hip-hop–and by 2003, I was buying a lot of UK music while still making experimental tracks. I also happened to find grime stuff, and some similar feelings exuded in me when I listened to early LFO, Nightmares On Wax and the Prodigy. So I started to tinker with the idea of making grime music in a noise-centric aspect.
In 2005, I released two albums–one abstract and noise (The Inverted Perspective), and the other, purely dance-heavy (Mad Raver's Dance Floor). I started pushing my albums to DJs in the UK, and suddenly someone said I was making dubstep. In October 2006, I met Mala and his label people, where we made a deal for my music to be released on Deep Medi. After a few 12-inches, Mala was keen on putting out an album, but I wasn't entirely sure at the time. I was thinking about the album heavily within 2007-2009, but ultimately thought to push it back, because I wanted to push my sounds throughout Europe and the U.S, as well as push myself with remixes. I also didn't want to just collect tunes I've released previously and call it an album, it had to be fresh for the collection of tracks at the time. It's important for the album to navigate through a story, like my previous three did.
Since you didn't get your start with dubstep, what were some of your key inspirations early on?
Wordsound compilations, that stuff really inspired me. It's quite deep and dark, but quite beautiful. After that I started liking downtempo, dubby hip-hop, some breakbeat, trip-hop and after a while, things started to sound the same. Then I started to play live sets with an analogue mixer and effects box. I was getting bored and started to get into some ambient stuff as well as physical stuff, and I wanted to put more original sounds in my music, using effects pedals and original equipment with loop machines and a theremin. I tried to be more beat and noise-oriented, but then I started to add melodies, bass, noise, more stuff from the effects pedals and original instrument sources. I just wanted to make music to appeal to all the people that were segregated in scenes, like hip-hop, techno and noise.
When did you start DJing?
I started playing records in 2006, when I had a dubstep night called In the Summer. When I was going to Tokyo for studies, I just wanted to play my own productions, but when I met Mala, I got into a lot of dubstep and understood why people were pushing that sound so passionately. Dubstep fans are hugely invested in the moment a dubplate is dropped, so a DJ set to me should be mostly dubplates, which begins to be a live set almost entirely with dubplates from people like Kode9, Pinch and Mala.
What's the current state of independent, underground electronic music in Japan?
As a person who's been around it for 10 years, things have changed a lot. In 1999, there were so many great producers playing out—not only DJing but playing live. It was quite exciting. However, it got boring because everything became similar, from the nights to the producers and DJs. The top DJs also made drastic switches in genre to stay relevant. In 2001-2003, abstract hip-hop was the big thing, alongside electronica, but the scene shrunk in size. DJs switched over to house and electro and others began to stop playing and producing altogether. I don't know why, but we don't have much young talent coming out of here after 2003-4. Living as a producer here is also quite difficult. [I] put together nights in Tokyo mostly, because on the countryside, nothing happens. Also in Osaka, all the venues have to be closed at 12 a.m.
That's pretty screwed up.
[Laughs] I know! Mala and I had a show in Osaka at this warehouse, and by the time we were ready to play, the venue was shut down! So we had to tell everyone to go one town over to finish the party. The police are trying to shut down nightlife and it's a huge problem for DJs like myself—professionals who are supporting their lives through playing out. It goes back to people switching to more commercial music to stay relevant, stay alive. So the underground scene is tiny, and mostly based in Tokyo.
I have shows sometimes in Japan, but its quite difficult. Ten years ago, young people would go crate digging at all the record shops after seeing DJ Krush and would find the tracks he would play and would push similar music, along with local DJs playing experimental stuff. A lot of good record shops have closed in the last three years, and the Internet and social media have something to do with it. People get new records before the physical copies get to the stores, and when I was young, you'd go to a record shop and chat with the buyers and now, there's no one to chat about it. Also, online record shops (not all of them, obviously) have a lot of stuff, good and bad, and the people visiting are not choosing the music themselves, so it's all recommended and suggested. This is another reason why the scene has shrunk over here.
What have been some memorable gigs for you outside Japan?
My show in London in September 2007 was my first-ever tour for Deep Medi, supporting my 12" at the time. It was a great tour, but the show I played was [with] DMZ, so it was something special. I played a live set, which producers weren't doing much of at the time. The DJs, Mala and all the people in the place liked it.
Another one was the Outlook Festival in Croatia last year. I played back-to-back with V.I.V.E.K. at the DMZ stage, which was huge. It's so funny; my tune "Mirage" from the new album was rewound by Sgt. Pokes and Juakali four times! Everyone was going nuts, and the next day, Mala and myself lost our voices. The day before my set there, people came up to me and said, "Please play 'Air Breaker'; please play 'Mirage'." it was quite amazing. You'd never have that in Japan. In the UK and Europe, people know all the things you're doing, from unreleased tunes to when you're going play a set to when you're going to come back. In Japan, no one really knows these things. The average fan is very particular [about what they like]. In the UK, it's easy because I can just play a dubplate and the whole place goes crazy, but if I play a plate or a classic tune here, people don't have a reaction. It's actually a good thing, because it makes me concentrate on my mixing and focus on all things regarding people to actually get into the music I'm playing. I played in Malaysia in December and the DJs and they know exactly what's going on, playing something like "Anti-War Dub" by Mala, and people go crazy for a rewind! In Indonesia, no one cared at all. [Laughs]
The scene here in New York can be like that, too. One room can like loud and abrasive bass, and the other can like salsa. You go 10 blocks down and someone is playing rooted dubstep in one room and deep techno down below.
It's exactly like that here, but in my mind dubstep should be freedom, and it must have big, booming sub-bass. Otherwise, it's 100-percent not dubstep; it's boring electro. I made a point of mixing down and mastering the album precisely at Transition, not compromising the dynamics and being critical of things. But the streamlined "dubstep" now is just pushing the volume, which is not the point of it at all. It's incredibly important to me to make sure the sounds I make are made to a point where all the elements are exhausted to its high point. When I play shows, the sound has to be precise, so talking to the sound guys is imperative. All the tracks I play at certain frequencies are exhausted in the correct manner. It's special music and should be played in its most natural form.
GOTH-TRAD, Needle Exchange 085:
1. Black Ganion – Method (GOTH-TRAD Remix) [Popgroup]
2. GOTH-TRAD – Itinerant Priest [DEEP MEDi MUSIK]
3. Pampidoo – Synthesizer Voice (GOTH-TRAD Remix) [Greensleaves Dubstep]
4. Skream & Cluekid – Sandsnake (GOTH-TRAD Remix) [Disfigured Dubz]
5. GOTH-TRAD – S.A.T.U.R.N [DEEP MEDi MUSIK]
6. GOTH-TRAD – Psychic Power [Dub]
7. GOTH-TRAD – Clown [DEEP MEDi MUSIK]
8. GOTH-TRAD – One Beast [Dub]
9. GOTH-TRAD – Betrayal [Murder Channel]
10. GOTH-TRAD – Cut End VIP [Dub]
11. GOTH-TRAD – LAW [DEEP MEDi MUSIK]