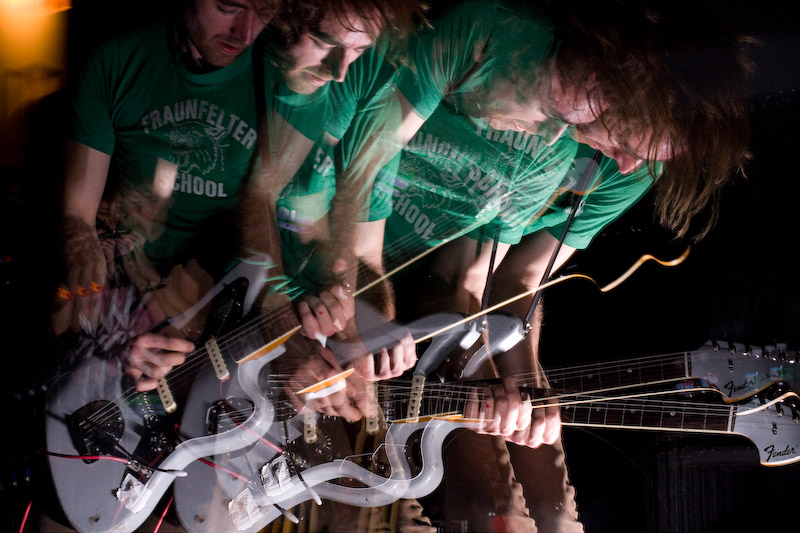 Photo by Aaron Richter
In the spirit of the Torche mix we posted last week, we'd like to send A Place To Bury Strangers off on their way for a two-month tour with an exclusive digital tape from frontman Oliver Ackermann. Have a listen, and a look at his highly enthusiastic track-by-track breakdown, below…
Dead Moon, "Evil Eye"
One of my favorite bands ever, and good friends of mine. I've been in various bands from an early age that have supported Dead Moon. Such an honest, no bullshit band.
Uncle Bad Touch, "I Wanna Love You"
These guys were supposed to come play here with our pals JEFF the Brotherhood, but didn't quite make it. I saw someone had them up on their computer, so I pressed play and this song was what I heard. Instant love!
Grooms, "Imagining The Bodies"
Not only do I have the honor of working with Travis Johnson [at Death By Audio], but I get to hear their music all of the time in our practice space. I love the complexity of this band; it is very meticulous and well planned out and completely original.
The Rainy Days, "Nuclear Attack"
From New Zealand and formed in 1992-ish. Still going strong with a bunch of releases. I used to be in the band, but not this early on. However I was in the room when this was recorded and maybe played something on it!
The Immaculates, "Hey Joe Kelly"
Theses guys are the resident soul band around these parts, and Joe Kelly is a great man that they just couldn't not write a song about. This song appears on their first 7", Vol 1. Definitely worth checking out live, too.
Brothers, "Real Long Way To Go"
Some friends of ours who have a debut album coming out this year. You may have seen them around Brooklyn? Bad ass mofos.
Hank Williams, "My Son Calls Another Man Daddy (Single Version)"
This is real country. It's sad as sad can get and I like that.
French Miami, "Out Of Sounds"
This is a hot cut from their full-length record that's gonna blow people's minds when it comes out. They are recording it now and Chris Crawford happens to be one of my friends, so I was able to get my grubby little hands on this little glimpse of gold that is to come.
South Central, "The Moth"
Those two amazing guys do it again. Apparently I am playing guitar on this track, but I don't know if I can tell where. Wherever it is it doesn't matter, because they do it right all on their own!
Brian Borcherdt, "(Into The) Atmosphere"
I love Brian! What a fun-loving motherfucker and talented musician; this song is always a DJ fav of mine.
The Gories, "Nitroglycerine"
This is probably one of my favorite Gories songs. They have recently been playing shows again. I highly advise going to see them if you get the chance, as they are a great live band too.
The Illusions, "City of People"
They were a four-piece from St Clair Shores in Michigan. This 45 was released in 1966 on a label called Michelle and one of the band members was Thom Strasz–he wrote both sides! That's it. I know no more. There are a slew of combos called the Illusions, but these thugs only did this one release.
Madonna, "Into The Groove"
My favorite Madonna song thrown in there.
Darker My Love, "Pale Sun"
These guys don't get the recognition they deserve. Their songs should be in movies and on commercials all over the place. Purrrrfect pop right down to the T!
Allen Blickle, "Ease Your Gaze"
Allen [of Baroness] is the most insane, wicked drummer in the world. Who'd have thunk he was also a bad-ass songwriter! I guess his goal is to make everyone in the world dance! He gets me dancin'!